Punchlines
Kevin Mitchell is coping with a family tragedy as he prepares for his world lightweight title clash.
By Nick Parkinson
Last Updated: 10/09/12 10:57am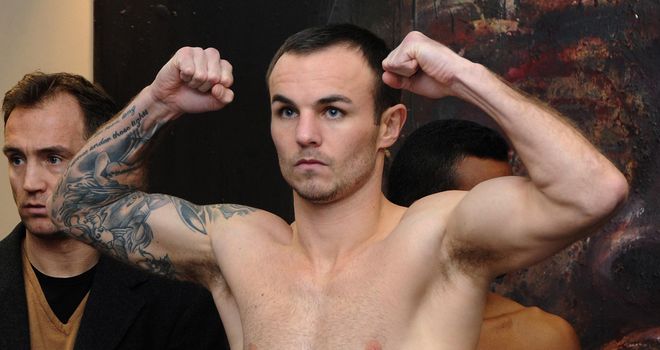 Kevin Mitchell is coping with a family tragedy as he prepares for his world lightweight title clash with Ricky Burns on September 22.
The Londoner is coming to the end of a three-month training camp for his crack at friend Burns' WBO belt at the Scottish Exhibition Centre in Glasgow.
It is a fight that could transform Mitchell's career, after it looked finished following a stoppage loss to Australian Michael Katsidis in front of his home fans at Upton Park in 2010.
Mitchell, 27, is not only being driven by the desire to win a first world title, but also by motivation to win the belt in the memory of his nephew Mitchell Huth, who died recently from cancer aged seven.
The former British champion broke off from training on Friday to attend the funeral of Mitchell, who recently died from neuroblastoma cancer.
"I'm going to be fighting with his name on my shorts and will be fighting for his memory," Mitchell told Punchlines.
"I'll dedicate the fight to him. It has been upsetting for the family but I'm glad he's in peace now and he's not in pain.
"I've tried to keep my head on the job, but he only died a week and a half ago after two years with the illness. It's been very upsetting.
"I've been training away from family and friends for 12 weeks now and I feel like I'm going to be at my best.
"Burns is a very good fighter and he has fought at a very good level, but I can't wait to get in there and see how he feels when I give it to him."
Mitchell admits his preparation for the Katsidis fight was awful, but says he is now off the booze and is ready to produce a career-best display against Burns.
He added: "I'm desperate to fight at West Ham again because I didn't train properly for the Katsidis fight.
"It was my own fault. I was drinking in the lead up to that fight and for about nine months after it, solidly, but it's different now.
"I've trained really hard for this and haven't had a drink for 13 weeks. I'm more mature as a person from that night against Katsidis and you are going to see the proper Kevin Mitchell against Burns."
Quick Hits
Despite denials from his team that Ricky Hatton is training for a comeback, rumours are continuing to circulate that the former world light-welterweight and welterweight champion will make a comeback at the MEN Arena in Manchester on November 24.
Hatton, 34 next month, took to Twitter to try and quash the speculation at the weekend. He tweeted on Sunday: "Don't you find it strange that it's been in every paper, all over the box but not on here? Don't you think that if a comeback's on you would hear it from me?"
But Hatton, whose last fight was a two-round defeat to Manny Pacquiao more than three years ago, has been reported to have already made contact with the British Boxing Board of Control about reapplying for his boxing license.
And it is believed his team have already had discussions with TV channels about screening a show that would also feature the likes of super-bantamweight Scott Quigg against Rendall Munroe and former world middleweight title challenge Martin Murray.
David Haye's hopes of facing Vitali Klitschko depend upon the Ukrainian's fate in the political elections in home country next month.
Vitali, whose brother Wladimir out-pointed Haye last summer, is trying to win a seat in the Ukrainian parliament and his party were lying third in a recent poll.
Victory would certainly see the 41-year-old concentrate full-time on politics after defending his WBC world title with a fourth round win over Manuel Charr in Moscow on Saturday.
Haye, 31, hopes Vitali will be tempted by one last, lucrative pay-day against him, with the likely venue being in Germany - where Klitschko lives - or Kiev, Ukraine, in spring next year.
There would be no obstacle to the fight happening from the WBC governing body over Haye's involvement in a brawl with fellow Londoner Dereck Chisora at a press conference following Chisora's points loss to Vitali in February.