Matthew Macklin tells Ringside he's top middleweight Brit
Despite the opinions of his rivals, Matthew Macklin told Ringside he's the best middleweight in Britain.
Last Updated: 08/03/13 9:16am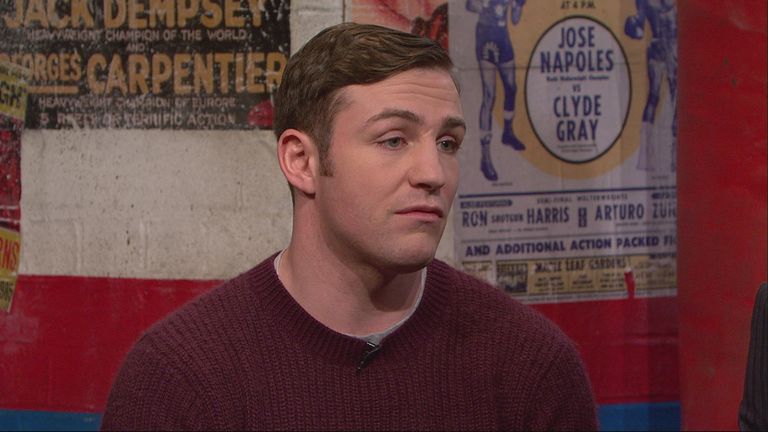 Macklin, along with Martin Murray and Darren Barker - who fights Simone Rotolo live on Sky Sports on Saturday night - make up a talented trio at the top of the domestic 11st6lbs scene.
There have been heated words exchanged between the three in the past - with Murray criticising Macklin on this week's show - but the Birmingham man insists that is just passion bubbling over and, when the facts are viewed in plain light, he is clearly the superior pugilist.
"We're rivals, we're in the same weight division and things get said," Macklin told Johnny and Adam.
"Boxing's your blood sweat and tears. It's not personal but business can get personal sometimes and things can get said.
"I disagree with a lot of the things Murray says, though. He likes to talk in opinions whereas I talk in facts. When I'm talking about America and where my standing in the middleweight division is, he thinks that's me being big headed or showing off, but I believe I'm the best out of the three of us.
"They believe in themselves but in Dan Rafael's ratings he's got me number five in the top 10 of middleweights, and Murray's 10. Barker isn't in those rankings.
"With Ring Magazine I've been in the top five or six for the last four years, Murray's just about got in there in the last year. When HBO previewed Gennady Golovkin's fight in January they had the six fighters on there as 'the middleweight scene' - me and Julio Chavez jr were the only fighters in there along with the four champions.
"So, it's not just me saying it. My opinion is I'd beat the two of them, as their opinion is they'd beat me - but the fact is my standing is higher in the middleweight division."
Relish
A fight series between the three would no doubt be a fascinating domestic contest and super-middleweight Commonwealth champion George Groves would relish the opportunity to see that take place. However, the London boxer stressed the difficulty of arranging fights of that kind.
"It's tough in boxing to make fights sometimes; they're all with different promoters and it's hard to get everyone in one place to get the fight sorted," he said. "But we'd love to see it.
"You're fortunate to have rivals in your division because otherwise you don't get any work at all and it would be great to see these fights made."
Former super-middleweight world champion Richie Woodhall agreed and said both Macklin and Barker had shown their capabilities with valiant defeats to middleweight king Sergio Martinez.
"Macklin and Barker showed they were world class against Martinez," he said. "Those fights were great performances from both of them.
"With those two, Murray, Billy Joe Saunders and John Ryder coming up, it's a terrific division domestically."