Paying the Price
As he prepares to avenge his shock loss to Tony Thompson, David Price tells Sky Sports why things will be different this time
Last Updated: 22/06/13 5:49pm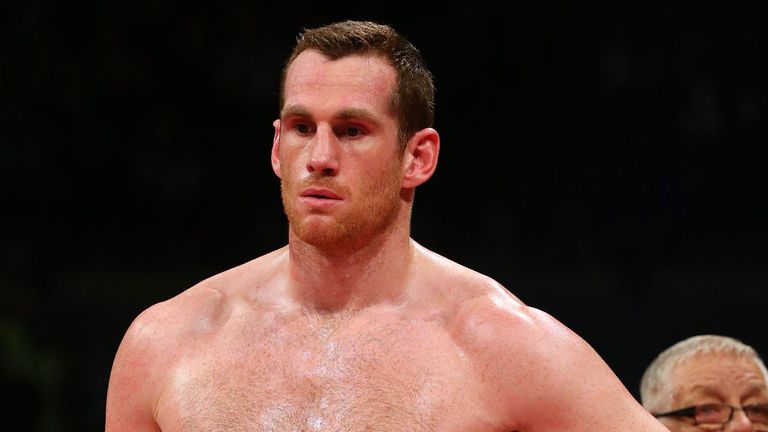 The Liverpool heavyweight, renowned for his brutal knockouts, was expected to propel himself from domestic star to international contender during the pair's first meeting at the Echo Arena in February.
But Thompson did not read the script as he stunned the Olympic bronze medallist in front of his home fans with a second-round stoppage courtesy of a crunching right hook behind the ear.
"It was something that I didn't expect to happen and it was a major shock to everyone involved, I think," Price told Sky Sports.
"But the thing I've changed for this, more than anything, is my mental approach to the fight, rather than physical.
"I don't think the physical preparations for the last fight were a problem, it was more to do with being a little bit complacent in the build-up to the fight and underestimating Tony Thompson, which was just a result of my own successes I was having in the ring.
"These things happen and it has probably made me a better fighter for it."
Prior to his fight with Thompson Price had blitzed his way past a string of domestic opponents, knocking out nine straight opponents including the likes of Sam Sexton, Audley Harrison and Matt Skelton.
The clamour for a grudge match with rival Tyson Fury was already huge, while some had set the bar even higher and believed Price was almost ready for a world title shot.
The 41-year-old Thompson, who - barring an early-career six-round loss - has only ever been beaten by Wladimir Klitschko, was expected to be a mere stepping stone in Price's blossoming career. Most pundits and fans were already looking past the American, as was Price himself.
He added: "The talk about potential fights with various people didn't help. The week of the fight people were writing Tony Thompson off and expecting me to walk through him.
"Tony Thompson weighed-in at his career heaviest, which led me to believe he hadn't trained for the fight. The complacency crept in, it was just an accumulation of things. There was a lot of hype surrounding me and you get caught up in it."
Over-confidence, complacency and a poor mental attitude could easily explain Price's shocking loss. But does the defeat actually have bigger ramifications? Have they exposed a deep-rooted flaw in his technique? A tactical deficiency?
Price responds: "It was the mental issue which led to the tactical mistake I made in the ring. As I'm approaching it with a different mental capacity for this fight, I'll make the right decisions in the ring."
Regardless, there is always an element of danger when stepping back into the ring with an opponent who has proven he possesses legitimate one-punch knockout power.
The image of Price staggering to his feet in a desperate attempt to try and continue has raised inevitable question marks about his chin, but the 29-year-old is confident there will be no long-term durability issues.
"The worst thing that can happen in a boxing fight is you getting knocked out. The worst has already happened to me, so not much more can go wrong than has already gone wrong," he reasoned.
"That's the way I'm looking at it, it can only get better for me. I'm confident of proving that that shouldn't have happened in the first fight and that I can prove to be the superior fighter."
In preparation for the upcoming bout with Thompson, Price spent three weeks training with former undisputed heavyweight champion Lennox Lewis, a man who knows what it is like to avenge a knockout loss.
Price admits that his confidence was seriously dented after the loss and it was only after getting back into training camp that he regained the missing self-belief.
He said: "It took time to rebuild the confidence and regain it and it's only when you start getting yourself back in good shape and going to the gym when you start getting your confidence back.
"As it stands now I'm the same fighter I was last fight confidence-wise, but not over-confident."
Another defeat on home soil could have disastrous consequences for Price, but he insists he is not feeling any extra pressure this time around.
"I always use the support of my home fans, the only pressure on me is the pressure I'm putting on myself," he said.
"But if you look at it logically, I'm under no more pressure to win this fight than I have been for any other fight I've had in my career. Every fight I have is a must-win fight and this is no different."
Iron Gym are proud sponsors of the Price vs Thompson fight. For more information on Iron Gym go to www.irongym-europe.com