Prospects
Inverness heavyweight Gary Cornish has compiled a record of 15-0 to start his professional career. Sky Sports caught up with him.
By Shaun Brown
Last Updated: 02/08/13 12:08pm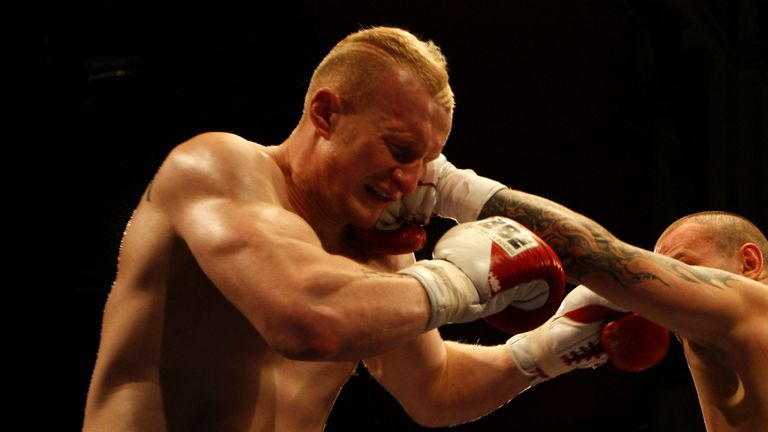 Benny Lynch, Walter McGowan, Ken Buchanan right through to the more contemporary Scott Harrison, Alex Arthur and Ricky Burns have all been born from the east-west divide.
A change of scenery is always refreshing and in Inverness heavyweight Gary Cornish, the fans certainly have something new on their horizon.
No-one knows how good the 26-year-old could become and after a record amassed of 15-0 (7 KOs), the current International Masters champion is still very much a work in progress.
His promoter, and Scottish boxing stalwart Tommy Gilmour described him last year as "a piece of moulding clay", referring to the amount of overall development still needed for Cornish to succeed. It's no surprise, having only had nine fights as an amateur.
"I just couldn't get the fights or opponents up here," Cornish told Sky Sports when recalling that frustrating period.
"The first five of those fights I won by knockout and because of that no-one was wanting to fight me. We struggled all the time to get fights, my coach could see I was getting annoyed with it all so we decided to turn professional (in 2011)."
Learning
In the no vest, no head-guard ranks the big KOs haven't always come but, perhaps more importantly, the rounds and invaluable experiences have.
The Scot, patriotically nicknamed as "Highlander" is learning his craft and slowly but surely the progress is steadying which has been helped greatly by his activity.
Already this year he has posted four fights with four wins and last time out was his biggest test to date with a somewhat controversial fifth-round stoppage win over Paul Butlin, a man who shared the ring with Dereck Chisora not once but twice.
"I was pleased with the performance and the way I fought throughout," Cornish commented.
"I felt fit, I didn't really get hit and landed a good body shot to finish it. Although I wasn't too happy with their reaction. (Butlin claimed the punch was a low blow). I think he thought he was just going to come up here and knock me out. I've had hardly had any amateur fights, he's had all the experience but he got a surprise when he got in there with me."
Next up for the 6ft 7ins Cornish is an outing in September with a date and opponent yet to be announced. Getting ahead of himself is not on Cornish's mind, he remains constantly aware of the work that needs done and is willing to take his kit and travel the length and breadth of Britain to further his education.
"We have to travel all the time to get sparring because there's none up here," he admitted.
"On one occasion I didn't get a spar before one of my fights."
And did it affect him? "Yeah definitely, when you've had your sparring as I've had with the likes of David Price and Jon-Lewis Dickinson I'm as sharp as anything and importantly you have the timing right for your punches. Hopefully we can get something set up properly so that doesn't happen again."
Local hero
So there appears to be aspects in and out the ring that need to be worked on to ensure Cornish becomes a force at British level.
One thing in his weaponry that does not need tinkered with is his growing fanbase. Inverness may be dwarfed by Glasgow and Edinburgh on the map but boxing has returned to his native town five times during his pro career and the locals are immensely proud of their Invernesian hero.
"It's amazing because even before I was boxing I played football and people knew who I was. Now it's just went crazy and I'm getting stopped all the time.
"A lot of kids have started to go to boxing as well which means a lot to me. I never thought a few years ago that a kid would want to follow in my footsteps, it's hard to believe."
And who knows, with the right progression and match making, Cornish may soon have many more additions to his fan club if a British title shot comes his way.
Cornish has already created a little bit of Scottish boxing history with his International Masters title win that was 62 years in the making for a country not exactly awash with heavweights.
And could he go one better than Dundee's Ken Shaw who was the last Scot to get a whiff of a British title when he fought and lost in an eliminator against Freddie Mills in 1948?
"The division's pretty open," he assessed, "I was surprised that [David] Price got beat both times by Tony Thompson. I need to step up to fighting top ten guys but I'm not looking to be fast tracked. As long as I can keep up that winning record then my title shot will come."