Impressive Anthony Joshua mustn't be burned out, says Larry Holmes
Heavyweight legend Larry Holmes was impressed with Anthony Joshua but worries he's overdoing it.
Last Updated: 15/11/13 10:14am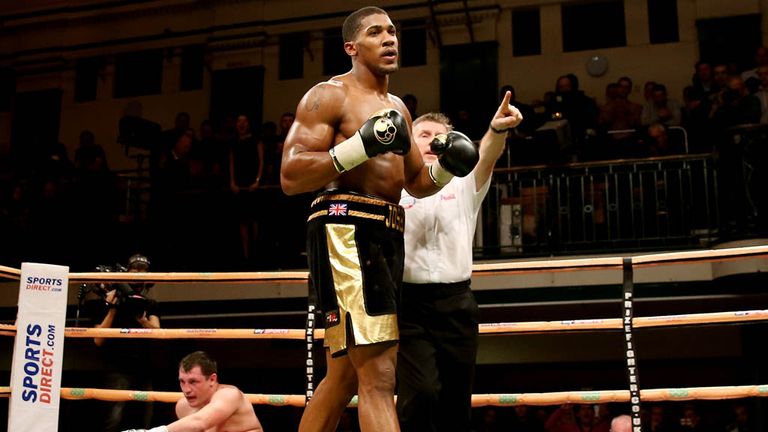 But former world heavyweight champion Larry Holmes, who watched the fight ringside, said he's worried that the Olympic goal medallist will 'burn out' with his busy schedule, which has seen him fight his first three professional bouts in just over a month.
Holmes said: "I was very impressed. He did the things he needed to do and he got it done.
"I don't agree with everything his manager (Eddie Hearn) says because you don't want to leave it all in the gym. I wouldn't put a fighter straight back out into another fight. Let his body heal, let his mind heal.
"There are a lot of fighters that get hurt because they fight and then have another fight and never get a chance to rest.
"He can fight strong, he can't fight weak but if you burn all the energy off out in the street or in the gym you're not going to have anything left, you're not going to make it.
"I would say preserve all of that like I did. I had 38 years of boxing when I finished boxing. I didn't rush back in to another fight, I waited two or three months before I got in to another fight. This is what you've got to do, let that body heal and let that mind heal and don't take any shots to the side of the head."
Potential
Despite his criticism of Joshua's schedule, Holmes was full of admiration for 24-year-old, who he believes has the potential to succeed in a heavyweight division which is lacking competition at the moment.
"He's going to get better," added Holmes.
"He made a very good impression on all the people in the ring, including myself.
"He's got to take his time and learn it hard and real. The guy's got a lot of potential, I just hope they don't burn him out and I hope they're not afraid to pick up the phone and call me and ask me a question because I could tell them.
"I want a young man to come out and win and if you burn them out it's your fault that he ain't making it because he's got all the potential and there's nobody out there. Who you got, the Klitschko brothers?
"We don't have anyone in America, you ain't got nobody out there to fight any more, if you're a heavyweight like I've been trying to get, you've got it made."
Prizefighter
Joshua's fight was on the card at York Hall on Thursday night which was hosting Prizefighter.
The heavyweight competition was won by British veteran Michael Sprott, who became a two-time Prizefighter champion.
Sprott led a UK quartet against their USA rivals, beating Jason Gavern over three sessions in the final and British heavyweight champion David Price, who was ringside, rates his chances of a comeback.
Price said: "I'm made up for Michael Sprott and I hope something does come from this fight.
"It was a good performance in the final and he did exactly what we thought he would and that was to get behind his jab."