Froch Diary #4 - Carl needs no extra motivation... but he's got some now!
The fight is finally here and after an "electric" weigh-in Carl Froch is ready to get rid of George Groves!
By Carl Froch
Last Updated: 23/11/13 12:39pm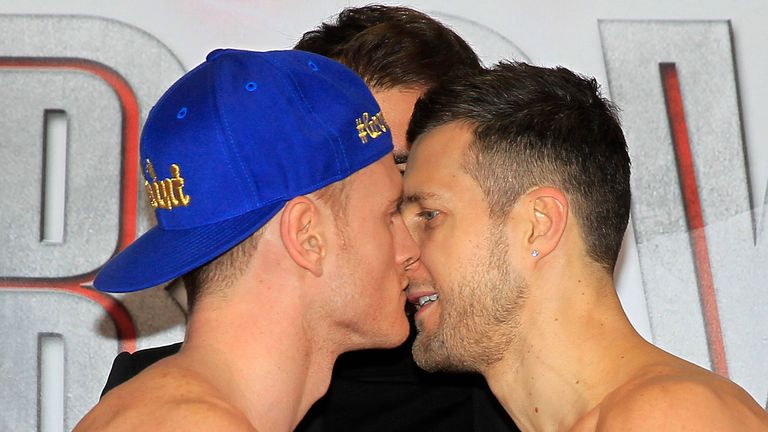 That was one of the most electric weigh-ins I've ever taken part in. The crowd were fantastic and I thank them all for coming down, both mine and George's fans. I hope that's whet your appetites for tonight!
Last night was a chance to relax and just ease into fight night mode and make sure that when I walk out in front of 20,000 screaming fans in the arena and step through those ropes, Groves will be looking back at me and I'll be 100 per cent ready to get rid of him.
I'm not going to tell you what I said at the weigh-in - that's between me and Groves. But I don't think he has any idea what he's letting himself in for tonight. I'm in the shape of my life and I really want to do a job on this guy, he's in a world of trouble and he's done the one thing he shouldn't have done - give me extra motivation.
There are different elements that motivate me. It's not financial gain, although boxing is my livelihood boxing is a business and I do earn money for fighting because I'm a prize fighter and all professional fighters should be paid well.
Beautiful
But that's not my motivation because I've been very fortunate of late in my career, I've been very wise with my money whereas some fighters in their careers - we're talking hundreds of millions and Mike Tyson and Evander Holyfield for starters - and some of the big heavyweights, have ended up running out of money. I don't know how that's possible to be honest.
The money that I've earned and what I've done outside of boxing - the businesses I've set up, the properties, the investments - have financially, put me in a very strong position. I'm not money motivated but I run a very tight ship, I'm very astute but motivationally that's number three or four down my list.
Nothing comes close to boxing for me, I just love it. I don't love it so much that I won't be able to turn my back on it one day though because I have a beautiful family and I look forward to the day I retire, and believe it or not that motivates me.
I'm going to retire one day so I'm going to make the most of it while I can. I'm not going to eat things I shouldn't be eating and I'm not going to go out and have a drink. I prepare diligently for every fight. I know that one day I won't be able to do what I'm doing.
That day is a long way off though! I can't wait for tonight, I'm so confident and so ready to prove that there's a huge difference between George and I - sport is about levels and he'll find that out tonight to his cost.
Thank you for all your support. It's going to be a great night in Manchester, the undercard is fantastic and I promise you, my fight with George is going to be an explosive piece of sporting drama - don't miss it!