Froch v Groves II: Pundits have their say on the first three fights of the night
Pundits look at first three fights of the night
Last Updated: 30/05/14 2:23pm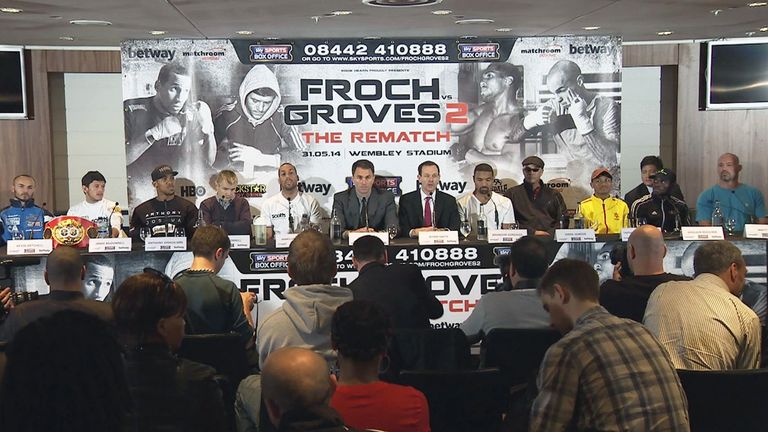 Carl Froch and George Groves have been grabbing the headlines, but there are some mouth-watering match-ups on the undercard at Wembley.
James DeGale will put himself inline for a shot at the winner of the main event with victory over Brandon Gonzales - and you can read what Johnny Nelson makes of his chances here. 
But first, heavyweight prospect Anthony Joshua will be kicking off the night, followed by Jamie McDonnell's bantamweight world title clash and Kevin Mitchell's lightweight final eliminator.
Here's what how the Sky Sports pundits assess their tasks...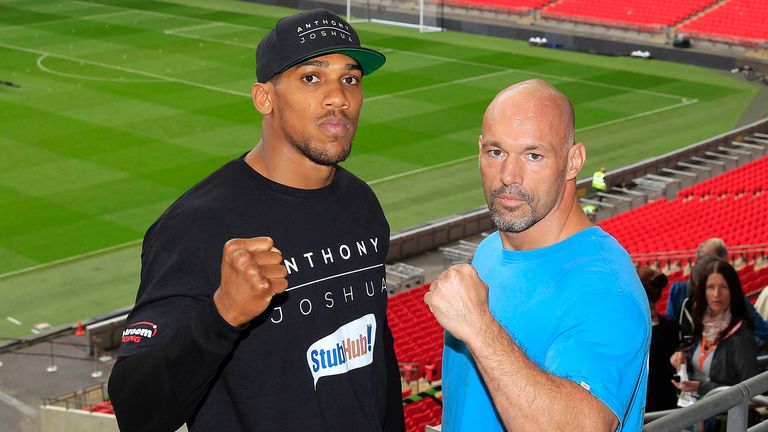 Anthony Joshua v Matt Legg
JIM WATT: What I like about Anthony Joshua is the fact that he's his own worst critic. He doesn't blow his own trumpet and for a young heavyweight with so much hype surrounding him, it is nice to see him keeping his feet on the floor. I think he is going to enjoy opening the night and I am sure he wants to put on a show. I don't think he wants to knock Matt Legg out with a big booming right early on and I can see him doing the job properly, showing that he has improved and a one-rounder doesn't really do that. Another win, probably in the second round, maybe the third. 
GLENN MCCRORY: I actually think Joshua will be the most nervous fighter we'll be seeing on Saturday. You are talking about a guy who won an Olympic gold medal but this is still going to be the biggest occasion he's boxed in, believe me.This is going to be extra-ordinary. I've worked on these big nights for the last 25 years but I might even have a few nerves to start with! But there is one thing that comes with nerves, it's fear and that will bring out a performance from Joshua. I expect this to be very, very quick, inside the first round because of those exact reasons. 
JOHNNY NELSON: This is another exercise in exerting his skills and showing us what he has got in the locker - even at this early stage. Joshua has boxed and won at the Olympics so don't think for a minute he is going to be nervous at Wembley and even though he is the most inexperienced fighter on the night he will be the one with the most experience when it comes to this crowd. He could knock Matt Legg out in the first round easily but I think he might enjoy it out there and stretch it out… to the second!
JAMIE MOORE: I can see Anthony getting back in the changing room quickly so he can get back out and watch the rest of the fights! He will be nervous as well, don't you worry about that because even if Wembley is half-full there are going to be 40,000 people watching so it is a massive, massive stage. Matt Legg is a tough guy and he'll come out and want to put the performance of his life on - and that will be his downfall. He'll try and nail Joshua and he'll get caught on the way in and that's that. It will be another Joshua KO in the first or second round.
SPENCER OLIVER: This is going to be a spectacular start to the night! I can't see it lasting more than a round because Matt Legg is made for Anthony Joshua, he really is. We all saw him in Prizefighter, getting stopped in three rounds by James Toney, and although, like everyone, I am a Lights Out fan - look at his age! Now if Toney can stop Legg inside three rounds, Joshua can do it in one. He has had a hand problem and he might well want to test it out and that makes it even more likely for it to be over in a flash.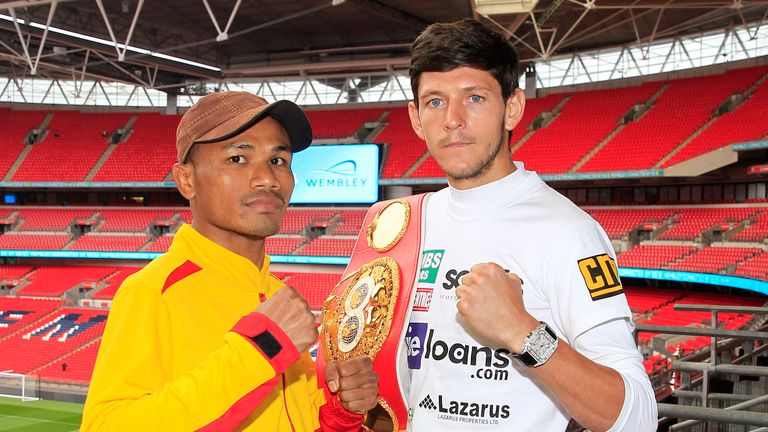 Jamie McDonnell v Tabtimdaeng Na Rachawat
WATT: I am delighted that Jamie is getting this chance, given what he was put through by the IBF and getting stripped of his title. I'll be honest, he was never a fighter I thought would be a world champion in his early days but he has proved me wrong and I like that. He has improved in every department and raised his game and this is a fight he can definitely win. All he has to do is box at his best and although Tabtimdaeng Na Rachawat won't leave him alone, he has a great engine and boxing at home? He will respond and even if it goes to points he will be a world champion again, with a clear decision.
MCCRORY: Well I am delighted because Britain is going to get another world champion on Saturday night! We don't really know what to expect from the Thai fighters - especially when you see them having a full Englsh breakfast in the hotel five days before the fight! Rachawat has 54 fights but has never boxed anyone I've heard of, never mind boxed outside his country. So, reading between the lines, they are taking a punt getting him to this level and it won't go that well because I can see McDonnell stopping him, without too much trouble. He does need to put a big performance in and I think he will, so we will have two bantamweight world champions up north. Jamie will confirm that in the second half of the fight.
JOHNNY NELSON: This is going to be a bit of a war of attrition over the distance but Jamie has got the engine and he is a strong lad so I can't see him missing out on the chance of becoming a world champion again. Tabtimdaeng Na Rachawat has never boxed outside of Thailand and he has a decent record but the fact that I saw the lad training in the gym with his sweat gear on Thursday morning, it suggests he might be out of his depth. Jamie will certainly do the business and I am going to go for a fairly comfortable win on points - but a late stoppage isn't out of the question either.
JAMIE MOORE: This lad has got a point to prove but the first thing he'll need to do is see what Tabtimdaeng Na Rachawat has got. He is a bit of an unknown quantity so there's not much to go on but Jamie is a massive bantamweight and fights at a terrific pace and on first impressions that should see him get that world title back in his grasp. I was there ringside when McDonnell won the IBF and he lost the first few rounds but he clawed his way back and you know he can adapt and as Saturday's fight goes on he will have worked the guy out and will win it on points.
SPENCER OLIVER: I fancy McDonnell to become a world champion for the second time. Yes the other guy has had 54 fights and 52 wins, which sounds great, but I've looked at him on YouTube and if I am honest, this lad is slow. Real slow. He can hit a bit but he is so ponderous I can only see McDonnell boxing his ears off, I really do. But even if he is not fast or has not boxed outside Thailand, Na Rachawat will be tough. If McDonnell does stop him it will be late on, so I'll go for the points win.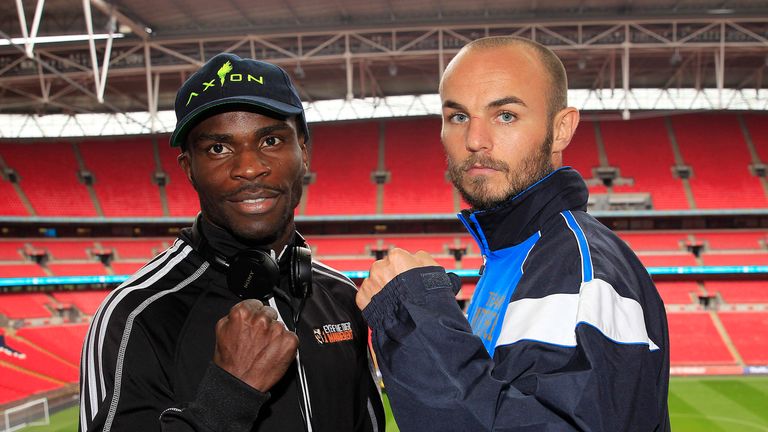 Kevin Mitchell v Ghislain Maduma
JIM WATT: Maduma  is undefeated and an unknown quantity but he is based in Canada where we have covered a couple of big nights recently and I haven't seen him on them. That means he is not even in Canada's elite level so his experience and the level he has boxed at makes Kevin Mitchell the favourite by a long chalk. But he has of course fallen short twice before when he took on the world elite, so let's see. It is a good time for him; he's back with Tony Sims, he is keeping busy, he is performing well and a huge event like this will suit him nicely. He will take this on points, even if Maduma is as good as we might think.
GLENN MCCRORY: Maduma is not only confident and undefeated but he is a puncher as well, so I can see this being a real tough test for Mitchell, I really do. He is going to have to be at his very best but if we can get the Kevin Mitchell that schooled Breidis Prescott a few years ago, he will be right back in the world-class mix. He is sparring with Ricky Burns every day and that can only get him going again and the cut on his nose just shows how tough the sparring is. But if that brings out the Mitchell we know, I think he will definitely win this one by points for sure, but I wouldn't put a late stoppage out of the question either.
JOHNNY NELSON: The rewards are high for Mitchell and he is back in love with the game and perfoming on the biggest stage British boxing has ever seen, so if this isn't going to motivate Kevin to box the way we know he can, nothing will. I have a feeling we will see a classic performance from Kevin Mitchell and he will beat Ghislain Maduma, who we're not expecting to be a push-over. But I think this is going to get Mitchell going to put it on him and I can see him stopping him, probably in the early part of the second half.
JAMIE MOORE: This is going to be tough. Ghislain Maduma was certainly full of confidence at the press conference and it certainly wasn't bravado; this guy clearly believes in himself and is well rated by all the governing bodies. But so is Kevin Mitchell and he is in the form of his life again. If he is going to win on Saturday, though, it is going to be tough and I am not 100 per cent certain Kevin is going to come through this one. For me this is a tougher pick than Froch v Groves! I am going to say Mitchell nicks it on points but if Maduma gets it, it really won't be a big surprise.
SPENCER OLIVER: This is a real tough one. Maduma has been over here for two weeks and he was so happy to get this opportunity; he isn't here to make up the numbers. Another unbeaten fighter and potentially I think this could well be fight of the night because of him, but I am siding with Mitchell. One of the big reasons is because this is really the last-chance saloon for him and I think he realises that if he makes another mistake here, he will not get another shot. That, plus the home soil and the crowd behind him, I can see Mitchell scraping through a tough 12-rounder. 
Book Froch v Groves II: Unfinished Business now, online at skysports.com/frochgroves2, via your remote or via your telephone on 08442 410888.