Tony Bellew could become better cruiserweight than rival Nathan Cleverly
Jim Watt expects both Brits to come through unscathed on Saturday
By Jim Watt
Last Updated: 10/07/14 3:06pm
You have to accept that both Nathan Cleverly and Tony Bellew failed pretty dismally as light-heavyweights at world level.
Cleverly was world champion for a while but when he stepped into the top league against Sergey Kovalev he got blasted out and the same thing happened to Bellew against Adonis Stevenson.
Both men need to rebuild and I think the step up to cruiserweight will allow them to do that because they will no longer be trying to take off weight that they shouldn't be taking off.
When you shed the pounds so frequently you are harming your body, not making yourself fit, and it makes so much difference to a fighter when they are at their proper weight and feeling healthy.
That is the case for Nathan and Tony now, though I don't think either man is ready to jump back up to world level just yet after the setbacks they suffered as light-heavyweights.
My ideal scenario is that they fight each other next, with the winner perhaps then putting himself in line for a title shot.
Bigger
Bellew-Cleverly is a cracking domestic match and could follow in the footsteps of the brilliant Gavin Rees-Gary Buckland and Anthony Crolla-John Murray fights, so I say get it on as soon as possible!
Both boxers have pedigree and it won't take them too long to establish themselves, so after a couple of fights getting used to the new division they should be ready to face each other again.
I have a sneaky suspicion that Bellew will be a better cruiserweight because, as the naturally bigger man, the weight will suit him better and he looked more impressive in his debut in the division.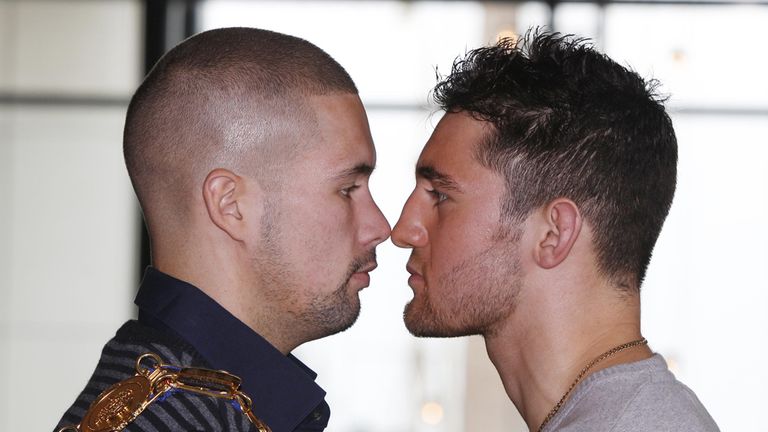 Cleverly did what he was expected to do against Shawn Corbin with an early knockout but Bellew was facing a tougher test in Valery Brudov and got an excellent finish in the last round.
However, Cleverly, quite rightly as far as I'm concerned, won the first fight on a majority decision and he would probably have the mental edge, so as it stands it's a real 50/50 match.
It's just good that Matchroom are sending Bellew and Cleverly on a collision course and not in different directions, as too many times in the past world-class fighters have not boxed each other.
That was most notable in the British middleweight and super-middleweight divisions, when we had reigning world champions but didn't know who the best in Britain was!
Toe-to-toe
There is a good chance that when Bellew and Cleverly fight again it will be in Liverpool so both will want to put in strong performances on Saturday to show the crowd what they could be in for.
We want two really exciting tasters, so I just hope their opponents, Julio Cesar Dos Santos and Alejandro Emilio Valori, are good enough to give us some toe-to-toe action.
Bellew's opponent, Dos Santos, has the better record of the two – he has lost just two of his 28 fights – and is a decent puncher, so he should make Tony work for the victory.
But both fighters were due to box last month so they will be in good shape and I am pretty confident we won't get a couple of blast-outs, as that would tell us nothing at all.
Still, Cleverly and Bellew are heavy favourites and I don't expect either to lose.
Watch Cleverly v Valori and Bellew v Dos Santos, plus fights for Anthony Joshua, Callum Smith, Rocky Fielding, Luke Campbell and more, from 7pm on Saturday on Sky Sports 1.