Shawn Porter v Kell Brook: Johnny Nelson says champion is not as good as they say!
Sky Sports reckons 'Showtime' is more than beatable...
By Johnny Nelson
Last Updated: 12/08/14 8:49am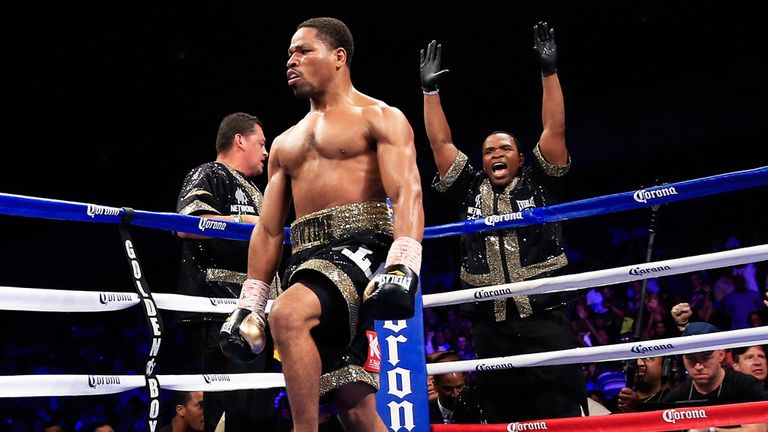 So we are now in fight week and while I am not out in California I feel like I am!
I know Kell Brook inside out but what about Shawn Porter? Is he one of the new breed of Americans coming through? Is he the next big thing? Will he blow Kell away like he did with Paulie Malignaggi? Or out-work him like he did with Devon Alexander?
Porter is tough. He's strong and that is what's got him where he is but if he comes up against someone who can box, who can move, who is fast and who is fit, I think he will get turned over.
This bloke is not a technical supremo - and Kell is.
Porter got past Alexander and was smart enough to flatten his confidence. He knew that he could not try and out-box him and instead had to rush him, get him off his game, get in his face and make it messy.
Now that is Porter's strength and that is hard to beat - but if you can box and you are fit, you can cope with someone like that and you can beat them.
If Kell can - and I think he can - out-box Porter, move him around and throw more punches, he will win.
Statement
I was out on Los Angeles with Paulie when he had got that call to take him on and that came right at the end of his career. Now I know we all expected better from Paulie but at that stage, even if he had been at his best, I think Kell would've beaten him, too.
When you hear that Demetrius Andrade, the middleweight, sparred Porter about a year ago and took him apart, you can see Kell doing the same.
Johnny Nelson
We all knew the best days of Paulie were over and Porter knew that if he got on him from the start, he would expose his weaknesses and because of that, finish him off and make a statement.
The one thing Kell can and has to do, though, is out-box him and when you hear that Demetrius Andrade, the middleweight, sparred Porter about a year ago, absolutely took him apart, out-boxed him and out-punched him, you can see Kell doing the same.
The one thing that worries me is Kell, out in California, away from home having to perform and do the job. I see Porter suggest the pressure will get to Kell but I just hope he can shut that out or maybe even feed off the anti-British, or even anti-Brook atmosphere.
In the ring, I have no concerns, though - I've heard that Brooks been sparring in the Mayweather gym with some tough Russians and he has been battering and impressing everyone.
Pressure
If you believe what you hear, the Porter people are worried their man is going to be in trouble. And they are worried this is a fight they should not have taken.
Kell, on the other hand is on a high. He's happy, is on form and training is going perfectly. That is six days away though and if Brook does not do it on Saturday he will never do it, simple as that.
There is pressure there because a world title is on the line, whether or not he gets another go.
Being in the States alone can expose people but the best, the very best fighters we produce, will perform even better.
We will find out when all the stakes are on the table, the pressure is on him and the home crowd want blood, will he step up a level? Well, we can't judge and Porter certainly can't.
But from what we have seen in terms of Kell out there and how we have analysed Porter in the ring, I think we are going to have another British world champion.
Watch Kell Brook take on Shawn Porter, one of three world titles you can see live. Coverage begins at 2am on Sky Sports 1 on August 17.