Porter v Brook: Amir Khan expects the champion to win, Ryan Rhodes the challenger
But both our studio guests would like to see the Brit win
Last Updated: 13/08/14 12:06pm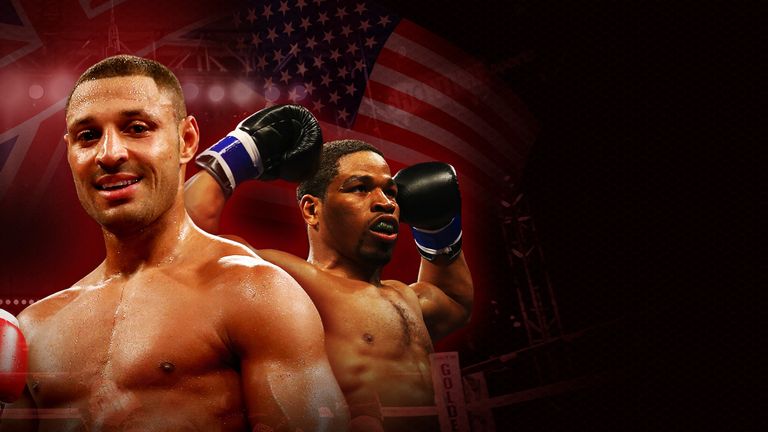 So the countdown is on for Kell Brook's big chance.
The Special One can become the latest British world champion as he takes on Shawn Porter, out in California this weekend.
The IBF welterweight world title clash will be live on Sky Sports 1 in the early hours of Sunday morning, with two studio guests watching on, both wanting Brook to win - even if it's for different reasons.
Amir Khan is, of course, a bitter rival in that division but says a title will make their inevitable showdown happen sooner rather than later, while Ryan Rhodes has known Brook since he was a kid and has trained, sparred and grown up with him.
So who better to set the scene with a quick Q&A?
Kell is saying he can still move up a few gears. Do you agree?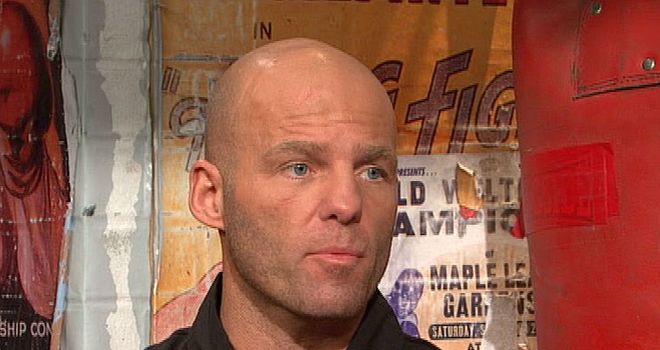 Ryan: I think Kell has got plenty more to offer. There is no doubt that Porter is the best guy he's faced so Kell is going to have to bring that A-game and before the bell rings that means he can't have cut any corners in training or conditioning. He has to be on the ball, 100 per cent, before a punch is thrown. And then we will see the sharpness. I know he's got that.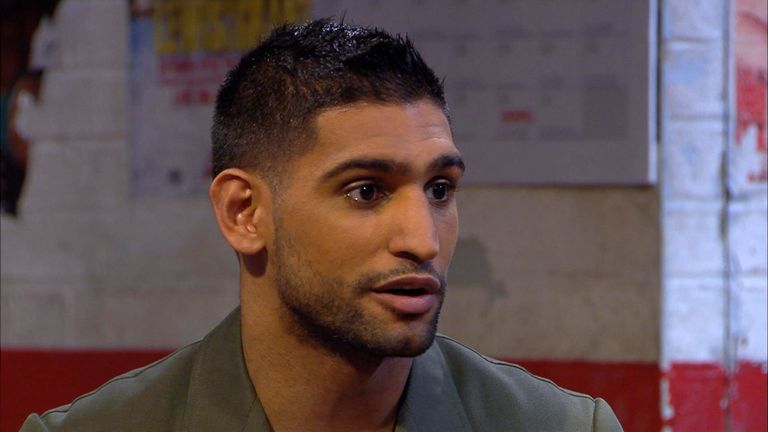 Amir: I think he can. This a big step up and he has to win that big fight to take on me or the other big names in boxing. It is the first time he has fought a big name and for a world title so he does need to step up. We will see what he can improve on and how he can get better but I always support our British fighters, so I hope he shows it. Facing the toughest figher he has faced should bring the best out of him. That is going to be interesting.
Have you got any worries or concerns over Kell fighting across the pond?
Amir: There are going to be more Porter fans than Kell fans out there so if he can shut it out, it helps. He needs to keep calm and he has to show that he can take a shot. He has never really been hit by a good shot but you expect Porter to land them, so let's see what that does. If he can do that, that is a big thing to have in the locker. But the big thing is the pressure.
Ryan: This is Kell's first world title fight and he is away from home, so he has got to handle the media attention, cope with all the cameras, reporters and American fans in his face. We don't know if Kell can handle that but I believe he can handle that on Saturday night. It is going to be tough, but he can deal with it.
What about Shawn Porter? How good is he?
FIGHT FACTS
SHAWN PORTER
Nickname:
Showtime
Age:
26
Lives:
Akron, Ohio, USA
Record:
24-0-1
KOs: 15
KELL BROOK
Nickname:
Special One
Age:
28
Lives:
Sheffield, England
Record:
32-0
KOs:
22
Ryan: To be fair I've only see three of his fights, the last three. He won the world title when he beat Devon Alexander but to be honest, it wasn't a great fight and he didn't bash him up but he did, I thought, scrape it. As for the Paulie Malignaggi fight if I am honest, Paulie looked like he'd got old overnight. We know he can't punch, but he can move, he is fast and this is a guy that has been in with Ricky Hatton, Amir Khan and Miguel Cotto, yet all of a sudden, we saw none of that. Yes, Porter did what he needed to do and he did it very well but he was able to walk through Malignaggi because he just wasn't on the move.
Amir: Shawn's a good fighter alright and the simple fact that he has trained with Freddie Roach in the Wild Card gym tells us that. He is dangerous and we all know he had a good win against Devon Alexander. But when I beat Paulie Malignaggi in 2010 people were saying he was shot, he was done, he should call it a day but then when Shawn Porter beat him, he was up there with the best in the world. Only time will tell is how good Porter is - starting this weekend I guess.
Regardless of Dominic Ingle and Brook's gameplan, how would YOU beat Porter?
Amir: You have to have a good jab and then good movement and make sure you are busy. You can't afford to give someone like Porter any respect in that ring because he will feed off that. You have to keep him off his game. We know Kell can move and we know he can jab but let's see if he can get it all working and do the job. If he does then no matter what happens, I will take my hat off to him.
Ryan: I think you've got to be elusive. You've got to be fast, you've got to be sharp and I think the one important thing is, you've got to have a dig on you. Malignaggi didn't have that so Porter could just bulldozer through him but with Kell, the movement and the ability is there, but he also has a good whack which is vital. If Porter is going to be coming forward, he is going to get hit by his power-shots or those sharp counters. It is going to be a big shock if he thinks he can walk through him.
So, before you settle down and cheer on the British challenger, what is your prediction...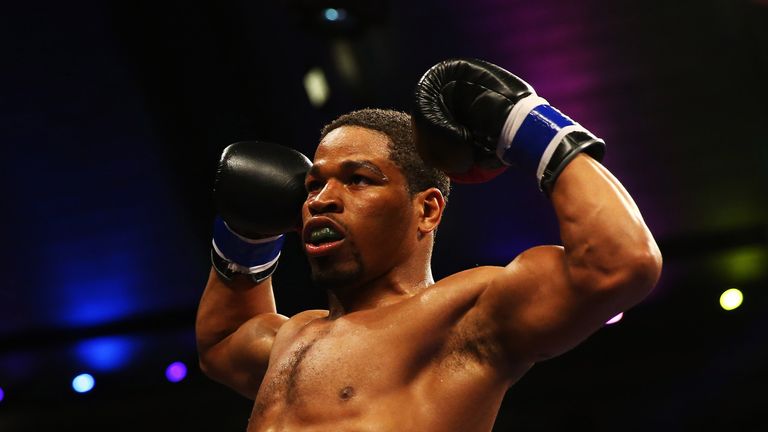 Amir: I am leaning towards Porter in this one because he has more big fight experience and that training with Freddie, never mind what he can do in the ring. But we know that one punch can change it all. I do think it is going to go the distance and probably be a split or unanimous in Porter's favour. If that happens Kell will still get my respect; to even get to this level and give it a go should be applauded.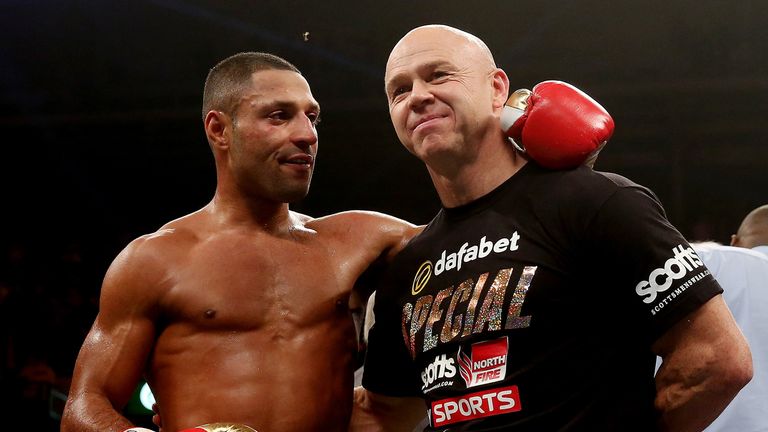 Ryan: It is going to be a tough, tough four or five rounds for Kell. Porter will be sharp and strong and I've seen videos of him and that head movement. The way he comes on does make him look like a mini Mike Tyson! Kell has to stay behind that jab - which is one of the best in the business - and then after that Porter will start slowing down. I think Kell can't afford to let it go the distance, so I am going for Round 10 or 11. 
Amir Khan and Ryan Rhodes are out studio guests in the early hours of Sunday monring, when Porter v Brook and two other world title fights are live on Sky Sports 1, from 2am on Sunday.