Fight of shame
Sky Sports looks at the incidents which made Dereck Chisora's WBC heavyweight bout with Vitali Klitschko in Munich so controversial.
Last Updated: 23/02/12 5:32pm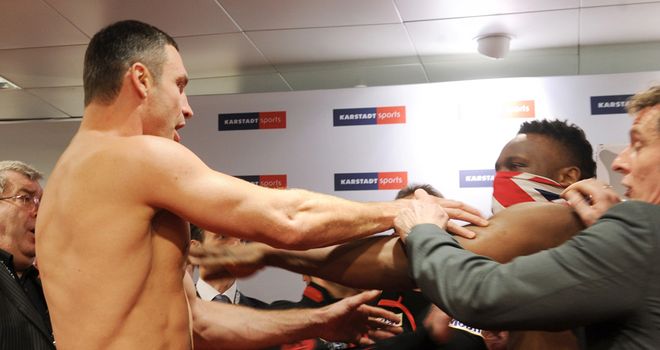 Dereck Chisora's WBC heavyweight title fight with Vitali Klitschko in Munich will be remembered for everything that happened outside of the ring.
In it, Klitschko produced an assured performance to win on a unanimous points decision, but out of it, Chisora certainly made a name for himself.
Here, Sky Sports looks at some of the incidents that made it such a stormy night in Germany.
PRE-FIGHT WEIGH-IN
Chisora went against the etiquette of the sport by slapping Klitschko in the face as the two squared-up at the traditional pre-bout weigh in. Wearing a Union Jack scarf across his mouth, Chisora shamefully assaulted his opponent, whose only retaliation was to tell the 28-year-old he hit "like a woman". Chisora's trainer, Don Charles, called his fighter's actions "unacceptable" and the watching Adam Booth, trainer of David Haye, said he had committed "professional suicide". The World Boxing Council then confirmed they would be fining Chisora.
PRE-FIGHT SPRAY
Having entered the ring first, Chisora waited for Vitali and then squared up to him as soon as he arrived. He then took the bizarre move of staring out brother Wladimir, before appearing to spray water from his mouth in to his face. Much like his brother the previous day, Klitschko did not respond. Chisora's manager Frank Warren later alluded to the fact that Wladimir had been in Chisora's dressing room before the fight, watching him wrap his hands.
POST-FIGHT CONFRONTATION
The fighters touched gloves as is tradition ahead of a 12th round, but they did not embrace, as is also tradition, at the final bell. There was no hug once the verdict was read out and, Chisora, who seemingly had no axe to grind, insisted on aggressively squaring-up to Klitschko until manager Warren intervened and restored order, but not before demanding a rematch.
POST-FIGHT BRAWL
With all the drama seemingly over, things got even more explosive in the post-fight press conference. After the two fighters discussed the bout, Haye appeared at the back of the room and conversation quickly turned to Haye's defeat to Wladimir last year. Chisora and Haye verbally abused each other before trading blows, with Haye breaking off to fight a member of Chisora's entourage. He picked up and swung a tripod and Booth, who was trying to break things up, was left with a wounded face.