Manny Steward
Emanuel Steward was widely acclaimed as one of the finest boxing trainers of his generation.
Last Updated: 26/10/12 7:27am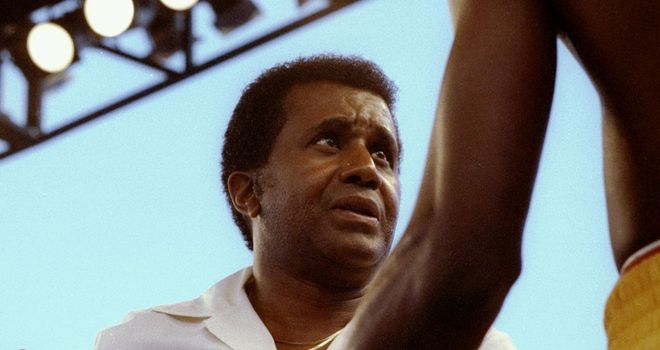 Emanuel Steward was one of the finest boxing trainers of his generation, whose list of world champions stretched more than a quarter of a century from Thomas Hearns to reigning heavyweight king Wladimir Klitschko.
Steward, who died on Thursday at the age of 68, was best known for establishing the legendary Kronk Gym in Detroit, from which both home-grown lightweight Hilmer Kenty and Hearns - then a tall, skinny local youth - emerged to win world titles.
Steward was born in West Virginia in 1944 and carved a reputation as a good fighter in his own right, compiling an amateur record of 94 wins against just three defeats, and winning the Golden Gloves title at bantamweight in 1963.
After a short period away from the sport working as an electrician, Steward returned to the Kronk to help train his half-brother, 15-year-old James. In 1977, he took both Kenty and Hearns into the professional ranks.
While Kenty stopped Ernesto Espana in four rounds to win the WBA crown in 1980, it was with Hearns, who won his first world title five months later by stopping Pipino Cuevas in two rounds for the WBA welterweight belt, that Steward first found fame.
Under Steward's guidance, Hearns changed from a ragged pressure fighter into one of the greatest single punchers in boxing history, competing in a series of brutal classics with the likes of Sugar Ray Leonard, Marvin Hagler and Roberto Duran.
Hearns, who continued fighting until 2006, also became the first boxer in history to win world titles in four recognised weight divisions, and earlier this year was elected to join Steward in the prestigious International Boxing Hall of Fame.
Steward went on to establish himself as one of his sport's most successful and prolific trainers, working with world champions including Mike McCallum, Dennis Andries, Evander Holyfield, Lennox Lewis, Naseem Hamed, and most recently Klitschko.
In doing so, Steward established the Kronk brand across the world, leading to an international outcry when the original gym was closed by Detroit city authorities in 2006. Steward relocated the gym a few blocks away.
Steward, who became a respected co-commentator on big fights for the American cable network Home Box Office, was still working closely with his final champion, Klitschko, until a matter of weeks before his death.