British heavweight Dereck Chisora will be offered a rematch against Robert Helenius
Promoter Kalle Sauerland admits Dereck Chisora will be offered a chance to avenge his defeat by Robert Helenius.
Last Updated: 23/01/13 4:04pm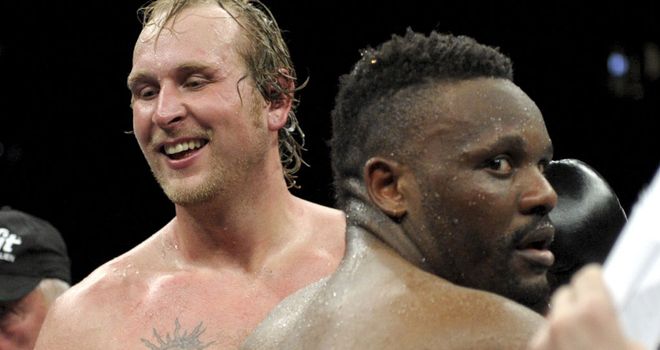 Chisora challenged Helenius for his European heavyweight title in December 2011 and was left fuming after his Finnish opponent was handed a split decision win in Helsinki.
The Londoner recovered well from being hurt in the opening round and appeared to outwork Helenius, who suffered a serious shoulder injury in the fight, but the champion still clung onto his title.
Helenius finally returned in November with a points win over journeyman Sherman Williams and Sauerland believes he will meet Chisora again in the future.
"I think that Dereck just needs some fights. For me, the first fight, politically speaking, I think he was unlucky, very unlucky," said Sauerland.
"I think we will definitely get that fight on down the line. The question is when? Helenius has just had a year out.
"A lot of people said Helenius was built up to be something big and then after that fight, people said he isn't all that. But I mustn't forget he had Chisora, by Del Boy's own admission, in the first round but he held onto him and got through that round.
"But he hurt his shoulder and was out for one year with that shoulder injury. So he boxed 11 rounds with basically one arm.
"Not taking anything away. It was a great fight. I would love to see that fight again."
Impressive
David Price and Tyson Fury are also hoping to land big fights in the top division this year and Sauerland insists the pair should make fans wait a while longer for their eagerly anticipated grudge match.
"I like them both, we've had both over at our Sauerland headquarters in Berlin," he said. "I found Fury to be a gentleman with us and with our team. He looked very impressive in sparring.
"David Price, we've done sparring with him as well, and he looked very impressive as well.
"I think it's great news for England. I have got to say from the outset. I don't want to put a dampener on it for the fans, but I don't know why they've got to box at this stage. There are so many big fights that can be made in the future.
"Give it some time, the Klitschkos aren't getting stronger, there's only one left most likely.
"This country is blessed with an abundance of heavyweight talent coming through, so why risk it now. In a year's time the division is going to be so exciting."