Tony Thompson stunned the Liverpool crowd by stopping David Price
British heavyweight champion David Price has lost his unbeaten record after a stunning loss to Tony Thompson.
Last Updated: 25/02/13 12:06pm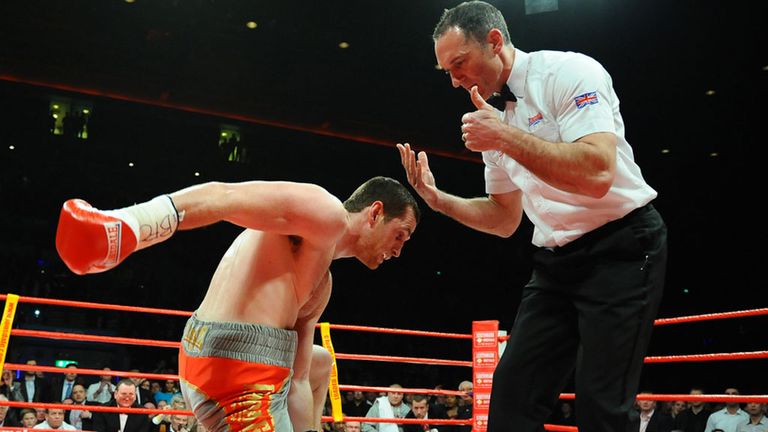 The 29-year-old was a hot favourite to continue his march up the heavyweight ranks, with a shot at the world title his ultimate goal.
But Thompson, an experienced campaigner whose only two recent losses came at the hands of world champion Wladimir Klitschko, had other ideas, and he ended things early with a brutal right hand.
Nearly 6,000 fans crammed into Liverpool's Echo Arena to cheer on Liverpudlian Price, who had beaten all of his last seven opponents inside four rounds.
However, the 41-year-old Thompson represented his toughest test to date and the fight began quietly, with Price holding ring centre from the first bell but not landing any big shots in the opening round.
That changed in the second when the Brit went on the attack and forced Thompson back into the corner as he landed some powerful body blows.
However, Thompson defended well, weathered the onslaught and managed to escape the corner.
The duo then traded blows towards the centre of the ring and, to the disbelief of most of the spectators, Thompson caught Price with a short right to the side of the head which sent the Brit toppling to the canvas.
Price did manage to get up but his legs had turned to jelly and referee Steve Gray had little option but to stop the contest after two minutes and 17 seconds of round two.
A jubilant Thompson shouted: "I told you so, I told you not to fall for the tricks," while a stunned Price was left to ponder the damage this loss may do to his career.
On the undercard, Darren Hamilton retained his British light-welterweight title with an easy points win over Steve Williams and Kevin Satchell beat Luke Wilton in a similarly comprehensive fashion to keep his British flyweight belt.