Talking points
We take a look at what's rattled your cage in the world of boxing over the past seven days..
By Adam Norman
Last Updated: 26/02/13 11:14am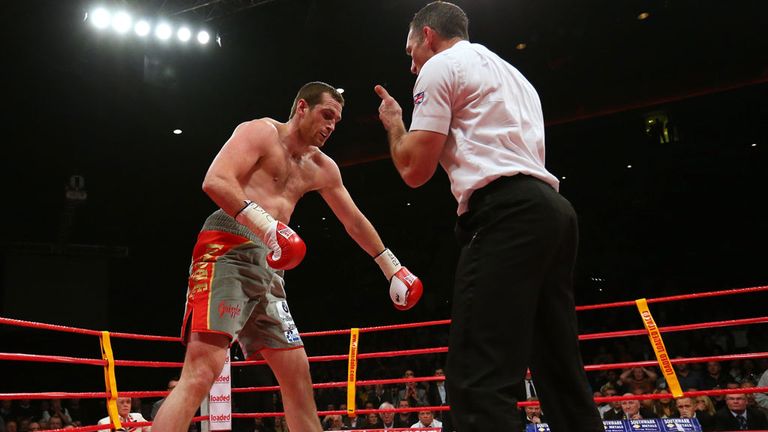 We've delved into the comments sections of our boxing stories and gathered together the best posts on the most contentious issues of the week.
This week there were undoubtedly two major talking points - the first defeat of David Price's career and the Prizefighter victory of Audley Harrison. Here's two guys who always attract your attention on these pages!
We don't make any apology for the typing errors!
As always, we welcome your comments in the box below
We had an enormous response to David Price's senstational knockout defeat to Tony Thompson, re-igniting the ongoing debate as to the Liverpudlian's world title credentials, and his merits in relation to arch-rival Tyson Fury.
rob: I'm no boxing expert although I have watched the sport for a good many years. I think in Britain we don't seem to produce that many intelligent boxers who can avoid getting hit not just with speed but with shoulder and body movement. Looking at the Price's knockout there are cleary things which he can improve on as his body shape was so open. Having said that his response to the knockdown is worrying for his future cause the better the fighter you face, the more you will get hit so it's whether he can step up to world class even with hard work in the gym. And it did look more of a glancing blow.
baz: Now i cant be bothered writing another lecture again to once again prove the uneducated so called boxing fans/pundits but Price cannot compete at elite level, end of, he is limited fighter! For everyone who thinks he is going to beat "everyone" and clean up the heavyweight division, wake up and smell the coffee, it aint going to happen like i've always said! And yes i will jump on him because he has lost ... (as Roger Mayweather would quote) most people don't know #@*! about boxing!!
r.ryland: Every single one of you idiots on here haven't got a clue about boxing. Tony Thompson is a wily old veteran, he has been around this game for donkeys years and has fought at the highest level. David Price hasn't even fought for a european title, in fact he hasn't even cleaned up domestically. Why did everybody think he was going to just walk through Thompson? Because he knocked out Audley Deluded Harrison? How disrespectful is that. Thompson has campaigned at world level, it was too big a jump for Price. Just because he fills arenas in Liverpool it doesn't make him experienced in the ring. Tyson Fury has fought harder opposition. Also I would just like to point out Prices sloppy technique last night. If he was blocking his chin with the left Thompson wouldn't of landed the shot in the first place.
martin: Spot on post. I do rate Price, but he has been pushed way too much, to the point where some thought he was ready for a Klitschko this year. People saying it was a freak punch...it doesn't matter, he should have had a more polished defense. Price's last two fights have been a pointless waste of time, so hopefully this is the catalyst for him to go back to basics.
sean: The way people are jumping on David Price for this loss is a joke. Not that it matters a great deal but he was the better of the two for the first round and a half. And he wasn't knocked out he got hit by a one in a million shot! that jab would not of even of tensed his neck muscles but because of where it hit it perfurated his ear drum and anyone who suffers an injury to the ear loses all sense of balance.. hence the 'jelly legs'. I still think Price will come back to contend with the best in the division and get a title shot, hopefully Fury is as stupid as he looks and thinks he can now beat Price and take the fight on.
mp promotions: Rumour has it Thompson didn't even train for this & Price still got it. Price looked like an amateur in there & Thompson jumped on it. Maybe a change in trainer for Price.
cruz: This is what price needed.. It will bring the even better fighter out of him in every way!
jose: You have idiots on here who say that was a slap!!!they obviously have never been in the ring themselves.David Price will come again I'm sure of it ,he has learnt a good lesson,he needs more top class sparring ,and could do with a lot more coaching on his footwork and utilising his jab more.
george: All this people saying 'Price got it'; 'he's been found out' or that 'he's chinny' are missing the wood for the trees: the fact of the matter is that a freak punch perforated Price's eardrum - how was he supposed to recover from that?
andy: Still think Price will be world class and will come back stronger, sometimes these guys need that wake up call to get back to training hard and not getting sloppy because they believe the hype. Fury fans will love this but I'm sure Fury still won't get in the ring with Price!!
real-deal: Previous British hopes have suffered knock out defeats ie Bruno, Lewis and Haye. i have always rated Price, he looks the part and has the tools. Occasionally you get hit with a punch the head or body which you just cannot deal with, that's boxing and why we love it! Hopefully Price can regroup after this? Don't forget Thompson was/is a decent fighter albeit older now.
steve: I agree with the majority of the comments about how poor this fight was for Price's ambitions but he isn't chinny, his eardrum was perforated by a shot taken to the side of the head. a weak punch but it took away his balance in an instant. he tried to get up too early rather than taking all of the time to try and clear his head and get on his bike for the next few minutes, ref didn't have an option but to stop the fight - heavyweights doing the jelly leg dance can get seriously hurt
united4lyf
: Its funny how u have seemed to point out the slight displacement in the punch delivered to price. I remember the time Khan was humbled by Garcia and every1 went on about his chin, even though he was hit on the median neck area that'd knock most guys out. My point is not that price is a chinny, its just that people shouldn't become hypocrites and call Khan a chin produced using glass and call price's knockdown a freak injury
Audley Harrison, making yet another comeback after being knocked senseless by Price in October, once again took to the three-round format to lift his second Prizefighter trophy. Harrison looked better than ever in beating three sub-standard rivals, although many of you remain unconvinced...
wursten: I must say, I was very impressed by Audley. He had a great style, worked to his strengths, didnt lose his head and go in for wld punches... he fought to stop his opponents winning, to stop them having a chance to win. Very impressive. He evidently has got the skills to be at the top. He however evidently does not have the bottle to carry them through when he comes up against someone he thinks could hurt him. If he was in the next prizefighter heavyweights, he would win it too... but go up against a Klitchko Audley? retire now after you have won... and a good ending to your career.
jopppers: audley is still the same, he still looked like he was scared to take a punch, he fights too high with his head back, he only won because he was technically head and shoulders above the rest. he will still crumble if he meets a solid fighter, you can see it in his eyes.
gearoid: "But it was a very different Harrison that turned up at York Hall and he oozed confidence as he quickly claimed the middle of the ring". You just can't but admire this man. Kicked, spat out and walked all over. The opposition may not have been great but tonight we saw the best of Audley. Style, skill, ring smart and above all HEART. He has more talent than Haye, Fury and Price put together and I for one hope he kicks on. Even at the age of 41, I still think he can win a world title. He's the only man on the planet with the tools to beat the Klits. I will probably get the usual haters laughing at me and looking to degrade Audley but in past posts I always supported him. Audley if you are reading this please listen. "You are an inspiration. Please go out and fight every single fight like that, as tho it was your last!! Then IMO you will be the champion of the world"
stephen: Fairplay. Anyone who really knows boxing knew prizefighter is made for Audley. It took bottle doing this after the price defeat.
neil: Audley Harrison a World Champion, please be serious I have more chance of playing for Manchester United.
dan: Knocking out some bums does not make you world title material Fraudley, please don't forget how David Price knocked you out cold in 93 seconds, and there are numerous fighters who would do the same to you. Prizefighter is your level, and this is way below European and World level. This man is clearly the most deluded individual on the face of the planet
pete: The only way this fool will retire is if something horrific happens and he doesnt walk out of the ring! He is a clown that has no chance of winning a world title, he is diluded by his own hype. He knows he is terrible but he lies to himself which is the worst thing, maybe he did have a little talent but now he is a joke and the only one that cant accept it is him! He is the king of excuses but will never be king of the ring!
sharpstyle: It was a good performance - but he doesnt deserve a title shot, not after his last one with Haye were he 'forgot' to throw any punches and nearly had his purse withdrawn. Fury, Price and Haye are all more deserving of a title shot.
p: Somehow i like this guys journey, he has something cartoonlike and irrepressible. He suffers catastrophic setbacks and surprising rebirths. It is at the very least an interesting story, partly also due to his somewhat offbeat self analysis. Keep it up.