A true test
Amir Khan cannot afford any more mistakes as he continues to rebuild his career in the face of back-to-back defeats to Lamont Peterson and Danny Garcia. However, in Julio Diaz he takes on a man who still has the desire to be world champion again.
Last Updated: 05/04/13 11:46am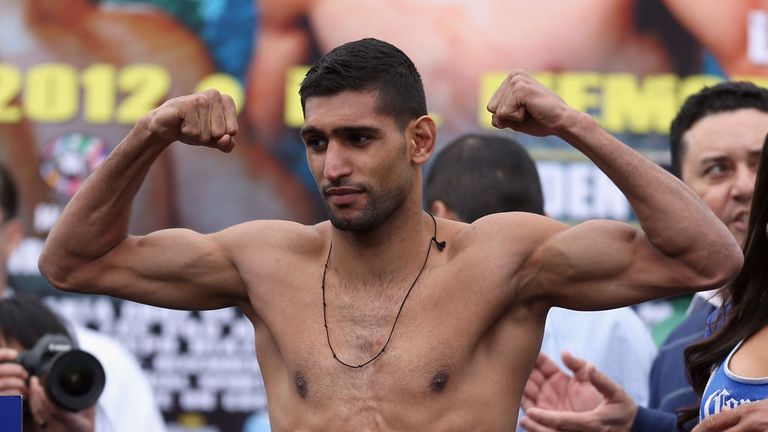 Amir Khan had to have a proper warm-up fight on his UK return later this month if he is to get another shot at the world title. The question is, has he bitten off more than he can chew?
For in opponent Julio Diaz, Khan's team has selected a guy who himself has the hunger and ambition to challenge for title honours.
At 33, the California-based Mexican has been around the block. A two-time lightweight champion as a young man, Diaz lost his way as personal problems overtook his desire to fight.
But with those issues buried in the past, and on a three-fight unbeaten streak, could there be more to Diaz (40-7-1) than meets the eye.
"I'm looking forward to it and very excited," he told Sky Sports.
"They think it's a safe fight, for him to come back and rebuild his career and his confidence. He took on Carlos Molina in his last fight, a very small guy with no power, a very straight-forward type of guy.
"He made Amir Khan look good. I'm not Carlos Molina, I'm a veteran, experienced and a very strong puncher. If they chose me for Amir to look great in his hometown (sic) I think it's the worst mistake they made.
"I'm coming to fight, I'm trying to rebuild my own career. I'm not just happy to be there, I'm going for Amir Khan."
Experience
Diaz's record is scarred by seven losses, but each time he came back to prove himself as good as ever. His 2011 loss to recent title challenger Kendall Holt was the latest reality check in a career that began in 1999 and saw him get to 23-0 inside two-and-a-half years.
"I'm the same fighter, just more experienced and more mature," he said. "I lost focused for a little bit, I had a lot of distractions in my personal life and I took fights just to take them, basing myself on skill and not preparing 100 percent.
"It took a fighter like Kendall Holt to make me humble, and make me get back on track and be serious.
"So I gave it one last run and here I am and Amir Khan is in a dangerous fight. I don't care that people say I'm a stepping stone or I'm old, it doesn't bother me.
"I'm going to the UK to for a victory and I will get that knockout. This is a big opportunity for me so I'm training like never before to make sure everything is right. My head is clear, my personal life is good and this is a great time for me to be fighting.
"Amir Khan is going to get the best Julio Diaz you've ever seen. If Amir beats me, I give him all the credit in the world. I have no excuses."
Diaz served notice that he had plenty more to offer by forcing a draw with unbeaten prospect Shawn Porter in December, and he was riled at the notion that he had become a 'gatekeeper' to title contention.
"I was very proud of that fight. When they offered me the fight against a young and unbeaten prospect, I said 'you know what, I'm not going to be a stepping stone for anybody'. I don't want to be used like that," he said.
"But I took that fight to prove that Julio Diaz is still a complete fighter and can still perform at the top level, and that's the only reason I took it.
"I am where I am right now. If I can perform against a young unbeaten fighter then Amir Khan should not be a problem.
"To be honest I wasn't happy with the result, but I didn't mind because I'm an experienced person in the business of boxing. I know that giving me a draw, that meant a win.
"When you've got a young prospect fighting a guy like me, if it really had been a draw they would have given the fight to him. It's understandable. But when they gave me the draw, I knew I had won and they saved his record."
Warrior
Khan is looking to re-invent himself under guidance of new trainer Virgil Hunter, but there were still unnecessary signs of the warrior in him during his victory over Molina and Diaz believes he is catching the Briton at the right time.
"I think it's too soon for a fighter and trainer to adapt. It takes time, you cannot change a fighter that has been like that from day one in two fights," he added. "So I think that could confuse him here. Hopefully that's the case and I get him at a good time.
"We've had the same team, we're comfortable with that, we've just added other members - conditioning and nutrition etc - but this is not the time to be changing, all we do is deal with training and make it more intense.
"I'm going to try to catch him with the right punches, and hurt him. I want to hurt Amir Khan and put him out, I don't want a decision. We all know that it's his own town and everything's in his favour. The decision is not going to get me a victory.
"It's nothing against Khan, he's a great guy, but I need a knockout. That's the only way to secure a win."
Should Khan lose again, it would mean the end of his 'superstar' status in the sport. He cannot afford to take Julio Diaz lightly.