Nurse on the up
Yorkshireman Tyrone Nurse is continuing to progress through the ranks in the light-welterweight division after losing in the final of Prizefighter last year. He talks to Shaun Brown about his prospects for the future.
By Shaun Brown
Last Updated: 05/07/13 10:07am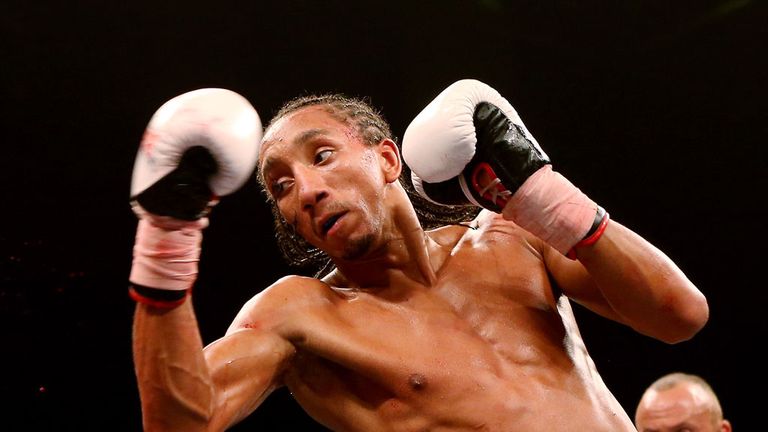 He may only be 23 but Tyrone Nurse has already had 27 fights (with just one defeat) and has been boxing professionally since he was 18 years old.
Only then did the Huddersfield technician start taking his career seriously.
"I always trained with pros in gyms and at 14 years old I was sparring the likes of (former British champion) Carl Johanneson," he told Sky Sports. "When I was in the amateurs I didn't want to just 'box' I wanted to have a war every time."
After plying his trade in the usual four and six rounders against all kinds of journeymen, Nurse came to the public's attention when he fought in the rock em' and sock em' environment of Prizefighter early last year.
On that night he saw off two of boxing's toughest in Dale Miles and Young Mutley but eventually he would lose to Adil Anwar in the final and Nurse, the Central Area light welterweight champion, has one eye on Anwar's next fight - a British title challenge against champion Darren Hamilton in Liverpool next month.
That fight is not expected to produce many fireworks but Nurse is expecting a close encounter.
Interested
"Yeah I can see why they're saying that but you never know do you? We've seen fights that were meant to be boring but turned out to be classics, it's all about what happens on the night.
"Of course I'm interested in the fight, it's my weight division and we'll see what happens but if I was put on the spot I'd pick Anwar to win but it'll be tough and close. The key for Adil is to get the jab going. Hamilton's got long arms and can go 12 rounds comfortably.
"If a fight with the winner got offered for whatever reason then I, like anyone who was in that position, would take it. It's a cliché but it's one fight at a time for now and a case of seeing what comes up. Likewise with the Commonwealth title, that would be good too. It would be nice to go the traditional route."
All that concentrates the mind of Nurse right now is that of the English title currently held by Shayne 'The Pain' Singleton. The pair, who have sparred together in the past, could well be squaring off without the headguards in Manchester in September. Nurse wouldn't be drawn into the furore after Singleton won the title back in March.
"I know there was controversy about his win over Curtis (Woodhouse) but I can't comment on it because I haven't seen the fight. Everyone I know that did see the fight said Curtis was robbed. Right now though all my focus is on Shayne and winning the English title."
As well as sparring guys like Singleton, Nurse has also found himself in the company of IBF world super featherweight champion Argenis Mendez. The Dominican was on everyone's lips earlier this year with his four round demolition of Juan Carlos Salgado in their rematch in California. Not only is Nurse grateful to be sparring someone of his calibre but he's willing to take whatever shots the world champion lands so that his education can be furthered.
"He's so slick and big for the weight. The last spar before my last fight was really good but anything you do wrong he makes you pay but that's what you need. He caught me with good shots but you learn from sparring a world champion. We're hopefully going to be sparring more in the future, I can't wait."
After career interruptions with hand injuries, Nurse is now sailing a smooth course to a fight with Singleton. By the end of 2013, the graphic designer by night is aiming to have made a defence of the English title with a shot at the British next year.
Gutted
Nurse is desperate to display the skills that were interrupted when he won his second professional title (Nurse landed the British Masters light welterweight title in 2010) in February against Joe Elfidh. That night proved to be bitter sweet when Elfidh suffered a shoulder injury in the second round.
"To be honest after the Elfidh fight I was instantly gutted for about a week after," said a disappointed Nurse.
"I was saying sorry to the people that turned up. I was Central Area champion but I had that gutted feeling. Training camp had gone so well, I'd done sparring with Argenis Mendez and I didn't get to show everything from that. I think I threw fifteen punches in the whole fight. I didn't even bother having a shower afterwards!
"I went to a local pub afterwards and had a couple of drinks. I then went out on the town but I was in a s**t mood. I ended up sitting watching television. It was crap. If a rematch comes up it comes up but I'm looking beyond that now."
When it comes to advantages over his rivals, Nurse may already have one. It's only a number but his 27 fights, regardless of who it has been against, is already more than the likes of Singleton, Anwar and Hamilton have had. The argument may not seem significant but when I put it to Nurse, he did agree that when it comes to the crunch he can perhaps call on experiences that the others can't.
"I've been involved in stinkers, I've been cut, I've been knocked down, I've won, I've lost, and I've fought in big arenas. I've had the limelight on me too when I boxed in Prizefighter. All these experiences are ones that the other fighter might not have had and they could play a big role when it comes to fight night. If you have a swollen eye or a hand injury you find a way to win, I know how to do that, I know how to win.
"I know I've been on a long road so far but I also know I'm on the right road."