Prospects
With three title-winning elder brothers, Callum Smith has a lot to live up to. However, 'Mundo' could be the best of the lot as Sky Sports finds out in this week's 'ones to watch'.
By Shaun Brown
Last Updated: 05/07/13 10:06am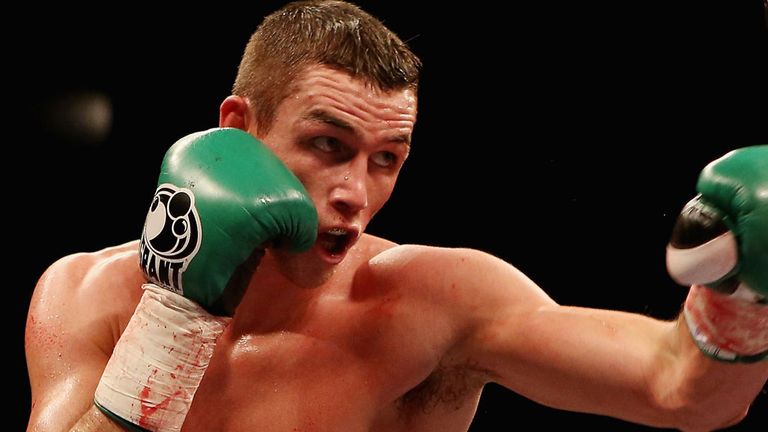 Unless a fighter retires undefeated like Joe Calzaghe there is a distinct possibility that he or she will encounter heartbreak in the ring at some point during their career.
The Welsh great no doubt suffered such emotions as an amateur but it's unlikely that he or many others will have had to go through what Callum Smith endured at last year's Olympic qualifying tournament in Turkey.
The Liverpudlian who fought in the light-heavyweight category was robbed 16-14 in a controversial defeat to Azerbaijan's Vatan Huseynli, a bout that would have sealed his place at the games in London.
Smith and his fighting brothers of Paul, Stephen and Liam were left in shock and to lick their wounds at such a sporting absurdity. Then came the added insult of Callum losing out on the AIBA's invitational spot to the boxer of their choice to Bosko Draskovic, a Montenegrin who Smith had beaten earlier in the qualifiers.
Speaking to Sky Sports, Smith admitted it took him a while to recover from such a setback. "It was a kick in the balls. I was facing bigger lads at 81kg and it was a gamble but that week not a light heavyweight in the world could have beaten me.
"I took a break from boxing. I decided to be a normal lad for a bit and enjoy life so I could start over with a clean slate."
Fast forward to July 2013 and the 23 year old hasn't looked back. Teaming up with his brothers at Joe Gallagher's gym as well as being signed up by Eddie Hearn at Matchroom has seen Smith go to a record of 6-0 (4 KOs) since his professional debut last November.
Smith is thrilled at the progress he's made and the name he's made for himself in such a short space of time.
"It's great to be this active as well. When I was in the amateurs I had spoken with Eddie and he came across as a nice, honest fella but I could see what he was doing with [Scotty] Cardle and getting him out a lot. I wanted that."
Confidence
A trip to Freddie Roach's Wildcard Gym in Los Angeles, six fights in seven months and worldwide exposure on bills such as the Carl Froch-Mikkel Kessler rematch has helped "Mundo" to forget about his Olympic nightmare. Smith told Sky Sports he had concerns that because he didn't make the Olympic team he would be ignored and not receive the same sort of respect and adulation that former team mates, such as Tom Stalker did. Confidence now runs through Smith not only in the ring but out of it too. He now knows he belongs.
"I'm now on the same bills as guys like that and my last four performances have got people talking. Every Matchroom fighter wanted to be on the Froch-Kessler bill and out with Froch, George Groves and Tony Bellew I got on it with Martin Ward."
After a summer break Smith looks set to be on Matchroom's September 21 show in Sheffield to be headlined by Kell Brook should he come through his rematch on July 13 against Carson Jones.
As part of a Matchroom/Golden Boy Promotions agreement that sees fighters from each company appear on the other one's shows, Smith told Sky Sports that he could well be featuring on an American show at the end of August.
"I like how they do things in America, I like the set-up and after my experience at the Wildcard I'd love to be on a show over there."
Smith then recalled at his time at the world renowned HQ of Freddie Roach in which he and other members of Joe Gallagher's stable travelled to before he had even turned professional.
Quality
"It's not what you expect. Anyone can go in. They have sparring days, it's do or die because it's like actual fights. They look at your size and put you in with a guy who looks about the same, it was a bit nerve wracking but I held my own. We're looking to go back there this year."
Smith isn't short of quality sparring and training at his own gym with the likes of Scott Quigg, Anthony Crolla, Callum Johnson, Hosea Burton and the rest of the Smith siblings on hand to put each other through their paces.
"My brother Stephen told me 'you only get out what you put in'. It doesn't matter how talented you are you've got to put the work in and we all do that. There are easier ways to make money but I'm in this sport now to win titles and go all the way.
"I have to work hard, we all do because there would be nothing worse than losing to a kid who you were better than because he worked hard and you didn't."
At super middleweight, Smith won't find many that aren't working as hard as he is. The division's history is littered with names that makes the hairs on the back of your neck stand up when you recall their fights. Benn-Eubank, Eubank-Watson, Calzaghe-Kessler, Froch-Kessler.... Smith wants his own slice of history, his own rivalry and he has an idea who will be joining him.
"I don't try to take notice of what others are doing because some might make it, some might not and some might get an early defeat and fall back so it's hard to judge, but Frank Buglioni's doing well. I shared a room with him in the amateur days and he's a good lad and I've got a lot of respect for him and his family as he has for me and mine. But out the lot I think he's the one that will be there with me.
"I've got a long way to go before all that happens but I'd say by November of next year I'll be fighting for a British title."
Callum Smith vs Frank Buglioni, a British classic in waiting. And as the great Angelo Dundee once said: "Let it come to the boil."