George Groves insists he is ready to share a ring with Carl Froch
George Groves insists he is ready to share a ring with WBA and IBF super middleweight champion Carl Froch
Last Updated: 24/10/13 2:24pm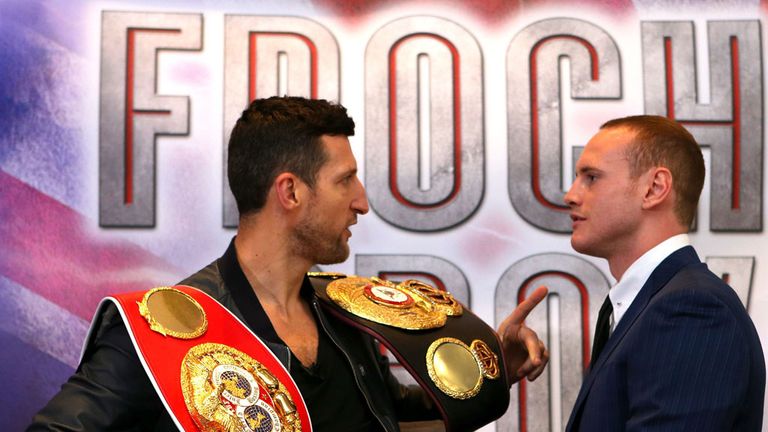 Froch warned Groves that is out of his depth and vowed to knockout the undefeated Londoner when the pair met at a sold out Phones 4u Arena in Manchester on November 23.
The 36-year-old champion taunted Groves when the pair went face to face in Tuesday's press conference.
"You shouldn't even be here," said Froch. "It's too early for you. Big mistake...big, big mistake. You'll learn a very, very valuable lesson, discipline and respect.
"You can't take a shot either, you can't even take a shot. You're getting knocked out, simple as that. You know it, you look worried, I can see it. It's the face of a worried man."
Commonwealth champion Groves, however, believes he is already world class and is confident of dethroning his older more experienced rival.
"His theory that this is a mismatch, that he's going to back me into a corner and let his hands go... if he comes with that mentality he's going to be in for big shock and a world of pain."
Groves appeared on the undercard of Froch's re-match against Mikkel Kessler in May, knocking out Uruguayan Noe Gonzalez.
He incurred his fellow Briton's anger by sparring with the Dane in the build-up to that event and acknowledged: "There is a bit of needle.
"Sparring with Kessler was great, he let me know I'm more than ready to compete at the level Froch is at. I belong at this level and I'm more than capable of fighting for world title.
"My performance against Gonzalez showed that if I'd have fought Froch that night, I'd have beat him that night.
"Carl Froch is very excited and very sure of himself, and I feel the same.
"I don't subscribe to the view he's at the top of his game and I look forward to pulling him apart."
"I am more than ready to fight Carl Froch and I will beat him. I can't wait to get in there and do it," added 25-year-old Groves.
"I'm supremely confident, hopefully it doesn't come across as arrogance, because I know whatever happens in this fight, I will find a way to beat Carl Froch."
You can watch the Battle of Britain showdown between Carl Froch and George Groves live on Sky Box Office on November 23