Carl Froch is not thinking about retirement in near future
Carl Froch has no retirement plans as he prepares for another world title clash against George Groves on November 23.
Last Updated: 11/11/13 7:11pm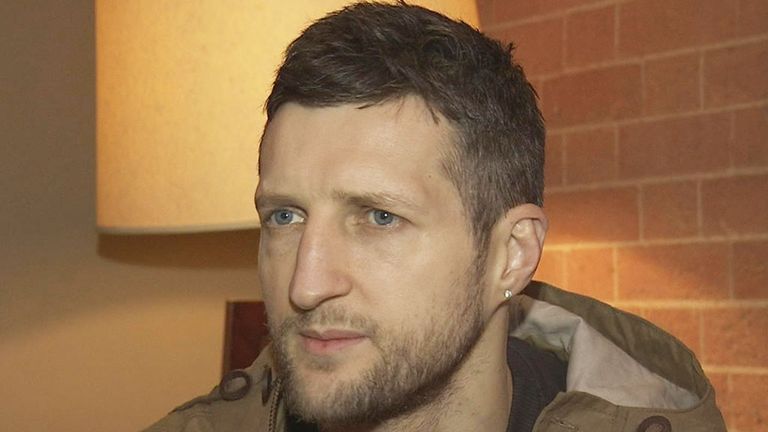 The 36-year-old is a three-time world champion and will put his WBA and IBF super-middleweight titles on the line against Groves in Manchester, live on Sky Sports Box Office.
Froch admitted he would have quit the sport if he had been beaten by Lucian Bute last year, but looked better than ever in a devastating fifth-round stoppage win.
The Nottingham man pounded out a points victory over Mikkel Kessler in their rematch in May and insists his rivals can forget about him hanging up his gloves in the near future.
When asked about how long his career would continue, Froch told Sky Sports News: "As long as I can, there's no time frame on it.
"I'm not going to say to you I'm going to hold onto it for this amount of months or this amount of years or this amount of fights.
"As long as I can still do the work and still put myself through the mill in terms of training and all the physical preparation you need to do, and physical attributes you need to have.
"If they are maintained, the older I get, and I can still do what I need to do to defend my titles, I will still keep doing it."
Froch is the favourite ahead of his showdown with Groves, who is unbeaten, but steps up to world title level for the first time.
There is a gulf in experience between the two men, but Froch admits that Groves' punch power makes him a dangerous challenger.
"This is my 14th world title fight. That level of motivation comes naturally and there is an amount of pressure whether you are challenger or champion," he said.
"There's great expectations on my shoulders to defend against this guy that not everybody, but a few people say he's not good enough, he shouldn't be in the ring with me. Possibly down to his ranking.
"George Groves is unbeaten in 19 fights, he's got 15 knockouts, so he's shown signs of being quite a big puncher and he's very confident.
"That in itself has got it's dangers and it's threats so I've got to take him very, very seriously, which I have done and do the business on the 23rd of November."
There is plenty of bad blood between the pair and Groves attempted to rile the champion on the recent Ringside Special.
Froch claims his opponent's verbal attack has merely given him more motivation and plans to make his point in devastating fashion on fight night.
Reflecting on what boxing fans can expect, he said: "A very good, entertaining fight that is going to end with George Groves getting absolutely flattened. He's been talking a good'un, saying all the wrong things. Wrong in terms of getting me motivated, which is good for me and bad for him.
"I thoroughly expect to hit him very hard on the chin and knock him unconscious. That's my game plan. I know I have the capabilities and the punching power, and the fact he's got a glass jaw doesn't help him at all."