George Groves: Carl Froch's legacy will be in tatters unless he agrees to rematch
George Groves has warned Carl Froch that his legacy will be tainted unless he agrees to a rematch.
Last Updated: 27/11/13 11:15am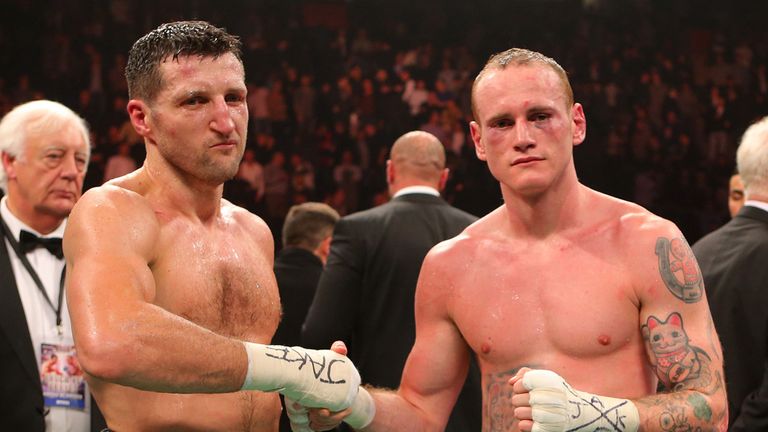 Froch retained his IBF and WBA titles after a controversial ninth-round stoppage in Manchester on Saturday.
Referee Howard Foster has been roundly criticised for stopping the bout too hastily and Groves told Sky Sports News that Froch's credibility "will be shot" if he doesn't give him a rematch.
"At the time I was sickened and gutted, but now I've watched the footage I'm a little angry," said Groves. "It's a shocking decision from the referee. I'm actually quite angry about it."
He added: "Froch has to give me a rematch or retire. That's his only option. There's no other fight out there for Carl that anyone would be interested in. His credibility will be shot if he tried to take on anyone else but me."
Groves would like to see a rematch fixed for Stamford Bridge - the home of his beloved Chelsea - or Wembley Stadium next summer.
"A rematch would mean a lot because it'll help people remember the unjust finish to this fight," said the 25-year-old.
"If we get an immediate rematch I'll put him to sleep even earlier. I take confidence from every fight but I now know a bit more about Carl Froch. Because of that, he won't even make it halfway through the fight next time."
When asked if he had a direct message for Froch, Groves said: "Come through on the promise you made everyone when you were desperate for a cheer at the end of the fight, that you'd give me a rematch.
"Let's be fair about this; we both know who won that fight. We know it shouldn't have been stopped and that you're very lucky, so honour your word and let's make this happen.
"The fans deserve it, I deserve it. I should be sitting here with two belts. Keep them warm for me, I'm coming to get them soon."
Froch says the decision to stop the fight was not down to him and told Sky Sports News: "I'm happy to honour the crowd, fans and George Groves with a rematch, if my trainer and promoter both agree.
"I don't swerve or duck anybody. If George wants a rematch and it makes sense, then of course we'll get it on. It's not my decision."
Froch admitted he was surprised by Groves' strong start to the bout but battled back to stop his tiring opponent in the ninth round.
"I had a slow start and got caught clean on the jaw with a very good right hand, and got flattened on the seat of my pants," said Froch.
"I was supposed to flatten George Groves in round one but got flattened myself, and I'm man enough to admit it.
"But like Rocky Balboa said, it's not about how many times you get flattened, it's how many times you come back from it.
"I got off the floor, carried on fighting and forced a stoppage in round nine. I turned the fight around and defended my title in style.
"I challenge any man to take that right hand off George Groves, get up and fight the way I did. It takes a lot of heart, guts, fitness and strength to do that."
Froch now intends to take a break from boxing and says any decision on his next fight won't be made until the New Year.
"It's been a very busy year for me and I've not had any time at home with my beautiful family," he said.
"I'm going to spend some quality time with them, get Christmas out of the way, and see what the New Year brings."