Sky Academy Sports Scholarships: Jack Bateson reflects on an encouraging 2013
Jack Bateson reflects on his first year in the senior ranks and his day of filming with Johnny Nelson.
Last Updated: 28/11/13 9:09am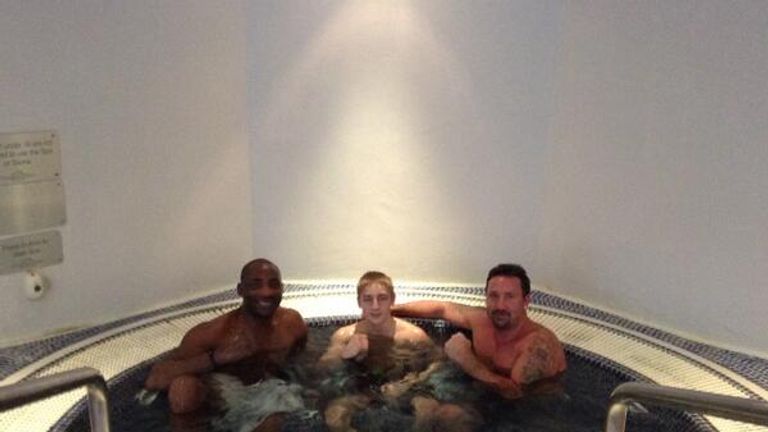 At the start of the year I was anxious knowing that I would soon be going in to my first senior major tournaments, the European and World Championships. Although there have been ups and downs, looking back on my year I am happy with how I have adapted to the senior ranks and proud to have collected a European Bronze which pushed me inside the AIBA Top 10 World Rankings.
I have gained valuable experience for future tournaments to come. The Costa Rican I lost out to by split decision in the Worlds went on to win a Bronze medal which gives me confidence knowing how close our contest was. In Kazakhstan I was able to see the quality of these top level fighters and I know what I need to work on to get to where I want to be.
There are no more tournaments this year although there will be a training camp in December where I will travel to Germany for competitive sparring and intense training.
I had a week off training returning home from Kazakhstan. I have been back in full time training for the last few weeks focusing on my technique and strength and conditioning, preparing for a big 2014. Next year there is a lot to look forward to such as the National Senior ABA Championships in April and, of course, the Commonwealth Games where I will be looking to represent England.
Visit
Johnny Nelson, who has just been announced as the Sky Academy Sports Scholarships spokesperson, came to visit me at home last week. It was great to see Johnny as he is inspirational in what he has achieved in and out of boxing. Johnny is also a good friend of mine, I met him a couple of years ago when him and Adam Smith did a piece on my college for Ringside and I have stayed in touch ever since.
He came to my parents' house on Friday morning with Sky to see what a day in my life looks like. To start the day me and my dad took him to Roundhay Park in Leeds where I do my weekly morning run. My Roundhay Park run involves hill sprints, stair running and other types of running exercises. I asked him to join in but he said he forgot his running shoes!
After the run we travelled to Cookridge Hall Fitness Centre where I usually go to wind down after a hard week of training. Here we went for a Jacuzzi and a sauna whilst we chatted about boxing. Johnny may have forgotten his running shoes but made sure he didn't forget his swimming shorts.
To finish the day we travelled back to my parents' house where my dad trains me in the garage, we did a few rounds on the pads and I finished with some shadow boxing and bag work. Johnny watched and gave me a few tips. It was great to listen to some of Johnny's stories and take it all in, he has experienced a lot in the sport of boxing, he told me about the ups and downs and how at times you can feel on top of the world and other times it can be a lonely sport. I am sure I will learn from this advice.