Glasgow goal
Flyweight boxer Jack Bateson tells Sky Sports about targeting the Commonwealth Games in Glasgow and his desire to keep adding to his medal collection...
Last Updated: 17/12/13 9:26am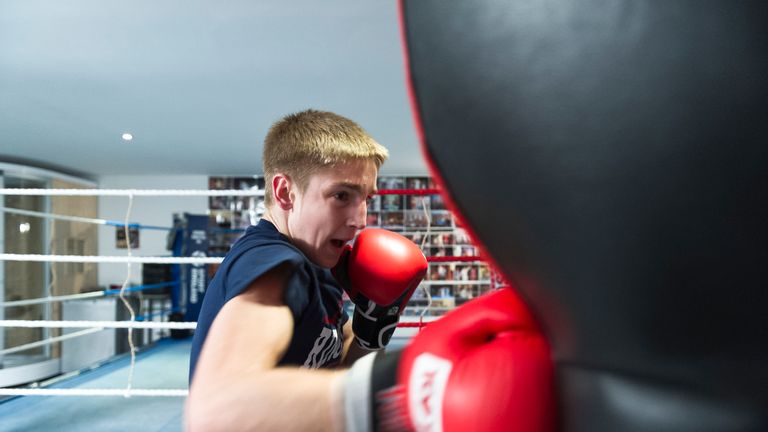 At just 19 years of age, he is also totally at ease when it comes to talking to the media.
On this occasion though, before the interview starts, we both fear it could be slightly awkward. The Sports Scholar was in the middle of filming a 'Day in the Life' piece with Nelson for Sky Sports. I'd been told to meet up with them at a health and fitness club just outside of Leeds where Bateson comes to relax at the end of the week's training with a sauna or a Jacuzzi.
With Bateson and Nelson in the Jacuzzi ready to continue filming, the camera steamed up and we were told it would be about 15 minutes until filming could start - the perfect opportunity for me to get my interview done, it was suggested.
This was not what either of us may have had in mind but with me crouched down beside the Jacuzzi, we began.
We needn't have worried. The somewhat unusual circumstances were soon forgotten as Bateson reflected on his slightly disappointing AIBA World Championships in Kazakhstan that he hopes will ultimately be beneficial as his career progresses.
"The experience was great," he said. "I was away from home for about three to four weeks, training went really well. I drew a Costa Rican in the round of 32. He was a good kid, it was a close fight and in the end it was a split decision I lost out on.
"It was one of those fights where it could have gone either way. I think what made the difference was that he was that little bit stronger, with him being that little bit older and a bit more mature, that made the difference.
"It was my first time without the head guards; it was the 10-9 scoring system. It was a great experience for me and looking towards future tournaments I can work on things. I know I'll be back stronger and when the time comes in future World Championships I'll be a lot more experienced and I'll be able to deal with it."
Ahead of the championships, the lack of head guards for the first time in 30 years had been one of the major talking points and Bateson admitted that while it did mean having to adapt in certain instances, he much preferred fighting without them.
"It was a bit strange," he explained. "You weren't just thinking about the punches, and when the heads were coming close we had defend against that as well. In training we worked on things such as defence and things like that.
"I quite enjoyed it, I felt a lot freer without the head guards and I was able to concentrate more without faffing about with your head guard and things like that and I hope they stay off."
The Costa Rican who edged past Bateson was David Rodriguez who went on to claim a bronze medal, a source both of comfort and frustration for the Great Britain fighter.
"It does help me in confidence knowing that he went on and did well and with me only losing by a split decision it could have been me with a bronze medal," added Bateson.
"If I want to be number one I've got to be beating these sort of guys and next time I go to a tournament I need to make sure that I am. I'm sure with a bit more experience behind me and as I mature I will be able to beat these sort of guys and come back with a medal next time."
One thing that can help give Bateson some inspiration and an extra boost of confidence, he said, is the backing of the Sports Scholarships and the Sky Academy as a whole. With the likes of David Beckham, Darren Campbell and Jessica Ennis-Hill, as well as Nelson, to look up to, the young boxer believes it is hard not to be motivated to succeed.
"It's massive, there are some huge names there and to know that you are associated with their sort of team and with Sky and to have those sort of names behind you, it's amazing," he said.
"Hopefully in future working with those sort of guys it'll give me confidence, working with the media and stuff like that. Not just make me a better athlete but also a better individual."
In the more immediate future, Bateson is looking at the possibility of competing again before the New Year after which attention will soon turn to Glasgow and the Commonwealth Games. With no European or World Championships in 2014, the Games are set to take centre stage in the amateur boxing calendar and with Team GB split into the individual nations, there will be the added excitement of possibly facing a British team-mate.
"We all spar together and especially when there's a few at each weight it'll be strange because you could be sparring together a couple of weeks before and then you're boxing your friend," Bateson said. "At the end of the day it's just a sport and you have football teams that play each other and we're boxers - that's what we do. At the end of the fight we'll shake hands and that'll be it.
"The Commonwealths will be the big one, especially with them being in Glasgow. So I'll be pushing to make sure I make that team when it's picked in May. I'll be working to prove that I'm the best in my weight division in Great Britain. I've got a lot of hard work to do and I'm sure if I do then I'll be going to the Commonwealth Games."
With that, we wrap up and the now de-steamed camera is ready to roll.
Bateson proved once more that he is not easily flustered, seemingly taking everything in his stride and it is that attitude that will see the European champion come back stronger after a frustrating World Championships.