Carl Frampton will 'remain smart' in IBF world title fight against Kiko Martinez
Last Updated: 05/09/14 6:01pm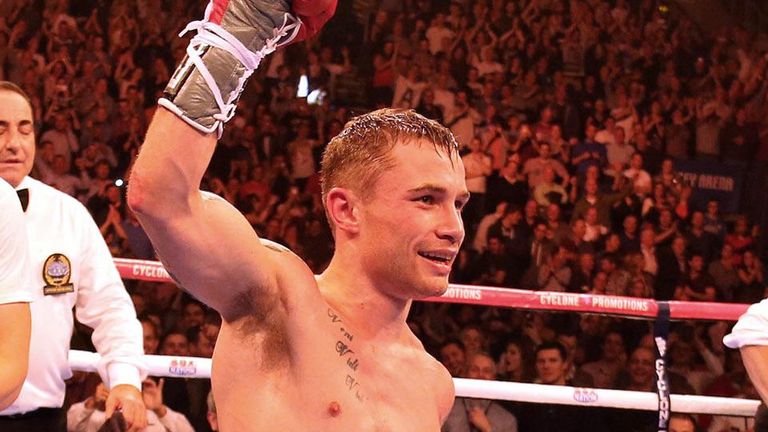 Carl Frampton has vowed to 'remain smart' as he bids to win the IBF super-bantamweight title from Kiko Martinez in Belfast on Saturday night.
The challenger will start favourite in Belfast's Titanic Quarter having stopped Martinez when the pair fought a brutal contest in February of last year.
Frampton did not escape entirely unscathed, suffering a perforated ear drum, and he is expecting Martinez to come out with his customary aggression this weekend.
"Every single one of his fights he has boxed the same way. He comes forward, he's aggressive and has an exciting style that the crowds like," said Frampton, who came in at nine ounces under the 8st 10lbs limit on Friday, five ounces more than Martinez.
The pair traded insults and clashed physically during a lively weigh-in - a taster of the action to come, according to Frampton.
He said: "I think our styles clash well and make for a good fight but I don't see him doing anything different and expect him to come head first, trying to knock me out.
"But it's up to me to remain smart and switched on for the 12 rounds and as long as I stay focused there's only going to be one winner."
Frampton has won all of his 18 professional bouts to date but the 27-year-old, who is managed and promoted by former world featherweight champion Barry McGuigan, is confident he can keep improving.
"I don't think you've seen the best of me," he said. "There's still plenty more to come. I can see and feel the improvements every day in training and after sparring. The best is definitely yet to come.
"I'm preparing for a hard, gruelling fight, that may take 12 rounds but no matter what happens I'm going to win.
"I also know I have the power to knock any super-bantamweight in the world out.
"So it could be a 12-round points decision or it could be over in the first round. Nevertheless, I'm preparing for a very hard and brutal fight then we can talk about future fights."