Khan confirms Roach split
Amir Khan has confirmed that he has parted company with trainer Freddie Roach.
Last Updated: 15/09/12 9:14am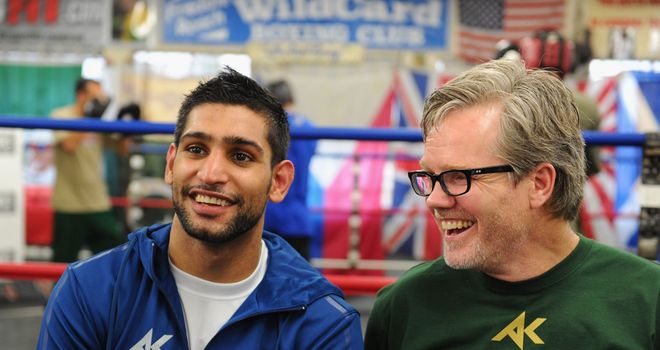 Amir Khan has confirmed that he has parted company with trainer Freddie Roach.
There had been persistent speculation that Khan and Roach would split after the Bolton boxer suffered a fourth-round knockout defeat to Danny Garcia in July, losing the WBA light-welterweight title in the process.
Defeat against Garcia was Khan's second consecutive loss after being beaten via a split decision in December last year against Lamont Peterson, who later failed a drugs test which forced the postponement of a scheduled re-match.
Khan wrote on his Twitter account: "Officially iv left freddie roach. Just spoke to his and had a good professional chat and maybe in the future we work together.
"Freddie understood why I'm looking at other trainers and wished me all the best for the future. Who do. My followers think I should go with?"
Defeat
The 25-year-old Khan said in the aftermath of his defeat to Garcia that he was keen to remain loyal to Roach, who took charge of Khan after his knockout loss to Breidis Prescott in September 2008 and led him to two world titles in the 140lb division.
However, Khan wanted guarantees Roach, who also looks after Filipino superstar Manny Pacquiao, would be fully focused on the Brit for the duration of pre-fight camps.
Roach revealed he had spoken to Khan on Friday to discuss the end of their four-year partnership.
"He said, 'I know you're busy with your other fighters and I'm going to go in a different direction'," Roach told ESPN.com.
"He said, 'no hard feelings, maybe we'll get back together someday'. He was being nice. I wished him luck. I've been fired before."
Khan said he will announce who his new trainer will be in the very near future.