Tyson Fury: Heavyweight is winning people over with his personality
Glenn McCrory returns from his summer break to talk Tyson Fury, Scott Quigg and Sergio Martinez.
Last Updated: 23/08/13 7:01pm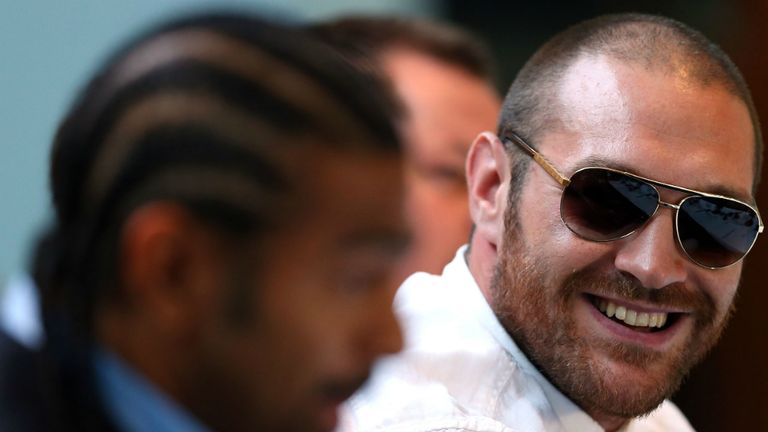 David Haye and Tyson Fury will fight on Sky Sports Box Office in September and I think Fury's chances of winning have improved, especially now that he is training with American Steve Cunningham.
Tyson needs to spar with someone smaller, quicker and Haye-like and we know that Cunningham is dangerous and can test Fury because he knocked him to the floor when they fought in New York earlier this year.
Fury also seems to be getting more people on side with his personality; whereas before he said some really controversial and offensive things, he is now being funny, witty and, at times, charming.
I hope Tyson stays that way in the build-up to the fight because if he does he has a great chance of beating Haye; the match is certainly more 50/50 than it was when it was announced a few weeks ago.
Haye's experience could still be the big factor - he is a two-weight world champion after all - but he has not had too many fights at heavyweight, has certainly not impressed in all of them, and could be a little bit rusty.
David might think that Fury is going to bottle it - but I'm not sure he will.
Spiteful
Meanwhile, Scott Quigg will be in action on the Haye-Fury undercard as he fights Yoandris Salinas for the WBA super-bantamweight title.
You can wait and wait until you think is the perfect time to fight for a world title and then that time never comes, so I am delighted that Quigg.
Scott is in great shape and this fight with Salinas will be good for him win or lose, because, a bit George Groves in his clash with Carl Froch, he is young enough to bounce back from a defeat.
I mentioned in this column a few months ago that Quigg is one of the nicest guys around but I don't see him freezing on the big stage because he has a nasty, spiteful streak when the bell goes and a very good boxing brain.
But the main thing that gives him a chance of winning a world title is his fantastic conditioning; he leaves nothing to chance and is always in superb shape, so we really could be celebrating another British world champion in September.
Bang
Darren Barker could win the IBF middleweight title on Saturday when he meets Daniel Geale in Atlantic City.
Gennady Golovkin is, for me, the kingpin at 160lbs right now but the main man over recent years in the division has been Sergio Martinez. But there are signs that, at 38, things are starting to come apart.
He was fortunate to beat Martin Murray on points recently but to his credit he still wants the big names and has said he hopes to face the winner of Floyd Mayweather-Saul Alvarez.
I don't see Mayweather agreeing to that if he beats Canelo - he has made Alvarez come down to to fight him so I don't see him going up in weight to clash with Martinez - but it does seem that Martinez is aiming to end his career with a bang.
He is not my favourite fighter to watch but he is a puncher, tricky and, like most South American boxers, rock solid and a very hard man to beat, plus he has fought good people of late including Barker and Mexico's Julio Cesar Chavez, Jr.
Martinez is a hero in Argentina and former Newcastle striker "Super Mac" Malcolm Macdonald was a hero of mine as a kid when football was everything to me, so it was great to interview him on Sporting Heroes recently and hear some of his stories.
There are so many other sportsman and fighters that I would love to chat to as well, but the dream, if he was in good enough health, would be the most famous boxer of all time, Muhammad Ali.
Speaking to him now would be one thing but having an hour with him 30 years ago, when he was at in his prime, would have been fantastic.