Johnny Nelson: Darren Barker won a world title and brought tears to my eyes
Johnny Nelson blogs on an enthralling and emotional night that saw Darren Barker win a world title.
Last Updated: 19/08/13 4:03pm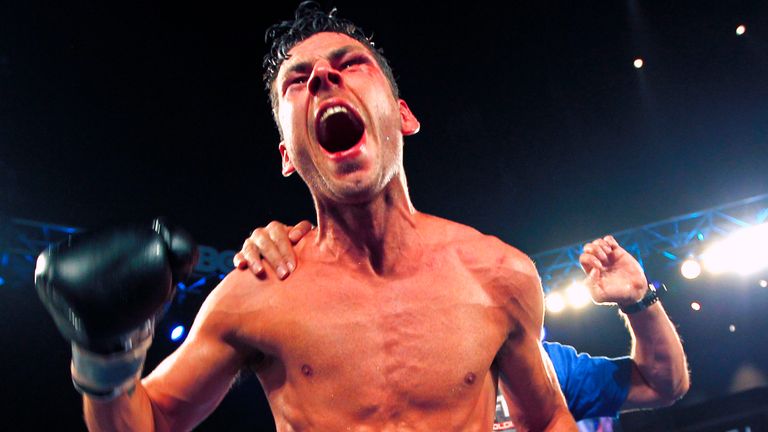 We were sat in a studio thousands of miles away, but believe me we were all welling up. Quite simply the story came true because everyone - and I mean everyone - wanted Darren to win that world title.
Whether it was because of the terrible things he had been through with the loss of his brother Gary, the horrific injuries he's had or if it was just because he is such a good guy to talk to, the boxing world was willing him on.
Eddie Hearn is of course his promoter, but it was not about any financial gain, it was just about seeing Barker do it. And when an utter professional and a big lad like Eddie is blubbing, you know what it means to people.
Martin Murray was part of our team and before we went on air he told me he wanted Darren to do it - and this is a middleweight rival who is still waiting for his next crack at world glory. Murray's day will come and who knows, he might even get a go at Barker, but even he was happy to sit back and enjoy it.
It was up there with Rocky, as well and given that Hollywood made a film about Mickey Ward, I really do think they could do better with Darren Barker's story.
Ed Robinson asked me before the show whether the death of his brother would hinder Darren or act as motivation when the going got tough. Well, when Daniel Geale landed that shot in the sixth and floored him, we would find out.
He said after the fight his brother and his daughter came to the forefront of his mind at that moment and, even though he was in agony and looked like he might miss the count, he got up and managed to hang on for the rest of the round.
In hindsight, that was the moment that Darren Barker was going to become a world champion.
I'd not seen Darren in a scenario anything like that before but when it came down to it, he showed us he had the confidence, that inner-strength or to be quite blunt, the 'big cojones' you need!
Dedicate
I always say that 20 per cent of your self-belief comes from the physical angle, the rest, comes from your attitude. Darren Barker and that sixth round are a classic example.
After that Darren just kept going and going. He might not have been able to use his slick skills and to be honest, it was a rough old fight but he knew it had to be that way - not necessarily what he wanted.
Darren kept walking in, he kept throwing shots and he kept muscling Geale. There were some wild shots that missed, but the business and pressure he produced was perfect.
When the bell went I wasn't sure if he was going to be given it. I had him by a round but to give Geale credit, he gave everything as well and you couldn't really argue if it went his way instead.
It didn't, though, and no-one can take that away from Darren Barker.
To be honest had he lost I would have expected him to announce his retirement. He gave it his best against Sergio Martinez and now Geale and add his injuries to the list and you can see why he might well have called it a day.
And, you never know, he still might; although I doubt it. Believe me, the hardest thing is not winning a world title it is getting yourself up to defend it.
Of course there are huge, money-making domestic fights with Murray and Matthew Macklin but Darren didn't talk about that, all he wanted to do was dedicate the win to his brother and get home to see his daughter.
It was a great, great night and I am sure most of us are still enjoying what we witnessed.
Inactivity
You can't say the same about Nathan Cleverly's demise. While it was a fantastic night for Eddie Hearn, it was the opposite for Frank Warren.
He said Sergey Kovalev was a gamble but I always thought Nathan was the promoter's Golden Goose, so I was surprised when it was made. We knew Sergey Kovalev was good but we are not talking about Gennady Golovkin here, that's for sure. He can punch, but were they the biggest shots I've seen for a while? No.
Cleverly though, was schooled, beaten in every department and is no longer a world champion. All I can put it down to is inactivity on Nathan's part. He fights twice a year and for a kid of 26, that is not enough.
Not only does it not keep him fresh, it means it is impossible for him to progress as a fighter and improve. Maybe if you're Floyd Mayweather, you can do that. Maybe.
So where does Nathan go now? Well he needs to get that passion back and he needs to box regularly again. I wouldn't even talk about a rematch with Kovalev yet and even though a crack at Tony Bellew - especially if he wins the world title - will be talked about, I would hold fire.
Cleverly needs to get back into the game and he needs at least a couple of domestic fights to get that buzz back.