Glenn McCrory blogs on his favourite boxing rivalries of all time
Glenn McCrory discusses his favourite boxing rivalry and which current stars he wants to see square off.
Last Updated: 05/09/13 12:03pm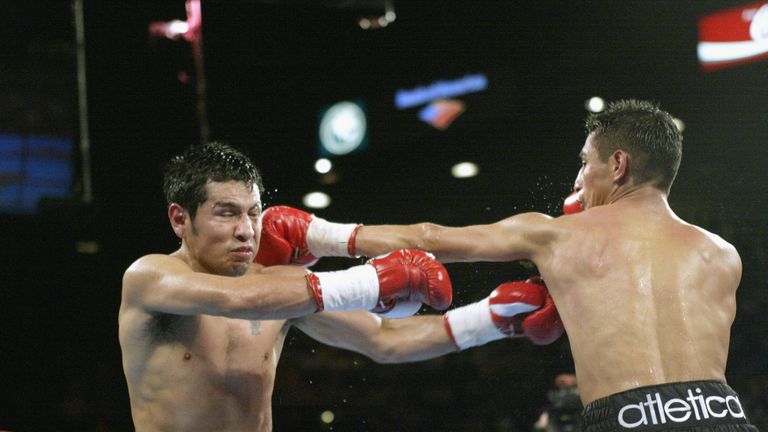 Manny Pacquiao-Floyd Mayweather hasn't happened, and that is disappointing, but Pacquiao has fought Juan Manuel Marquez four times, and I'm sure we will all remember Carl Froch and Mikkel Kessler's wars, too.
The big one for me, though, is Floyd Mayweather-Saul Alvarez, as I feel this could develop into a great run of fights, especially if the first match - which takes place in Las Vegas in September - is as close as I think it will be.
This is a bona fide challenge for Mayweather as he is taking on someone who is heavier than he is, younger than he is and, possibly, hungrier than he is - and, for me, this will define where he stands in history.
If he comes through it he will be a truly great fighter, so you just hope that that this rivalry with Canelo could be more than a one-shot deal as it would be great to see Floyd cement his name and Alvarez continue to make it.
Domestically, I don't think I'm alone in thinking that George Groves-James DeGale could transpire into a big thing.
They have had one great fight, that Groves won on points, but their styles complement each other and there is obviously some needle there.
Plus, now that he has lost his world title, I hope to see Nathan Cleverly fight Tony Bellew again - preferably for the WBC belt if Tony manages to win it from either Adonis Stevenson or Tavoris Cloud.
Characters
There are some possible great rivalries ahead, then, but my favourite of all time is the all-Mexican one between Marco Antonio Barrera and Erik Morales.
Their three fights were fantastic and their first one was the best bout I have ever seen live, but I also loved Riddick Bowe's series with Evander Holyfield, and the clashes between Chris Eubank and Steve Collins, and Eubank and Nigel Benn.
The greatest rivalries are about characters and, therefore, you need spice outside the ring as well as great action in it, just as there was when Ali and Frazier were fighting it out three times in the 1970s.
On one hand, you had the brash and outgoing Ali and on the other, the working class and humble Frazier and that clash of personalities and the way they dealt with each other was what made their matches so special.
In rivalries like that, you sometimes forget who won which fight in the series because it doesn't really matter; you didn't care who came out on top, you just wanted to be entertained and left with great memories having seen a piece of history.
Things like that define fighters much more than win-loss records.
As for me, the rival and great friend that I have had for the last 25 years is, of course, Johnny Nelson; we never came close to fighting - because he was never good enough - but if we had I'm sure it would have been a lot of fun.
Johnny would have bored people to death in the ring, but there would have been lots of exciting chat outside of it.
What is the greatest boxing rivalry of all time? Which current fighters should lock horns? Let us know using the feedback form below...