Busy, busy, busy
There's been no respite for Matchroom promoter Eddie Hearn this summer, as he explains in his blog.
Last Updated: 29/08/13 11:28am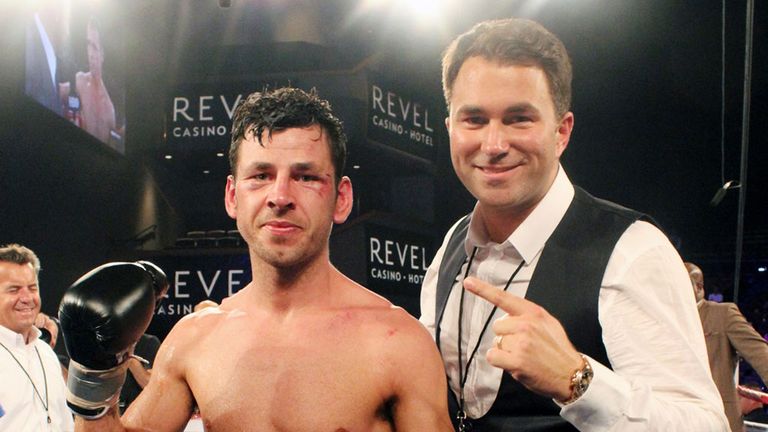 We usually get a good break during the summer period but not this year, we've been working hard, getting ready for a busy new season and of course we had Darren Barker fighting for a world title.
The middleweight division is a great one, ability-wise and from a commercial stance Sergio Martinez still leads the way in that respect, but he's being dumbed down by Gennady Golovkin who seems to be the flavour of the month with HBO.
He's very exciting, very raw and the most dangerous, but still unknown around the world. If you're champion and in demand globally, Golovkin doesn't seem like the obvious choice of opponent. That's why you see him fighting guys who don't have many other places to go.
Now that we're champion - and Darren will fight anyone - for me to put him in with Golovkin would need a huge amount of money because he is such high risk. We've got an obligation to fight our mandatory which is Felix Sturm, and even if it wasn't, it's still a fight I'd look at for Darren.
Nine times out of 10 a mandatory is someone you don't want to fight, so we're happy with that fight, we agreed to it before the Geale fight and after that you've potentially got a rematch with Geale, and possibly Martin Murray and even a rematch with Martinez.
Peter Quillin's in there, he's a great fighter but doesn't bring much commercially, and that's why he's prepared to come to the UK. Macklin v Barker is still a huge fight but it's just so nice to be in a division where you've got so many options.
It's a great time for Darren and I'm so pleased for him because he's in a position to set himself up financially for life. I know it shouldn't always be about money but don't forget what these guys put themselves through, they don't just do it for the fans. To see Darren set up for life makes me just as proud as it did when I heard 'and the new'.
Sturm has got huge backing commercially from the German network SatOne, it's a 75-25 split purse and we are favourites but I'll present the opportunities to Darren and his manager Tony Sims, but it's about keeping hold of the belt and building up these big fights.
If an offer comes in that's ridiculous then obviously we'll consider Germany but of course we want it in the UK and that's the priority, to get it in November in the UK.
The reason you take these big fights in America is to set yourself up in the game, and one of the reasons Darren beat Daniel Geale was because of his experience against Sergio Martinez - no question.
You can't always be in fights when you're clear favourite, but Darren beating Geale in the UK wouldn't have been half as special as doing it live on HBO. In that respect, everybody wants home advantage but life doesn't work out like that.
It was an interesting undercard and my thoughts going out to Atlantic City were to try and tie up Jhonatan Romero with Scott Quigg, should Quigg beat Salinas. I'm looking at a unification with Romero, and then Kiko Martinez went in there with a never say die attitude, Romero I thought was poor and Kiko got the win.
We've got a great relationship with Maravilla Promotions, Miguel his manager, and Sergio, and the first thing we said was; let's get this unification on once Scott deals with Salinas. It's obviously very makeable.
Baffling
On the same night in Cardiff the Cleverly-Kovalev fight was one that nobody could get their head around. I spoke to numerous people in fight week who I respect a lot and I said perhaps Cleverly can win on points, and they laughed at me. They said it won't go five rounds.
It was in an arena that holds maybe 5,000, it didn't even sell out. Kovalev is in the 'who needs him' club, I don't know what Cleverly got for that fight but to put him in a fight like that, with reportedly no options or rematch clauses just does not make sense.
I don't know whether Frank was under pressure to make a big fight, and that's what he came up with, I don't know, it was a strange one. To give your title up for what was reportedly a small purse at high risk, low reward. Don't get me wrong if he had beaten Kovalev there would have been some big fights in America, but there are other ways to do that. No one in America could work out why he took that fight on those terms.
Tony Bellew has now had five fights on Sky since his narrow loss to Nathan, proved himself and become a mandatory challenger and will fight the winner of Tavoris Cloud vs Adonis Stevenson. If it's Stevenson it will be in Quebec on November 30 and if it's Cloud we'll negotiate from there, but both have it in their contracts to fight Bellew within 90 days or they'll be stripped of the title.
Tony won't fight before then, he's had five fights in just over a year so they want to have a proper camp and for November 30 he'll start up in a few weeks, so he'll go straight there.
The welterweights are another great division and Kell Brook is fighting Vyacheslav Senchenko on October 26. Commercially it's a great fight against a former world champion, the guy who beat Ricky Hatton, and that's translating into ticket sales. It's the right fight for Kell at this time.
There are loads of great fights out there but Senchenko represents the toughest fight for Kell by a mile - his toughest fight was Carson Jones and Senchenko is on another level, so it's a real test.
It's a great yardstick to find out where we are with Kell, it's a dangerous fight because he's got the mandatory position and he's doesn't have to have fights like this, but that's what he wants. I've already talked to Golden Boy CEO Richard Schaefer about Adrien Broner, and that's a fight we can do in the UK.
I believe we could bring Broner over. After Senchenko we want Khan or Broner, simple as that. I believe Khan will beat Alexander and that's what we've got to make happen.
But before all that it's Glasgow on Saturday week and we are still waiting on Ricky Burns' baby to arrive. His opponent Ray Beltran arrived today though. They are here to win this fight, and this is going to be the toughest fight of Ricky's career.
Beltran's been around, he's seasoned and he and Top Rank are coming to win, 100 per cent, and I think it's going to be a fantastic fight. I've brought Michael Buffer over for this one and I think we should make a fuss of these big title fights when we get them. We only have a few a year, but it's going to be a great night. I'll be talking much more about this next week.