Johnny Nelson: Ricky Burns to show class against Raymund Beltran
Johnny Nelson expects Ricky Burns to be better than ever when the new season kicks off on Saturday.
Last Updated: 05/09/13 11:38am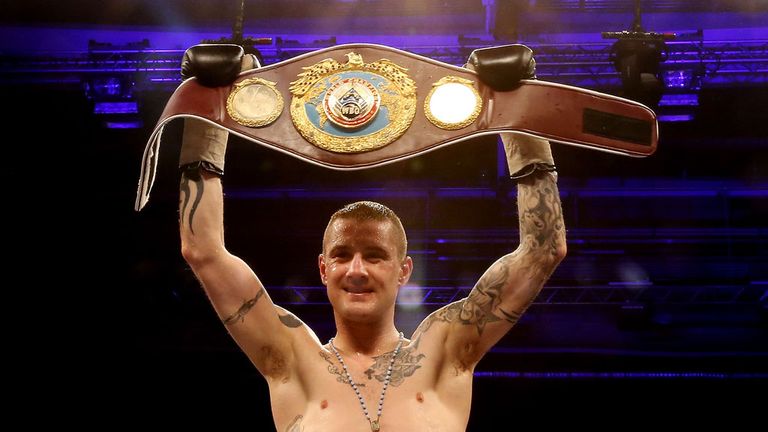 World champion Ricky Burns opens it up on Saturday, then David Haye and Tyson Fury kick in and then in terms of massive all-British showdowns, we have Carl Froch and George Groves on the horizon.
Of course I am a Sheffield man and Kell Brook is coming our way and no doubt our new world champion Darren Barker, could be back before Christmas. And don't forget Anthony Joshua making his debut and the other Olympians are in action, including Luke Campbell this weekend.
We are going to see title fights galore as we go on, but what better way to start than with one of the four British world champions we have.
I am a fan of Ricky Burns and bit by bit he is getting better and better. I often talk about fighters having the drive and desire to win world titles and when they do, that's their lot.
There are plenty of fighters who have won the world title and suddenly have nothing to prove. They lose that hunger and usually their reigns don't last long.
Well Ricky Burns is still improving, still wants to improve and he still feels he has to prove himself and show the boxing world he is a champion.
Changing
Raymundo Beltran might be his mandatory challenger but you will still see the home fighter and champion, giving it is all, desperate to put on a show and prove that he is among the best lightweights in the world.
And if that isn't enough, Ricky is now a dad! Finally his first child was born on Thursday, nine days before his defence, and his life has changed forever.
It can't have been easy going through the final days of training camp when your baby is due, but it has to be done. And don't think that it is going to produce a poor performance.
For a start, Ricky will not be the one getting up at 2am to feed! He will not be changing nappies or running round doing 'baby things' until Beltran is out of the way.
But what it will do - what it certainly did to me when I became a father - is give him even more belief, even more drive to do well. As soon as you become a dad, you have a different outlook.
You want to give your children the life you never had; you want some stability in their - and your - life and you want to win as much as you can, so you can ensure they are set up.
Don't get me wrong, I am sure Saturday night might be emotional for Ricky, but this will make him even stronger as a fighter. It will add to that self-belief and it will, I am sure, see him put on a show.
Expecting
I am expecting him to win and then, I think it's time to take on the big guns in the lightweight division. We've got Adrian Broner of course, but Yuriorkas Gamboa, Antonio DeMarco and Miguel Vazquez, all in the top level.
And personally, I want to see Ricky move up a level in who he fights. The best in the division don't rate Ricky and clearly under-estimate him. I am sure the so-called big guns big guns would all fancy a go at him, so bring it on because Ricky still has plenty more to offer and is already better than they think.
I would even go for Broner next! Not only is Burns on the up, Broner has maybe even taken a little step back after the Paulie Malignaggi fight. He got hit plenty of times and didn't exactly put on a show, so maybe his confidence has taken a hit too!
Even if Broner is the same as ever, then I'd love to see what he makes of a fight in Glasgow. This is one part of the world where if I was him, I'd keep shtum, that's for sure.
The Scottish fans don't take fools lightly and since Ricky has become a world champion, they are slowly but surely getting right behind him. He will be a national hero, an icon for Scottish boxing and indeed sport in general, I hope.
They want to see him do well because Ricky is one of them. He has not gone big-time at all since winning the world title and he is always going to be one of the lads, even as a father.
He still works in the sports shop with his mates and things like that will always keep his relationship with the general public real. He is a grafter and he is never going to move away from his roots.
It will be a cracking atmosphere on Saturday night because we have a world champion who is going to get better and better. And now he is a dad, Ricky Burns has even more reasons to do a job.