Ricky Burns can overcome tricky Raymundo Beltran, says Jim Watt
Raymundo Beltran poses a tricky test, but Jim Watt says plucky hometown hero Ricky Burns will prevail.
Last Updated: 05/09/13 3:44pm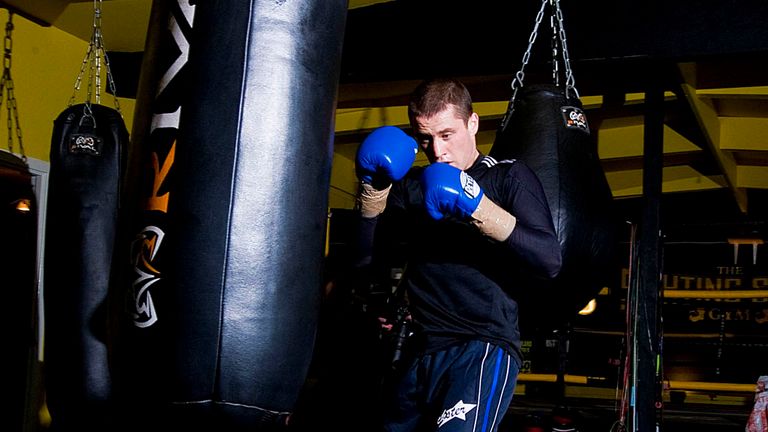 Ricky is always in good fights but he's coming back from something of a crisis after his last performance.
The Scot struggled pretty badly against Jose Gonzalez in May. Of the seven rounds he lost six of them and that must have put some doubts in his mind.
Ringside, I thought he was saying goodbye to his title but then he showed the quality a champion has to show to hang on to the WBO lightweight belt.
When it came down to fitness, desire and stamina he had more than Gonzalez; he broke the Puerto Rican's heart. Gonzalez found himself in a place he'd never been before, his big punches weren't stopping Ricky and psychologically he collapsed with nothing left in the tank.
Ricky has put his trouble in that bout down to inaction because he had trained for a couple of fights which were then called off before that one.
But Gonzalez deserves a lot of credit for his technique and counter-punching. He was a lot better than anybody imagined and Ricky couldn't get to grips with him.
In the end, Ricky wanted it more - but he's up against another guy who will know a few tricks as well this weekend.
Problems
Beltran has sparred for so many years with Manny Pacquiao and is an all-round fighter with some cute moves to make people miss. He can counter-punch well and has the potential to cause Ricky some problems.
He's taken a long time to get to this stage, fighting for a world title. He's been a pro for about 14 years, which shows he hasn't had the red carpet treatment and he's had to fight his way here.
He lost a couple of fights that could have gone his way and that dented his ambitions a little but since then he's had a good run and his world title challenge has come at a good time for him.
He's boxing well, he's got confidence and he's survived the Wild Card gym, which is a stamp of approval.
He's technically good and can counter-punch coming forward, which is difficult to deal with - but, as I said, he's not a huge puncher so if it reaches the stage where Ricky has to go to the trenches and dig in I think he'd come out on top.
In fact, I fancy Ricky to win this one on points.
He has had outside distractions to deal with, though - his wife Amanda has been pregnant throughout his preparations and the birth came at a crucial time when he was winding up his sparring, so we don't know how that will affect him.
He is saying he's focused totally on the fight but it is a consideration. I don't think it will have a bearing on the outcome, though, and, provided his training has gone as well as he says - and that he's been getting a good night's sleep - then he should be ok.