Johnny Nelson says Ricky Burns's shocking draw is ruining boxing
So frustrating, so sad and so bad for boxing... Johnny Nelson reflects on Ricky Burns's surprising draw.
Last Updated: 09/09/13 3:16pm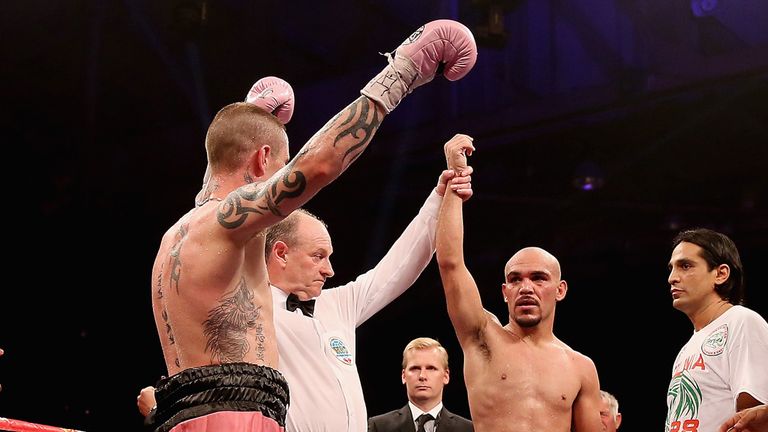 Of course Ricky Burns's broken jaw added to it all but how he kept hold of his world title, no-one knows. Not even the most patriotic Scotsman would have denied Raymundo Beltran the night of his life.
We sat in the studio watching it slip away from the Scot and given that Britain has a reputation for being the fairest place in world boxing, it was just unbelievable when that draw was announced.
It is hard to defend what happened and there is no point flowering it up and trying to make excuses. You say what you see and we all saw it.
You can't blame Ricky Burns for this, you can't blame his trainer Billy Nelson so you don't really know who to point the finger at - apart from the judges. Honestly, how did that fight end a draw?
The referee, Phil Edwards, did nothing, never mind deduct any points from Ricky even though he was grabbing and holding, all night. Listen I've done that myself and I am sure most boxers have, but two wrongs do not make a right!
And the last thing we want is this sort of decision stopping people coming over to Britain to box, because they are afraid of losing no matter what they do. We are the fairest people in the world, but the referee and in the end, the judges did Ricky so many favours it was untrue.
Someone, somewhere has to be held accountable because this sport shoots itself in the foot far too often as it is.
Shocking
The home-town decision exists but not here. But when local Scottish fight fans and Ricky Burns supporters walk out at the end embarrassed, shocked by the decision, you know it's shocking. It was just wrong and it's not good for the sport.
I had it three rounds up to Beltran, which I think most people would agree with. Ricky was put down; he spent the majority of the fight on the back foot being bullied; he was always playing second fiddle to Beltran and had very limited success himself all night.
I felt for Beltran because it was his chance to shine and win a world title and he did just that - or at least should've. He has been around for a while so he had to wait for this chance and he did everything he needed to do.
He should have been celebrating becoming a world champion, instead he is waiting to see if he can get another shot, or a rematch. Beltran has to go back home and try and see what he can do next, but the chances of a second fight is very, very, very slim. To say the least.
We will go into the conspiracy theories and the politics of it all and again that will do boxing no favours, especially because the build-up to that fight was great; there was a great atmosphere and it was just the way you want world titles to be put on.
The fight itself also proved one thing that I had feared: that Ricky Burns might be as good as he's going to get. No doubt that broken jaw played its part but the last two fights have seen no improvement from the lad.
Yes, he is a world champion but I don't think we are going to see his boxing get any better. Some fighters are world champions and that brings even more out of them I'm not convinced Ricky is one of those.
Knocking
Beltran is decent but the bottom line is he is an experienced sparring partner; despite that he was - whatever the scoring said - too good for Ricky. And it is hard to see how he is going to get back to the drawing board and get better.
If you have a broken jaw you are out of the loop for around a year. Now, what will the WBO do? Ricky is still their champion but given what happened do they say 'have a break' and have your comeback for the interim and then take on the real champion when he's back?
But whatever happens you have to give Ricky Burns all the credit in the world for getting through that fight. Like Muhammad Ali against Joe Frazier it left him clinging for dear life and somehow he did it. Can you imagine the pain?
His determination, bravery and heart were wonderful so please don't think I am knocking Ricky or criticising him in anyway.
But if I was a casual fan and had sat and watched that, I'd of thought 'wow!' what a fight. But when it was given to Ricky I'd have turned off my telly and probably wouldn't watch boxing again.
It was wrong and it was sad, so let's hope boxing gets through this as quickly as possible. And let's hope Ricky Burns makes a full recovery too.