Mayweather v Alvarez: Draw likely in Las Vegas, says Glenn McCrory
Saul Alvarez will bully and control Floyd Mayweather, says Glenn McCrory, but only come away with a draw.
Last Updated: 11/09/13 9:53pm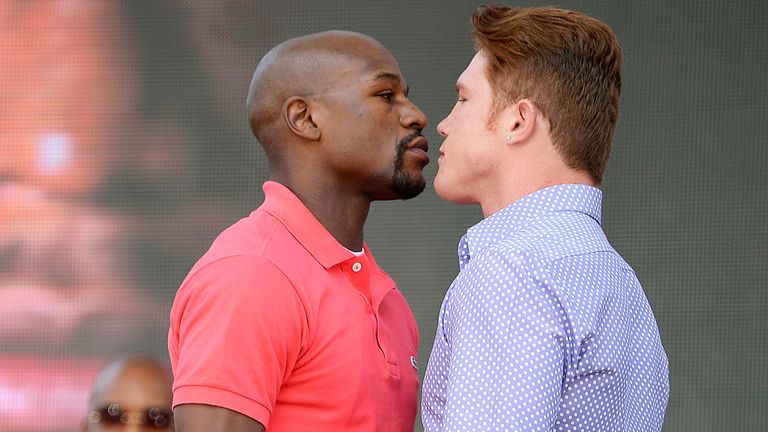 Mayweather will try like mad to use his speed, skill and all of the super weapons in his arsenal to negate Saul Alvarez this weekend, but as he is facing a 23-year-old challenger, I suspect we are in for a really exciting night.
I don't think Canelo is good enough to knock Mayweather out - Floyd is one of the greatest defensive boxers of all time after all - but he is certainly good enough to bully the American and beat him on points.
Mayweather has been at the top of the tree for some time but I do feel that, at the age of 36, Father Time could be catching up with him - much like it did to the great Muhammad Ali when he fought Larry Holmes.
I don't, however, think that Alvarez has got inside Mayweather's head because while he is a superstar now, Money didn't used to be and he has never been intimidated by criticism, his opponents or his surroundings.
I followed him on the road when no-one wanted him in Las Vegas and he travelled to San Francisco, Michigan and all sorts of one-horse boxing towns, and he has been virtually untouchable throughout his entire career.
He has been untouchable, though, because he has pretty much handpicked his rivals and not opted for someone undefeated who is bigger, younger and hungrier than him.
Inflict
Alvarez is all of those things and has something else in his favour, too - Oscar De La Hoya.
I had De La Hoya down as edging his fight with Mayweather in 2007, which Floyd won on a split decision, and I'm sure he will be guiding Canelo through the perfect tactics to use as he tries to inflict a first defeat on Money.
Oscar is a master of the game and will be telling Alvarez to give educated pressure, take control and fight at a pace that Mayweather cannot keep up with, as well as remain mentally superior throughout the 12 rounds.
I think Canelo can do that, while the huge Mexican backing he will receive on the nearest weekend to Mexican Independence Day can also lift him to a monumental display - and help cement the legacy he has already created.
People might say Alvarez has not boxed at the top level, but he has beaten a world champion in Austin Trout and an albeit-ageing former world champion in Shane Mosley. Who could he have fought that is better than that?
He has done remarkable things for someone who is still a baby and has had almost as many fights as Mayweather, a man over 10 years older than him.
I really do believe we are looking at the next Julio Cesar Chavez.
Better
Will Canelo win on Saturday?
I will say no, as while I think he will dominate proceedings and probably deserve to come out on top, I think he will find it hard to get the decision in America, so I'm going for a draw.
Whatever happens, though, I believe this is just the start of Mayweather-Alvarez, and am looking forward to hopefully a great trilogy of fights so we can see who the better man is.
At the end of that, we would be able to really define Money's standing in the sport.
I commend Floyd's ability to win and make money and I commend his decision to face Alvarez in what will probably be his toughest challenge to date, but there is one thing I don't commend him for - the lack of sparkle in his fights.
I think Money has robbed die-hard boxing fans of the excitement that the likes of Ali, Joe Frazier, George Foreman and Sugar Ray Leonard produced.
Let's hope I'm not saying that next week...