Floyd Mayweather is the best the world has seen, says Johnny Nelson
After watching him school Saul Alvarez, Johnny Nelson now says Floyd Mayweather is the best ever!
Last Updated: 16/09/13 4:04pm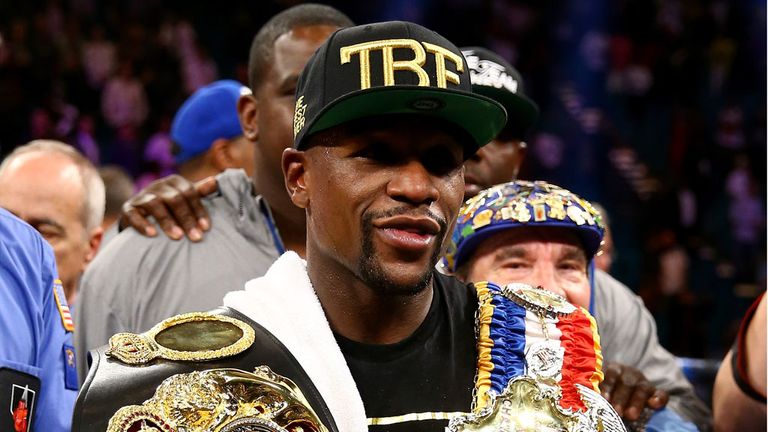 You don't really appreciate someone when they are there and it isn't until they're gone that you realise just how good they were.
Well, Mayweather is no different. But after Saturday night it is hard to see why people don't know just how very, very, very good he is. Again, maybe even the best.
I know people will scoff when it comes to putting Floyd top of the tree and they will side with Sugar Ray Robinson, Sugar Ray Leonard or Muhammad Ali, but I will put him up there.
That is a big statement and a big shout, so people will ask for reasons why.
At the age of 36, Mayweather has beaten the very best in the world and did just that against Saul Alvarez. But Alvarez wasn't just beaten; he was supposed to be the new coming but ended up being well and truly schooled.
Nobody else had found a way to beat Alvarez in 43 other fights, yet Mayweather did just that. At ease.
He has beaten everyone who's been put in front of him. So what if he doesn't knock everyone out, including Alvarez? I am a boxer and I love the purist form of the game - hit and don't get hit - and he puts unbelievable shows of that on, while winning.
When Ali came on the scene he was criticised for being boring and it's only now that we look back and realise just what he brought to the table. For this generation Floyd Mayweather is everything boxing epitomises.
Controlling
Alvarez found that out because he came out and did everything possible to break down Mayweather and you have to give him credit for that in itself.
Floyd told us that he was getting hit a lot on the arms by the lad, so what did he do? Well he stepped back a bit - out of range - halfway through the fight. He adjusted, he adapted and he changed his gameplan to control Alvarez, almost like a matador controlling a bull.
Mayweather's speed was as good as ever, if not better. He is no spring chicken and the timing is probably the first thing that goes, but don't forget he is not only remarkably talented and wise, he is remarkably light.
He went in at 146lbs and Alvarez was around a stone heavier so he should have had the power and the strength and the will to get at the smaller guy. But not only did Floys barely waste a hit, he was barely hit either. Defensively he is on a different planet.
So who does Mayweather take on next? Well they are talking about Danny Garcia but I think he would make mincemeat of him. Then there is Amir Khan in the UK and I do think Khan's speed might cause Floyd some problems... for about two or three rounds.
Confidence
There really is no-one out there who can cause him any problems and test him, because he has taken everyone on. He has gone against youth, he's gone against speed, he's gone against popularity, he's gone against power, any form of fighter and he has beaten them all.
The closest who came to beating him was of course Oscar de la Hoya. But he chose Floyd, Floyd didn't choose him. And he still got beat.
The man they call Money simply does not get enough credit. It's because of his attitude, some of the things he says, but mainly his confidence. People see him as arrogant, but it is simply confidence, nothing less.
And when you are as good as Floyd Mayweather and have dealt with everyone that has been put in front of you, you should be brimming with confidence every time the bell goes.
Especially when you are the best boxer the world has ever seen.