Glenn McCrory blogs on Kid Galahad, Floyd Mayweather and Amir Khan
Glenn McCrory says Kid Galahad can go far - if he stops masquerading as Naseem Hamed.
Last Updated: 17/09/13 6:21pm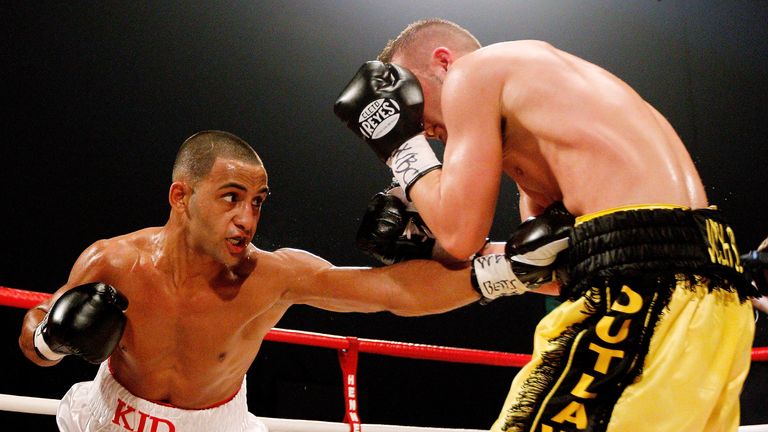 He has come from out of nowhere, but he has got the moves, a good name and I really appreciate his style, one that we have seen before from many Ingle fighters.
I like the fact Galahad is a bit mouthy but I want him to develop his own personality because at the moment he sounds like he has swallowed a Naseem Hamed video.
He is not Nas and never will be, so he needs to build up the Kid Galahad name.
I'm sure Brendon Ingle can help him do that because he and his gym staff have done wonders for the Sheffield area, not only making champions but also giving kids a sense of purpose and direction.
They have hauled people off the streets, aided the community and produced some great boxers - think of Herol "Bomber" Graham, Johnny Nelson, Ryan Rhodes - so Galahad is in a great place to become a better fighter and fantastic person.
The trouble for Galahad - who stopped James Dickens at the weekend - is that he is in a very tough super-bantamweight division with the likes of Scott Quigg and Carl Frampton, but he certainly brings something to the party.
It would be great if we could have three fighters in the same division fighting for world titles, like we had with Chris Eubank, Nigel Benn and Joe Calzaghe, and I think Galahad, Frampton and Quigg and are capable of doing great things.
Great
Floyd Mayweather, meanwhile, is a wonderfully talented fighter but he proved to me by staying with and beating Saul Alvarez in Las Vegas that he is a GREAT fighter as well.
Money forced Canelo against the ropes, and showed everyone that he can do what he has to do to win; Floyd raised his game for the opponent and if he was boxing Marvin Hagler I'm sure we would see an even better Mayweather.
I said in my preview that I was hoping to see a Mayweather-Alvarez trilogy and I still think we could get that because Canelo did not disgrace himself.
Alvarez will go on to bigger and better things and this loss could very well be the making of him; he has had it all his own way for a very long time and a setback could actually help him improve, as it did for Azumah Nelson when he lost to Salvador Sanchez.
As for Mayweather, where does he go next?
He is the best in the world at whatever division he fights in, while as he is now locked into a contract with Showtime we are going to see more of him; we have seen him fight twice in a year for the first time since 2007 and now I want to see him four times a year!
Amir Khan has made it clear he wants to fight Floyd but he needs to focus on his world title bout with Devon Alexander in December; Khan has got carried away before and been quickly grounded and I don't want the same thing to happen again.
If he beats Alexander, though, Amir is certainly in line for a shot at Mayweather.