Travelling light
This week Eddie Hearn discusses the lightweight division and his plans for the Matchroom fighters.
Last Updated: 30/09/13 9:34am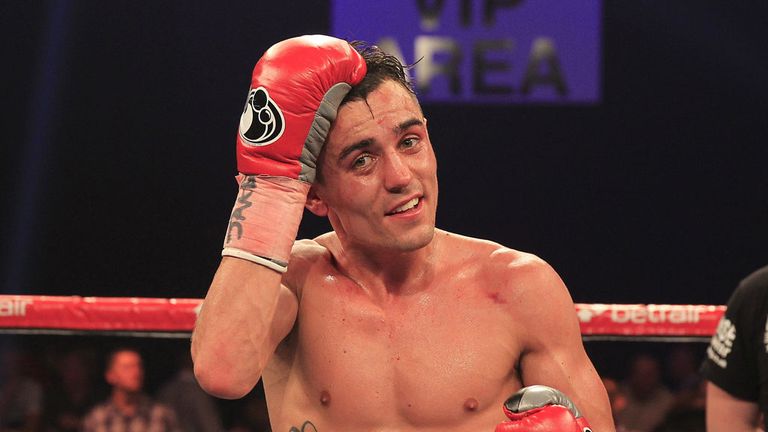 It was a great show last weekend with some good 'trade' fights and highlighted once again how strong the lightweight division is.
It's an unbelievable division domestically - internationally it's actually quite week now Adrien Broner has stepped up. Commercially it's not the biggest division any more.
We just added Anthony Crolla to the team and my aim is to get him a world title shot in 2014. There are so many big domestic fights out there. Kevin Mitchell is back on October 5 and a win there is going to put him in the world rankings.
Gavin Rees is fighting Tommy Coyle on Sky Sports, and of course Derry Mathews looked good on Saturday and he too is staking a claim for a world title shot in 2014.
But now you get to the stage where before, all these fights were a great opportunity, now we are in a situation where you say 'what do I gain from taking that fight.'
So many are gunning for world title shots they want to know what the reward is for winning such a tough fight.
Crolla v Mitchell is a really good fight, but what does it give the winner? The answer is not a lot. Domestic praise, sure, but strategically how does it improve their chances of getting a world title shot?
This game is all about risk and reward. It's a bit like the Barker/Murray/Macklin situation prior to Darren winning the world title - brilliant fights, but what do you gain, other than people really want to see the fight and a big payday, but obviously there are bigger paydays and opportunities out there for everybody.
Domestic fights tend to come through people having limited opportunities internationally. For the lightweights, there are now international opportunities and all of these have to be considered.
Terry Flannigan burst on the scene winning Prizefighter but from then has been very quiet, and he hasn't had the exposure to put him in the mix. He's one of the most talented lightweights in the country but he kind of missed the boat. I told his promoter Steve Wood the other day, it's a tough fight with no reward either financially or strategically.
So as a promoter, it's very difficult for me to put that forward to my fighters. We are looking at European and world title shots. That's the reason Rees v Coyle got made - two fighters coming off a loss trying to get back into the mix.
After the defeat to Crolla, Gavin said straight after that he was done, but he loves the sport and while you're fit and strong I knew he'd want to carry on. There's going to be some changes to Gavin, we've employed a nutritionist and I've told him this is your last chance, I want you to do everything 100 percent right and we'll see the results. And if you haven't got it any more, it's time to hang 'em up.
But you've got a former world champion against a young, sprightly Tommy Coyle who looked great against Derry, but then got knocked out. It's a great crossroads fight and others like Mathews v Crolla III appeals to me and to boxing fans, Rees against Crolla, Rees against Mitchell, Crolla vs Mitchell, Coyle against Mitchell. There's so many fights the division throws up.
The British title is not really on the radar for Crolla, Mitchell or Rees, but obviously the Martin Gethin fight is a really good fight and you could throw him in the mix as well. There's a top level, a middle level and the youngsters coming through. Don't forget Scott Cardle, Martin Ward and Luke Campbell all in the division.
Champions
Saturday night was all about the Smith brothers with Liam becoming the third British champion and Callum winning the English title. What a lovely bunch of lads and a great family, it's phenomenal to have four brothers that are so talented and all titlists. You've got the three British champions but in my opinion the best is yet to come in Callum.
To have four brothers, and it's not like there's another one who didn't box, for every one of them to make it to that level is freakish. But I believe Callum can go on to be a world champion. It's difficult to market a young guy who missed out on the Olympic team. When Callum turned pro I don't think anyone expected him to have this kind of effect. Everyone knew how good he was and he'd sparred with Carl Froch and Tony Bellew and they all rated him extremely highly, but you don't really come into the game with a reputation as a non-puncher and do what he is doing.
He's an extraordinary talent and has become the UK's hottest prospect at a time when we are littered with them. You don't know what Campbell and Anthony Joshua are going to do over the next 12 months but right now Callum is hot and people want to watch him and it's going to be a real job to match him now.
He's only done 14 rounds so you can't throw him in too deep, but at the same time he's already shown he's above a certain level in the infancy of his career. The most important thing is that he stays calm and you keep your head on your shoulders. Everyone's going to be hyping him up and he's got to keep doing what he's doing, keep learning and working hard and his ability will shine through. Callum's not the kind of person to get carried away where it could effect others.
With the Haye-Fury fight postponed for now all eyes are turning to Froch vs George Groves and we had a lively press conference for their fight on November 23.
Groves is very outspoken. The bottom line is they don't particularly like each other, and it's very real. I think that will turn this into a huge fight in the coming weeks and months. Carl believes George disrespects him and undermines his achievements in the game, and George thinks that Carl is over-rated.
George is a big believer that he wins this fight, and he will go in with youth on his side and tactics to try and beat Froch. Froch left the press conference more determined than I've ever seen him so you talk about rattling someone's cage, George did it very well. Is that a ploy, I don't know.
It's building towards a huge, huge fight and we sold out in 11 minutes so it's a case of building the undercard. Crolla is on the undercard, domestically it's bad timing with the other guys doing other things so I think what Crolla needs is a credible, international calibre opponent which is going to make people sit up and realise him as a world title contender. We're in talks and hopefully we'll be able to announce something next week.
We're planning for another world title fight on the card and a number of big domestic fights so it should be a huge night.
Anthony Joshua makes his long-awaited debut on Saturday week. It's not been easy finding a suitable opponent because as soon as we talk to people and mention Joshua it all goes quiet on the other end. We don't just want a complete bowl-over, the guys we have been looking at are experienced pros. You've got to remember he could have 10 fights in his first year so hopefully Emanuele Leo will be the perfect starting point.