Anthony Joshua can rule heavyweight boxing world - Glenn McCrory
Anthony Joshua can rule the heavyweight boxing world, says Glenn McCrory ahead of his pro debut on Saturday.
Last Updated: 10/10/13 12:44pm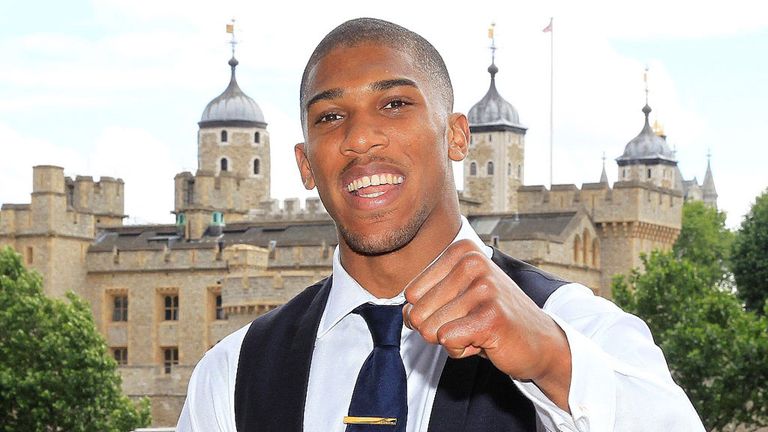 He had just won the Olympics and was turning professional. It was Sky's and my first show.
And now, 25 years later, I'm talking about the next young British potential superstar. I know what a ride it was with Lennox. I commentated on his early fight and then two years later I was fighting him. I'm just wondering what ride we're going to have with Anthony Joshua.
All the way though Lennox's career, his build-up, winning the world title, Evander Holyfield in New York and right to the end with the Vitali Klitschko fight. It was an unbelievable ride and journey and so you can imagine the anticipation I have for what the next 10 years may be like for Joshua.
I'm looking forward to playing a part in Joshua's thrilling ride which I do think he'll have.
There are comparisons between Joshua and Lennox. Athleticism, character and charm. At a time when I was sparring partner with Mike Tyson, Lennox came onto the scene and was a breath of fresh air.
He was the knight in shining armour and Joshua is similar. He's from London and a nice mummy's boy! He will put his stamp on the heavyweight division and it's going to be monumental.
He is still very inexperienced despite winning a world silver medal and an Olympic gold. You couldn't find a finer specimen. If you wanted someone to walk into your gym, you couldn't ask for anybody better. To have Anthony Joshua would be every coach's dream. Why is that?
1. Talent. He is naturally talented, has a body like Frank Bruno and the athleticism of Lennox Lewis.
2. Power. He is built like every man would want to be and would be the Greek god of war!
3. Character. He is humble, has discipline and determination.
Great heavyweight world champions only come around every 25 years and Joshua has all the ingredients to be right there.
There are obviously a lot of chances to fail, you're stepping through a minefield and you have to make the right step at the right time against the right opponent. But he's in a good camp, he's going to make promoter Eddie Hearn, Hearn will make him and it was the same as Lennox Lewis. He made Frank Maloney and Maloney made Lennox.
Aiming big
Can Anthony make it all the way? Definitely. His camp will have to make some bad mistakes which can happen like with Audley Harrison. But this is different. Anthony could seriously be a great heavyweight world champion.
It takes a great trainer to understand their fighter who knows every single way he feels and knows what his weaknesses and strengths are. That is the single toughest thing with any fighter.
Every fighter wants to fight anybody. I would have fought Mike Tyson when I was 19. Fighters just want to test themselves and it's knowing when to put your fighter in with somebody you can beat.
Lennox Lewis wouldn't have beat a 1987 Mike Tyson - but the Tyson that beat Tyrell Biggs would have defeated Lennox Lewis. It's when you take that step.
Years later Lennox demolished Tyson. It's all about timing, getting that balance and having the skills of the matchmaker.
But Joshua has got to get over the first step. People have fallen foul on that very first step because they took on somebody a little too good.
The Italian kid Emanuele Leo could turn out to be a tough man and beat him and that could knock him back.
Look at Ricky Hatton. If he hadn't come back against such a good opponent (Vyacheslav Senchenko last November) then he could have revived his career.
Joshua is an Olympic champion and there will have been a lot of pressure to find somebody good enough to take on such a fighter, but also finding someone who won't trouble him too much. Choosing the wrong boxer could destroy someone with limited experience fighting at the very first hurdle.
Amateur v professional
The step up to professional is huge. Amateur boxing is all about sport. It's young kids just taking part. In professional sport....it is life. Your life is on the line.
It's big men battling to feed their families or pay mortgages. It's a whole different ball game, going up against men fighting a lot harder than a kid fighting for a ribbon or a medal.
You could face someone fighting because their kid is sick and he's got to pay hospital bills. That's why professional boxing is such a big job. It's the real world. Joshua has gone from playing at it to the arena where your life and future is on the line.
Career advice
Anthony is a lovely guy and I would say 'be yourself' and look at the great champions and take some of what they had like Lennox, Carl Froch or the Klitschkos. There are so many role models and that's what's given boxing a lift. Take a leaf out of their book and he won't go too wrong.
Before the first bell on Saturday, my final words to Anthony would be "Knock this guy out!"
He's an Olympic champion and just needs to go out and do what he needs to do. I would tell him to be careful, relax but the bottom line is if you're going to be heavyweight champion of the world, he's got to knock him out!
Watch Anthony Joshua's debut, Sat October 5 on Sky Sports 2. Fight Night - Live starts 8:30pm