Jim Watt: Timothy Bradley can boost reputation with Juan Manuel Marquez win
Timothy Bradley's speed can earn a career-enhancing win over Juan Manuel Marquez, says Jim.
Last Updated: 15/10/13 3:12pm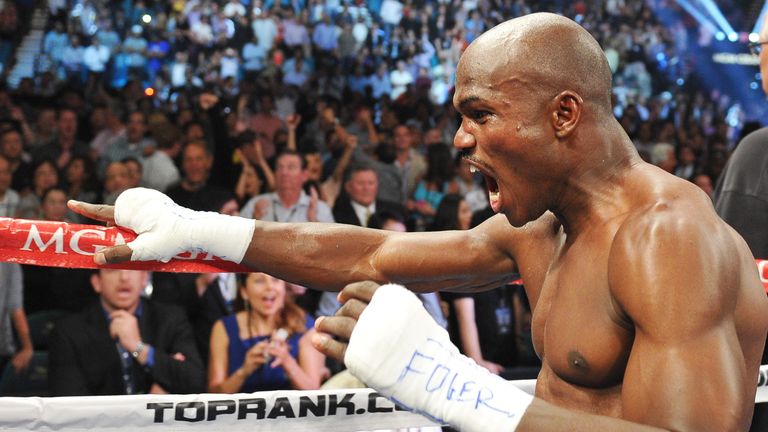 The two fighters are the only men to have beaten Manny Pacquiao in the past seven years and victory this weekend would mean a great deal to both men.
For Bradley - whose win over Pacquiao was a controversial one and a win he unfortunately got little credit for - adding Marquez to his list of victims would be a great result.
In the past seven years only Pacquiao and Floyd Mayweather have defeated Marquez, so if Bradley was to retain his WBO welterweight title that would be a fantastic mark on his ticket.
I don't agree with his statements about this fight being a chance for him to seal his legacy because at this stage of his career the 30-year-old should be thinking a win this weekend could propel him on to other fights to enhance his reputation. But there's no doubt it's an important moment for him.
For Marquez, meanwhile, success at the Thomas & Mack Centre would make him the first Mexican to become world champion in five different weight divisions, and what an achievement that would be.
There's nobody who deserves that accolade more than Marquez. He's very talented, hard as nails and the complete fighter. He's faced everybody who's been there to face from featherweight through to light welterweight and now at 147lbs he has the chance to break new ground for his country.
However, asking him to do it at 40 years old adds to the difficulty. He's not a fighter who has relied on youth through his career - he's a terrific fighter technically, makes people make mistakes and then punishes them - but, given all the wars he's been in over the years and the speed Bradley has, it could be an awkward night for him.
Power
Marquez showed the incredible power he still packs, though, with his stunning knock-out of Pacquiao last December.
We don't know how that fight would have gone if Marquez hadn't caught the Filipino with that sensational right hand because Pacquiao was boxing well, but Marquez was certainly looking in great shape and a tremendous specimen.
Bradley's style, though, edges the fight in his favour, in my opinion. Throughout his career Marquez has come up against certain opponents who haven't suited him and I think Bradley may fall into that category.
Freddie Norwood, a tricky southpaw, and Chris John, who after 51 fights is still unbeaten, got victories over him but Floyd Mayweather played with him when they met at the MGM Grand in 2009.
Guys who are quick and move a bit are always going to trouble Marquez and, no matter what Bradley says, that will be part of his plan for this fight.
The Californian may talk about taking it to him and finishing Marquez's career but in the early stages there will be a fair bit of movement from him. It's what comes naturally to him.
War
Last time out, against Ruslan Provodnikov, Bradley had a real war. He certainly answered some questions people were asking about him and enhanced his reputation by digging in and grinding out a result. It was the type of fight Bradley had never had before - and probably one he doesn't plan on having again.
Although he won the fight, it was the sort of battle which can affect you in your next couple of matches. You can take confidence from the win, knowing you can go into the trenches if you need to - or you can think 'I don't want to be doing that again!'
But Bradley will have learnt to pace himself sensibly after that encounter - he took lots of punishment when he was tiring late on against Provodnikov - and that will make him tougher to beat.
Given the styles, the age difference - and the added motivation of a probable showdown with Mayweather for Bradley if he wins - I reckon the American will win on points.
I expect Bradley to get his tactics right, go into an early lead and hang on as the fight progresses.
But I wouldn't put my house on it - and the uncertainty about the outcome makes this a great match.
Watch Bradley v Marquez live on Sky Sports 1 HD from 1.30am Sunday