Defining night
Eddie Hearn believes Saturday night will be a defining one for both Kell Brook and Brian Rose.
Last Updated: 23/10/13 4:39pm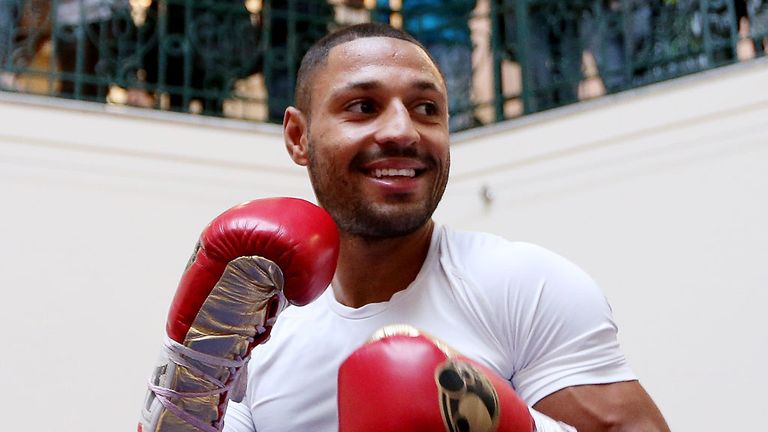 We're all looking forward to an exciting show in Sheffield this weekend headlined by Kell Brook's fight against Vyasheslav Senchenko at the Motorpoint Arena.
It's a defining fight for Kell really.
We've got the mandatory position for the IBF and it would be quite easy to sit on it and have easy fights, but I don't think that's going to wash with people.
So we are gambling. Kell is favourite but he has by far his toughest test in Senchenko, a former world champion who ended the career of Ricky Hatton and has only been beaten on cuts.
Everything's on the line, it's a fight for the No 1 position so Senchenko can capture that if he wins so it's a golden chance for him. Kell's got to come up with the goods and there's huge pressure for him to deliver with everything on the line.
It would be a disaster if he lost, but he's got to have tough fights, I want to test him and he wants to be tested himself. He's had a tough time over the past year but he got rid of the demons against Carson Jones and he's ready for his toughest test yet.
The Brian Rose vs Javier Maciel fight on the undercard is one of the best I've made for a while. In terms of competitiveness and opportunity, it's come from knowhere. It's a 50-50 fight and someone in Maciel who has operated at a really high level.
People probably don't realise he's gone 12 hard rounds against Dimitry Pirog in Russia, and everything I'm being told is that he's a come forward, all action guy that can punch - he's stopped his last four opponents. He's part of the Top Rank team and they will be looking to put Maciel in with the winner of Demetrius Hopkins and Vanes Martirosyan.
If Brian can get the win, which I believe he can, he'll be in line for a world title shot so it's a huge fight for him and his career. Brian and Maciel were the next in line so we applied for a final eliminator which they have sanctioned, and I think this is what Brian needs.
There was a lot of pressure when he fought Joachim Alcine headlining on Sky Sports, Alcine was past his best but he 'old-manned' him at times and Brian learned a lot in there. His back wasn't right last time and he didn't look great but he needs a test and have this fight against Maciel, and I think we'll see the best of him - his training has been good and his back is great.
He's ready to go and he's got to step up and do it, but it's a really, really, tough fight make no mistake.
Experience
We also have the chance to see Anthony Joshua in action once more, this time against hardened performer Paul Butlin, who I'm sure would love to get the win but does he really believe he can? Emanuele Leo was 8-0 when he fought Joshua on his debut and in his mind he couldn't lose - so you might get a different fight, hopefully he'll be a little cuter and give Josh some rounds.
Adam Etches has huge support in Sheffield, has sold around 800 tickets and will also appear on our main broadcast on Sky Sports 1HD. He's young and very good to watch and is in with another banger in Alexandre Mendes, his fights are always exciting and he's sure to get a huge reception. There's plenty of pressure on as well because he hasn't been on a big show for a while and he mustn't go out there trying too hard.
He's one of Ricky Hatton's young fighters, as is Scott Jenkins who is out earlier on the show, and we also have Richard Towers vs Lucas Browne who are both Hatton fighters, so it's great to be working with Ricky and he'll have a ringside seat to watch his old rival Senchenko in the big fight.
We also have more live action from the undercard on Sky Sports 3 HD where Kal Yafai is back in action for the first time since he suffered a serious arm injury back in March, and it's got to be the most eagerly anticipated six-round fight I've ever had!
He was flying and everyone was talking about him as the biggest prospect in Britain, and he's got a tough fight actually against Abigail Medina who is 9-2 and quite awkward. Hopefully he'll come through this and then we'll try to put him with Mike Robinson for the English title on the Froch-Groves show.
Callum Smith is in a huge fight and people are telling me I'm mad putting him in with Ruben Acosta who has been in with the likes of Anthony Mundine and Robert Stieglitz. He is vastly experienced and they are the only two that have stopped him, and a lot of people are hoping we've not made a mistake, but we believe in Callum and think it's a perfect step up.
I'm hoping Ruben can give him some rounds and I'm sure he will, and hopefully we'll start making our way up those WBC rankings.
I caught up with Carl Frampton's fight with Jeremy Parodi this week and we didn't learn anything new. We all know Carl's a class fighter, but you're not going to find out too much against a guy like Parodi, who was tough but couldn't punch and had a life-or-death fight with William Prado, who Scott Quigg stopped in three rounds.
But take nothing away from Frampton, he got the job done and the atmosphere looked great. We hope they accept our offer to fight Scott and it's the fight we all want to see. We've made them a huge offer, if they really want the fight it's on the table for them.
The problem they have is if they don't fight us where do they go? We are already in discussions with IBF champion Kiko Martinez, and in my opinion Kiko would prefer a unification fight with Scott rather than another trip to Belfast to fight Frampton again.
They've got their choices. Frampton and Quigg will definitely fight, I'm sure of that, but I'm not a believer in waiting until they've both got belts. What if Carl doesn't get a belt, or he does get one but is tied in to options and it can't happen?. This is an opportunity for it to happen - so let's make it happen.