Kell Brook win perfect preparation for Alexander or Khan bouts - Johnny Nelson
Kell Brook's victory is perfect preparation for fighting Devon Alexander or Amir Khan, says Johnny Nelson.
Last Updated: 28/10/13 3:26pm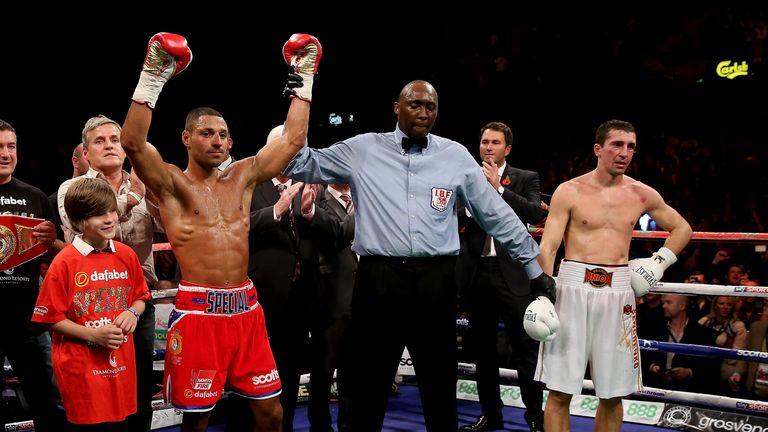 His fourth round stoppage of the former world champion was extremely impressive - no one had ever done that to Senchenko before - and it couldn't have gone any better. And that's including the fact Senchenko rocked Kell early in the fourth.
Kell's three call-offs with Alexander in the past 12 months had stalled his career and put him about two fights behind where he should be at this point - but this win puts him back on track.
With the fight going the way it did, he will have learnt a lot, too. With him getting hit, hurt and having to turn the fight around mid-round, was the best possible thing for him.
Saturday night has made him aware he is vulnerable. If he had easily knocked Senchenko out straight away he may have gone into the Alexander title fight thinking he'd win comfortably and not pay attention to the dangers the American poses.
The way the fight panned out, though, means Kell will be fully focused. You could see after the bout when Kell was saying to his corner 'did you see that?' he had been shocked by Senchenko's shot. He learnt an important lesson there.
Message
Kell has sent out a real message by stopping Senchenko, though.
Before the fight, Ricky Hatton was supporting Kell and saying he believed he could beat Senchenko. But off camera he said 'if Kell stops this guy then he's the real deal because Senchenko is a hard, tough fighter'.
Ricky knows a fighter when he sees one and he knows just how hard Senchenko is after going into the ring with him last year, so for him to say that means a lot.
Senchenko also arrived in Sheffield believing he would win and secure that world title shot for himself.
I counted 15 people involved in Senchenko's ring walk alone. He brought a crew with him - and they weren't just his friends travelling with him, these were executives, money people who had invested in him, backed him up and thought 'we've got something special on our hands here'.
That's how much of a threat he was. In his previous 35 fights only Paulie Malignaggi had beaten him. But no one had done what Kell did to him - and it couldn't have worked out better for the hometown hero.
After that performance I've got no worries about Kell going in with Alexander for the IBF title.
That win will give Kell the appetite to prepare properly and make sure he brings his A game when those two meet.
But I just wonder whether Alexander will be the next fight for Kell.
Domestic dust-up?
Kell is the number one contender for Alexander's belt - which he defends against Shawn Porter in November - and this is his big chance to secure that world belt he craves.
However, you talk least about the things you want the most and, after the fight on Saturday, Kell's promotor Eddie Hearn briefly mentioned Amir Khan and I thought 'aye, aye'.
He talked about Adrien Broner and described the situation with Alexander but that brief mention of Khan made me think.
Eddie's dad, Barry, is a very clever, shrewd operator and has been in the boxing business a long time. When we had him on Ringside talking about Carl Froch's next opponent, after he beat Mikkel Kessler, everyone was thinking about Andre Ward, but Barry said: 'no, that's not good business. George Groves is good business.'
Barry believed Froch-Groves generates more interest than Froch-Ward and, similarly, Brook-Khan would be even bigger - certainly in Britain - than Kell going for a world title against Alexander.
For Khan it is a big money fight and a chance for him to prove he's number one in Britain - and I just wonder if that is a fight that will pop out of the hat.
Either way, 2014 is going to be a very interesting year for Kell Brook and his fans.