Johnny Nelson says Darren Barker will retire - and always be remembered
Johnny Nelson expects Darren Barker to retire due to injury but has nothing but admiration for him.
Last Updated: 09/12/13 12:57pm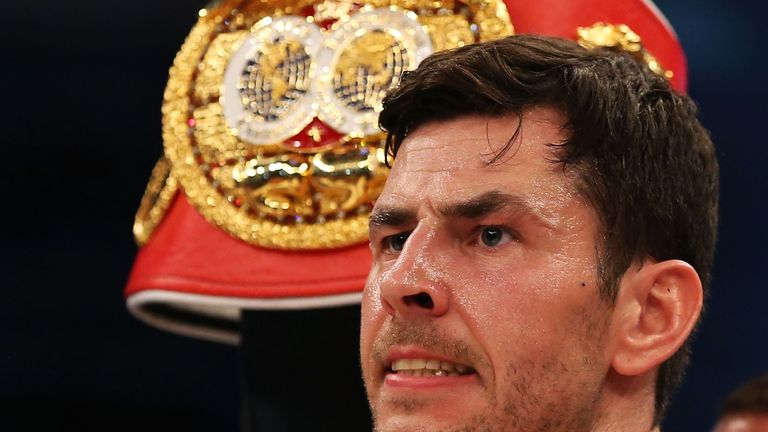 No-one wanted to see him get beaten by Felix Sturm and lose his world title, but that dislocated hip has to spell the end.
I had an arthroscopy on the hip - where they shave a bit of the bone off so it can re-sit in the socket - and not only is it painful, it takes time to recuperate and recover, get your fitness and, more importantly, get your confidence back.
When I say time, I am talking about a year - and I still can't run and move as much as I used to - so that, to me, means Darren calling it a day.
I've heard a rumour saying he said before the fight against Sturm that this was going to be his last anyway, so maybe the hip problem had been there before we saw it turn sour.
Then, during the fight itself, he said he threw an uppercut in the first round and it came out and when you are at that level, boxing in the world elite, you cannot get away with it.
You can't have that fear, that possibility of it happening again, in the back of your mind.
Darren and his body have been through so much that even though he is realtively young at 31, I think he and his body know they cannot take any more.
Tony Sims, his trainer and his long-time friend, took that decision as well and if you watch his reaction outside the dressing room straight after the fight, you can see he is coming to the end of the road.
But Barker was champion of the world for 124 days of his life. He did it and that can't be taken away from him.
Champions
Yes, we are talking about the Sturm fight for now but give it a few months, maybe even a few weeks, and all you will remember is when Darren won that title. That will stay with British boxing for a long, long time.
The biggest surprise I got in Stuttgart was the people that had gone out to cheer Barker on. Not the thousands of his fans but the ex-world champions, the current world champions and ones that wants to follow in his footsteps.
We had Joe Calzaghe, Carl Froch and Kell Brook there, there were German sporting fans there, Boris Becker was going to come out from England and all of those people had nothing but admiration for Darren - and Sturm, too.
Remember the way the whole of British boxing, including those domestic middleweight rivals like Martin Murray, Matt Macklin and Andy Lee, got behind him when he took on Daniel Geale. It just shows well respected he is.
Darren is one of the nice guys in boxing and it will be sad to see him go, but it has to be the end of the road. He has achieved his goal of becoming a world champion because he lifted himself to do just that.
But even if his hip can be fixed and he can get back, he will never be able to lift himself like that again.
One of the wider aspects is that it looks like Darren's injury has put a dent into that domestic middleweight rivalrly. Well, hopefully we won't see him return against any of them because even that level will be too much.
Having said that, Macklin and Lee sound like they want to get it on and that will get everyone buzzing, so that might leave Murray out on his own.
We are seeing him on Saturday night but if I were in charge of him I would go straight to Sturm. There will be no rematch with Barker but Murray deserves one and I still think he is the man likeliest to beat the new champion.
Sturm is a gentleman and he seems to be a new man judging by Saturday's approach, so let's see him give someone a rematch next!