Jim Watt looks at Lee Purdy's chances of landing European title
Can Lee Purdy bounce back and pick up the European title in the process? Jim Watt is not convinced...
By Jim Watt
Last Updated: 16/12/13 6:01pm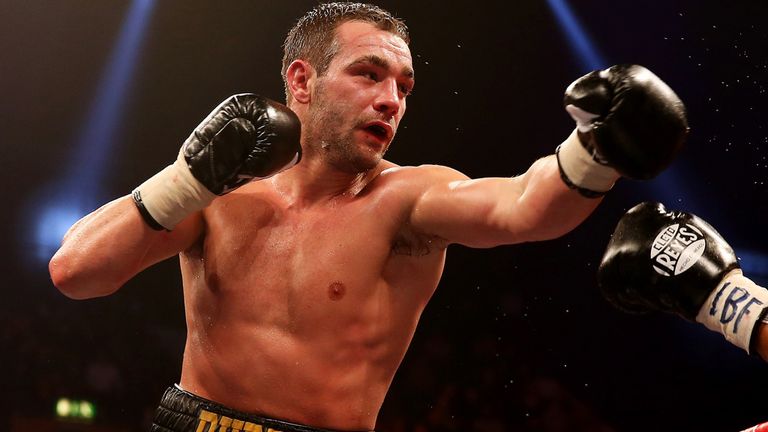 You have to give Matchroom credit for getting him another shot following that Devon Alexander fight. I know he didn't make the weight but for him to even get close to taking on such a big name was amazing.
This is not the same level but I would put him down as the underdog, even if he is the home fighter. Leonard Bundu is the champion and a decent fighter, but this is another chance for Purdy and all you ever ask for in this game is a chance.
Let's hope this chance works in his favour!
He deserves credit for stepping in at the last minute against Alexander, but that was about it. To be honest, he was pretty dead at the weight, having failed to make the limit twice, so there was nothing impressive we could get out of his performance.
It meant his punches were dead and although if anyone took Alexander into the second half, they would probably emerge as a success, it is hard to say that about Purdy because it seemed he took so much out.
The good thing, by all accounts, is that he was almost spot-on at the start of the week, so maybe now we will see if Purdy can move up a gear and see that he can get down to 147lbs and keep hold of that power. And if he does it, this time then at least, he has got a puncher's chance.
Bundu is not bad, that's for sure. He's been European champion for a couple of years now, has an excellent amateur pedigree, is unbeaten as a pro (29-0-2) and although he is not a big puncher, he is a strong guy physically.
Options
He is 39 and has not worn himself out with wars, so is still talking like he has world title ambitions. But the fact he's had to come here to fight and is not on home soil in Italy, tells you not only is there not that much money behind boxing in that part of the world but also that he has no fear.
Like I say, if Purdy wins it will be an upset. But the one thing I will say about his performance against Alexander is that we just didn't see the best of him and he was nowhere near as good as he could've been.
Even then it is stretching it to call him world class, but I think we all want to see him produce his best performance on Saturday night.
He has got a shot at the European title so what more does he need to step up because if he can take this off Bundu, there are more options out there, in terms of making defences, even if he doesn't get another crack at the likes of Alexander.
I think this might well be Purdy's level and I am not even sure he is the best in Europe.
I hope he has that power, can hit Bundu hard and fast and, even more importantly, is able to go to the end, because I think this might well go to the scorecards.
And sadly from a British perspective, I think the champion will return to Italy with his title.
Old-fashioned
Jamie McDonnell is also on the card and is one guy who you want things to just go his way. To have won the IBF bantamweight world title the proper, old-fashioned way of British, Commonwealth and European, then beating Julio Ceja for the vacant world title, was tremendous.
But then the poor lad was stripped of it, someone else got the chance to fight for his vacant title, and it just didn't make sense and certainly wasn't fair.
I feel so sorry for McDonnell but he has already proved he can do it at the top level, so I guess he has to do it again. Abigail Medina is little more than a warm-up, but let's hope next year he can really start stepping up again.
One man who is definitely getting a second chance is also on the ExCel card, Kevin Mitchell. We all know he has had problems out of the ring, which clearly played a part in that Michael Katsidis blow-out and he was out-classed by Ricky Burns.
I think we all thought that was the end but he is back with Matchroom and he knows he has to give it his all from here on in and I am sure he will.
He takes on Karim El Ouazghari, who we have seen before, for the EBU champion, in one of those IBF interim fights; it won't be easy but I fancy him to win over the distance.
I remember when I commentated on his early fights I thought straight away he would go all the way and become a world champion because I just liked everything about him - his style, his mature approach, his technique and his power - but it still hasn't happened yet.
Well, Mitchell's career has reminded us that talent is not enough. You need a lot more than that and I think Mitchell will show that and win, probably on points.