Stuart Hall can be inspiration for North East boxers, says Johnny Nelson
Johnny Nelson reflects on the rise of new world champion Stuart Hall and Vitali Klitschko's legacy.
Last Updated: 23/12/13 2:19pm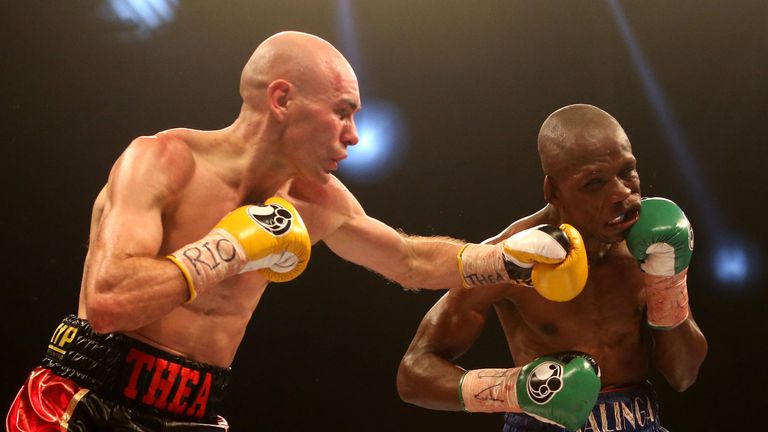 My Sky Sports colleague Glenn made sure he was in Leeds to see Hall's win over Vusi Malinga because it was a special moment, not only for the Darlington man, but for the entire North East.
Hopefully, the new IBF bantamweight champion will inspire plenty more kids from that part of the country to put on their gloves and go down to their local boxing gym.
I know Stuart and he's a very nice guy. He only turned pro at the age of 28 and now, at 33-years-old, he's a world champion.
That's an awful lot to achieve in that time - and hopefully he sits down at Christmas, looks at the journey he's come on and recognises how well he's done.
At Stuart's age a lot of fighters begin to fall by the wayside or give up their boxing ambitions, with other responsibilities such as kids, mortgages and so on meaning you can no longer train all day in the gym.
But for Stuart, who came into the sport late, this is a great time to become a champion; he's now matured and is confident in himself physically, mentally and emotionally.
Rival
I tipped him to beat domestic rival Jamie McDonnell when they met in 2011 but perhaps he hadn't been pro long enough and wasn't confident enough in his own skin as a fighter to come through that one.
McDonnell edged a narrow points win on that occasion and Hall has said he wants to avenge that loss as soon as possible now he's the champion.
I'm not sure how easy that will be to make politically - but it would be a great fight to look forward to in the New Year.
The title also gives Hall the chance to take on the best in the world and that's something he'll relish.
Stuart's a really hard trainer and is all about commitment.
Regardless of how good he is, emotionally he's going to give it his all and that's what we saw on Saturday night when, with his left eye swollen shut, he continued to take the fight to Malinga.
Hall knew this was it, there would be no second chances, And, just like Darren Barker when he fought Daniel Geale, Hall took his opportunity with both hands.
When the going gets tough a lot of fighters wonder what they're doing because boxing is a hard job - but Hall showed his character on Saturday night.
Legacy
Vitali Klitschko announced his retirement last week and he walks away from boxing at the top of his game.
If he goes on to become the president of Ukraine then that will be very special and further illustrate the character of the man.
Vitali is a fighter through and through and he's living by his principles by walking away from the sport to try and make his country a better place to live. He's for real and he believes in what he's saying and doing. How he fought is how he is.
As a boxer, once he grew into a fully-fledged heavyweight with solid belief, he moved into a position where everyone, like him or loathe him, had to give him credit. And that's important.
By vacating the WBC belt he has raised plenty of questions about who will succeed him as champion and there will be several British fighters - such as Dereck Chisora, Tyson Fury and even David Price - who will feel they've moved a step closer to securing a shot at the strap.
But, make no mistake, this has opened the door and there will be plenty of other fighters from plenty of other countries all believing 'this is my chance'.
Who gets the shot and who takes it, well, we'll have to wait to find out...