Wladimir Klitschko: Heavyweight star could struggle without Vitali
Wladimir Klitschko will be less of a force without big brother, Vitali, by his side, says Glenn McCrory.
Last Updated: 09/01/14 1:37pm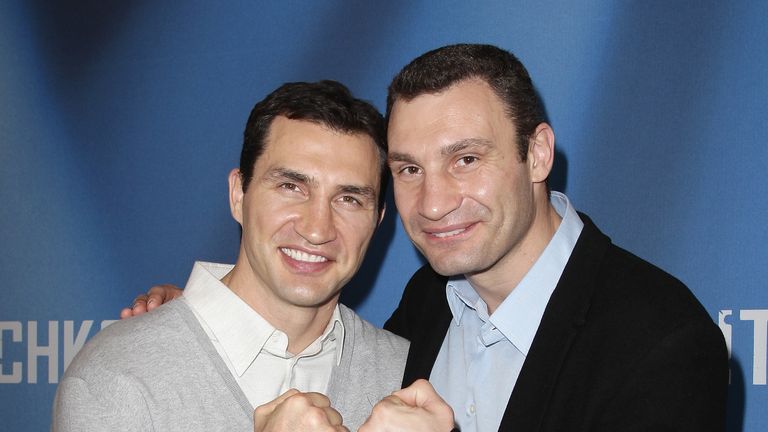 Although the Klitschkos have earned lots of individual success, they were always together and have been a team from their amateur days through to their multiple world-title fights.
That was a massive psychological barrier for the brothers' opponents to overcome; it was almost like you were boxing the pair of them as there were two Klitschkos at press conferences, in training and on fight nights.
Now, though, the immovable object that was the Klitschko brothers has gone and it's just Wladimir flying solo, so I think his rivals will take confidence from that and believe they have a better chance of winning without Vitali peering down on them.
I reckon being a one-man band will take a bit out of Wladimir, who has done everything in the world of boxing and may now want to pursue some outside projects like his brother.
I think he SHOULD still be at the top at the end of 2014 but I am not certain that he WILL be.
Champion
With Vitali vacating the WBC title to move into politics, the door is open for someone to not only become a world champion but to become a big name and the next big star of the division.
Chris Arreola will fight Bermane Stiverne for the belt Vitali held but those two and the rest of the current heavyweights are all much of a muchness so there is a chance for someone to stand out from the pack.
And I think that man could be Tyson Fury.
I can conceivably see Tyson becoming world champion this year; he is young - at 24, he has years on the likes of Arreloa, Stiverne, Kubrat Pulev and Tomasz Adamek - while he is also strong, building a reputation and concentrating on his boxing.
Around the build up to his fights with David Haye - which, of course, were both cancelled due to injuries for David - Fury conducted himself excellently, showing character, humour and a desire to push on to new heights.
Dereck Chisora has turned over a new leaf, too - his improvement has really impressed me - but I would like to see his heavily-rumoured rematch with Fury put on the backburner as I want Tyson to fight the winner of Arreola-Stiverne.
Chisora has made a good comeback from his indiscretions but Fury was ready to fight a former world heavyweight champion in Haye and it wasn't his fault that that didn't happen, so I think he is slightly above Dereck at this time.
That would leave Dereck free to box Lucas Browne - a big, strapping, unbeaten Ricky Hatton-managed Australian, who has had words with Fury on Twitter and who we saw beat Richard Towers live on Sky Sports in November.
Personality
Elsewhere, we have three good, young American talents to keep an eye on in Deontay Wilder, Johnathon Banks and Seth Mitchell, especially Wilder, who seems to like portraying himself as a bad boy of boxing.
That personality will always get you noticed - not always for the right reasons, mind you - while he is big, tall, yet to lose and made very light work of Audley Harrison, so he will think he is right in the mix for a world-title shot.
I would love to see Wilder and Fury fight it out for world honours later down the line - once Wilder is known by more than just diehard boxing fans - because a match between two hungry, up-and-coming powerhouses is box office and deserves to be for a title.
For us British fans, though, Anthony Joshua's development will be intriguing
I think you can move him up pretty rapidly because as an Olympic champion he is laced with skills, but he is still a baby in heavyweight terms so I don't expect his people to be flinging him towards a world title too soon.
Yet, if you are good enough to win super-heavyweight gold in the Olympics you should not be too far away from fighting for belts.