Johnny Nelson wonders if the IBF decision will work against George Groves, financially at least
Johnny Nelson wonders if the IBF rematch ruling has done George Groves any financial favours.
By Johnny Nelson
Last Updated: 27/01/14 4:53pm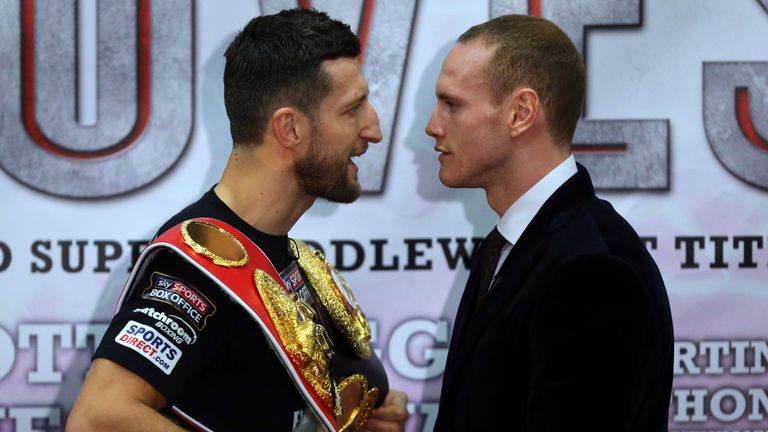 To be honest we all thought it would happen but when things are flying back and forth, statements are being released and everyone is trying to work out what, where and when, it gets lost.
We knew Groves was out in New York lobbying the IBF and lo and behold we found out on Friday that they have ordered a repeat, a return, call it what you will.
The good news for the Londoner is he will get to fight Froch again. But let's not forget Carl is still the champion, he is still in the driving seat, and he is in the same position as before.
I am assuming Groves is the mandatory again but if that is the case, he might just have cost himself something here. If you're mandatory I think you get something like an 80/20 to 85/15 per cent split and I assuming Groves was looking at the biggest pay-day possible before Friday.
The seven-figure deal being talked about will easily be the biggest pay day in his career to date but I think he might well have shot himself in the foot because now Eddie Hearn and Froch don't necessarily need to make anything like as lucrative a deal.
Believe
If Groves is the mandatory again they can even make a smaller offer, as long as it is the required offer and then see it go to purse bids.
Listen, I know boxer's need to get what they can, when they can because we all know it can be over at any stage but I am not sure this is a necessary move by Groves.
If I was George Groves and I was adamant, convinced I was going to beat Carl Froch - and he is - and it is the biggest payday out there, I would take it. End of.
I know there are always going to be wrangles about the seven-figure deal but the bottom line is no matter who else Groves can get a fight with, he will not make nearly as much money as he will if he fights Froch.
Even Andre Ward, who is the best in the division, would not bring that sort of money into the mix and whether you believe the amount we have all been talking about, the chances of getting even close to that are very, very slim.
As for Froch, well he even said on Ringside that his fight with Groves will happen, just didn't say when and didn't seem over-the-moon. But I do think this fight will happen.
Carl Froch is not going to give away any of his belts that's for sure. He has told us all before that he has had to work so hard in the ring to win those titles and they have got him where he is today, that he is not going to give them away to anyone.
It did look like Julio Cesar Chavez Jr was next in Froch's diary but the fact that he has to give Brian Vera a rematch in March. Add the 90-day ruling from the IBF then it looks like it might have to wait.
Even if Froch was off to Las Vegas to fight him next, Groves would still get his chance. Froch says he's got two fights left in him and if he does not give one of them to Groves he will never get rid of it.
He is a proud man and I think all the criticism he has got following 'that stoppage' has affected him, even if he says it hasn't.
Remember
There is no grey area with Froch, he is black and white and this situation doesn't sit well with him.
I remember Wladimir Klitschko saying that David Haye could not retire the way he ended his career because for the rest of his life people would always talk about it, bring it up and it would never let him walk with his head held high. Haye came back and even though he is not his biggest fan, Klitschko admitted he'd done the right thing.
If Froch doesn't get in with Groves again he will have a huge thunder cloud hanging over his head for the rest of time - and it won't go away. People will not let him forget it, that's for sure.
Personally I always thought it would happen and right now, I would say right it could be at the start of June before the World Cup - providing the IBF stretch their 90-day ruling. Maybe even the end of March? That is for another day.
Admittedly Froch says it doesn't really float his boat right now but I just wonder whether these two bitter rivals are now in a game of poker, trying to push the other one as far as they can.
I do think Groves has the weakest hand because he is the challenger, but no matter what we think of the IBF decision, it will now happen. Before I could see Groves pushing him, winding him up too far, but not anymore. Carl Froch does not give up his belts for nothing.