Johnny Nelson says Lee Selby is on the up and Gavin Rees might retire
Johnny Nelson blogs on a Welshman on the up and another who might decide to hang up his gloves.
Last Updated: 04/02/14 11:58am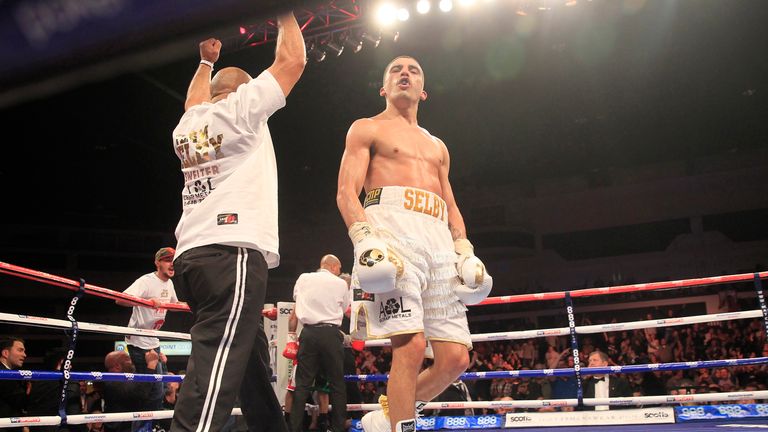 When you look around and there are former professionals, plenty of local legends and the odd former world champion stood in awe of such a fantastic fight, you realise just how good it was.
It was a battle-hardened fight and both Rees and Buckland gave it everything.
Gavin told us he couldn't feel his as early as the third round, he spat his gumshield out around the six or so and he was just shot, simple as that.
Rees is just a hard, hard man. The Rock is the perfect nickname, especially when you see him putting it on the line.
Like many of us at ringside, including Joe Calzaghe, Glenn McCrory and Darren Barker, I had Rees by one and would've picked him.
But that was just my opinion and like everyone in a packed crowd, I couldn't complain when it went to Buckland.
Fulfilled
People are still talking about it being a Fight of the Year contender already - and not about the judges' decision. It was just a good scrap, breathtaking, tiring and there was barely a second's rest throughout.
We are all wondering if that is the last we will see from Gavin and I think it might well be.
When he told us that he was going to go home and think about it and when you know he has fulfilled the dream of becoming a world champion, it is hard to see where he can get his motivation from now.
Rees might well have done that before but the fact that he said he was going to have to go home and think about what's next, I have a feeling he will call it a day.
As for Buckland, he will live another day and even if you didn't think he was going to get the decision, he deserved it.
He fought fire with fire. He looked like he was going to struggle as early as the fourth but he put it on the line and I honestly don't think he could've given any more.
And, in terms of the decision, he might not have posed many questions but he answered everything that was put his way. It just made a good scrap and no-one complained when Buckland was given a second chance in his career.
Special
Lee Selby, meanwhile, has cleaned up in the domestics level and now he has got that European title he has to clean up there, too.
We will see a lot more of him but for me, I have seen it all before. And that is a compliment because his style is like Brendan Ingle's. Believe me fight fans, it is something special.
His boxing is elusive, he is a bit bragadocius, he does the unorthodox things and that means everyone immediately expects him to become a world champion - and we have seen thousdands come and go at Wincobank!
Now if Selby has punch power he will be a world champion, no doubt about it. The way he knocked Stephen Smith out a while back, I remember sitting back and just thinking 'wow'.
But if I honest, I am still reserving my judgement on Lee.
Rendall Munroe is a good scalp but it was hardly the hardest fight Selby will come across and was nowhere near an all-out war as we saw with Rees-Buckland and hoped we would get here.
Rendall told me he knew he'd out-boxed but was trying to slow him down and then pick him off as the fight went on. He also said in the last couple of rounds he had got through with one or two shots which was his game-plan.
But these were the same tactics Carl Thompson tried when I fought him for the world title. He thought he would drag me into the second half but he didn't last past the fifth.
So it is a gamble and one that backfired on Rendall as well; especially when he was moving up and we thought he might bring something different to the table.
Selby knew what was coming because Munroe is pretty orthodox - the erky-jerky style aside - so he knew exactly how to beat him. And he did.
Cracking
He will now move up a level and let's see if that brings even more out of him against the best in Europe. I have a feeling it will.
It was a great start to the year for us and a brilliant night for Welsh boxing. OK, Rees was beaten but he was beaten in a cracking encounter in front of a packed house.
Selby will surely take over as their new number one, but Enzo Maccarinelli - who was there - will get a shot at the light-heavyweight world title, so it was nice to congratulate him.
The Cinderella Man, Steve Robinson, was there as well and throw our own Nicky Piper and Calzaghe into the mix, we really were mixing with the Welsh boxing royalty.
Joe is the Darling Bud of May buy Wales need a new king - and it has to be Lee Selby.