Johnny Nelson says Froch-Groves II will eclipse Benn-Eubank rematch
Froch-Groves II will eclipse Benn-Eubank II, says Johnny Nelson, but the result will be the same.
By Johnny Nelson
Last Updated: 17/02/14 5:22pm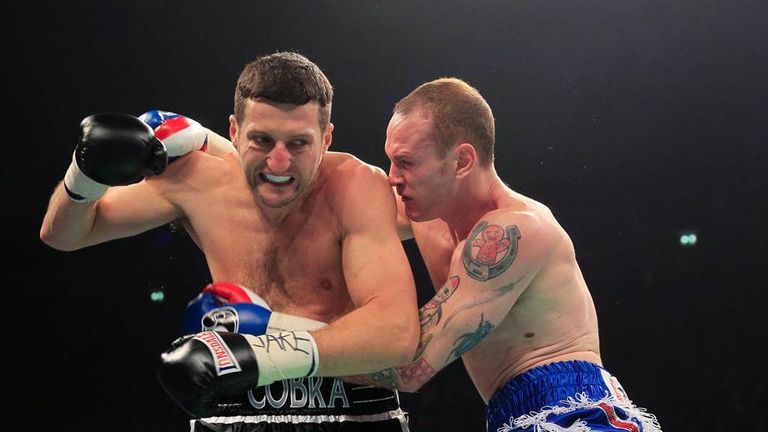 With two enormous egos and both men claiming bragging rights from their first fight, negotiations were never going to be easy.
But the announcement of a rematch has set tongues wagging, people are baying for a location to be revealed and clamouring for tickets.
I can't think of a fight that's generated such interest on this scale - even non-boxing fans are excited.
Boxing needs huge fights like this. They don't come along very often but when they do, you can't afford to miss it.
And I'm certain this bout is going to live up to the hype, as well. In fact, I think it will be better than the rematch between Nigel Benn and Chris Eubank.
There's real bad feeling between these two. If you'd tried to get them in the same room to negotiate the contract it would have exploded. And that adds to the intrigue.
A few weeks ago Carl Froch was talking about his other options - and he did have other options. He could have fought Julio Cesar Chavez and, because of the way he fights, Froch is big box office in America.
But it would have been very hard for him to move on with public opinion the way it is.
Define
After that last fight no one talked about his past glories and successes. Instead, people just wanted to debate whether the Groves fight was stopped too early.
Some think it was, some think it wasn't, but if you're a fighter who has achieved as much as Carl Froch has, to all of a sudden see all that diminished because of one fight, that must be heart-breaking.
He must be thinking 'don't define me by that one fight. What about the fights before? No boxer has done what I did, I fought the best in the world in my last 12 fights.'
But people ignored that and it must be bugging him.
George Groves, meanwhile, has talked himself into big business. I don't know what purse he's got for this but he'd have got it nowhere else; even if he'd boxed Andre Ward he wouldn't have got this kind of money. Andre Ward wouldn't even be able to command the money this fight will generate!
Shortly after the announcement, Sky Bet made Froch favourite to win the rematch - and I'd agree with that at this stage.
We all got emotionally involved in the fight when it happened the first time but if you're a seasoned champion you know what the championship rounds are.
They're not just words, they're the last quarter of a fight, when you're starting to flag, when you're tired, when you're fatigued, when your mind wanders, when you're hurt, when you have to dig in deep. That's when a champion turns it around and produces the win.
And in Manchester, that's when Froch showed what a champion he is. He managed to turn it around and put the pressure on Groves.
The problem Froch had before the first fight was he couldn't mentally respect George Groves. But now Groves has got his respect.
George did something Froch didn't expect him to do last time. Now, Froch will go in there with the same attitude as when he boxed Lucian Bute; he'll be going in there with fear, knowing there's the possibility of being embarrassed, being knocked out, being hurt.
His legacy is on the line here.
As a result, I expect it's going to be a completely different fight this time around. Froch has to bring out his 'A' game. If his time as champion is truly up, then we'll see that on fight night.