Johnny Nelson looks back on stunning wins for Curtis Woodhouse and Tommy Coyle
Exciting, emotional and unpredictable. Johnny Nelson reviews Saturday's sensational show.
Last Updated: 24/02/14 1:31pm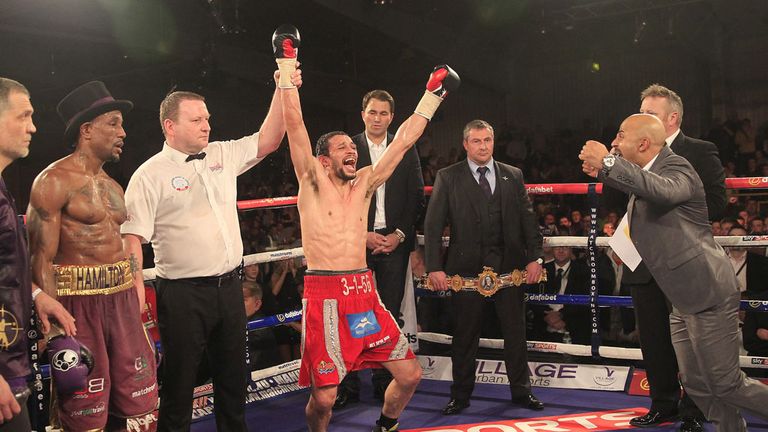 At times it was rough, most of the time it was smooth, but above all it was totally unpredictable.
That is the only word that really can describe all four of the major fights we showed live. Yes, you can use 'exciting' and even 'unbelievable' for some of them, but unpredictable just sums it all up.
Even when you're fortunate to have the job I've got, you rarely - and I mean very rarely - get a night of fights that were so evenly matched. As fight fans that is what we want to see and Saturday was the night when it happened.
Perhaps we thought one or two would be exciting but this was something else. You couldn't have written the script either. This had more shocks, more twists and turns and more surprises than you're average soap opera.
I just loved every fight, every minute, every single second thanks to these fighters...
Darren Hamilton v Curtis Woodhouse
Hamilton had the skills and smartness yet Curtis had the want, the desire and that dream that has driven him on for the last seven and a half years since he turned pro.
It was an unbelievable story, especially when he spoke about his father afterwards. It was so humbling and I'll be honest and tell you it brought a tear to my eye - especially when I got home in the early hours of Sunday and watched it again.
That British title means so much to Curtis, so much. This was something he needed to do for his father and even though I had Hamilton up by one, I couldn't argue with the decision. With or without the emotion involved, it really could have gone either way. It was that tight.
Immense credit to Darren as well, though. He obviously thought he had done enough to be going home with the British title and keeping the Lonsdale belt to boot, yet accepted defeat with dignity and gave Curtis credit for surprising us all. What a brilliant fight from start to finish.
Tommy Coyle v Daniel Brizuela
Wow! What a scrap! I was ringside with Glenn McCrory and Paul Smith and after three rounds we thought Tommy was done and was in too deep. Game over.
Then pride, determination, want and desire somehow not only got him through that but to the end. Brizuela clearly had the skills and smartness to put his opponent in his place but i think we all under-estimated the sheer bravery Tommy called on.
Those knockdowns were hard enough, but when you get hit by a body-shot like he was believe me you are better off being knocked out cold! Ask any boxer in the world what body shots do to you and just how destructive they are.
That itself made the Coyle win the biggest shock of the night, without a doubt. As an ex-fighter it was great to see him get up three times and turn it around but as a fan it was just an amazing pleasure to watch the drama unfold.
Gavin McDonnell v Leigh Wood
When it came to an upset I honestly thought that Wood - who is trained at Wincobank - would be a shut-out and for the first half, his skill did just that, keeping McDonnell at bay. But the experience of Gavin pulled him through.
It was swings and roundabouts though and then the next three rounds saw his experience in taking hits but riding the storm come through and he fought back and slowly broke Wood down.
Experience proved the difference and when the stoppage came McDonnell had written his and Jamie's name in history. The first twins to win British titles. This was another fight that showed dreams can come true.
Luke Campbell v Scott Moises
You can tell just how good the card was when Luke Campbell is almost overlooked! Don't get me wrong, the Hull people are right behind him but this was perhaps the first time I saw a flaw in him.
In the first few rounds Luke was being messed around by Moises but kept the poker face on, stayed calm as if he was slowly but surely going to break the lad down. But then all of a sudden I saw some frustration creep in, or he had perhaps even run out of ideas because all of a sudden he started showboating a bit.
Luke might well have thought it was easy but it told me once the poker face had gone he didn't have enough ideas and he can be dragged down a level, messed around and basically made to look worse than usual.
Trainers up and down the country will now think their man can make a name for himself by messing Campbell around. It will be interesting to see what happens next but that was the only downside I have seen to the lad.