The Panel: Can Ricky Burns improve and will that broken jaw play a part?
Can Ricky Burns improve and will that break play its part? The Panel look at the champion's chances...
Last Updated: 27/02/14 10:55am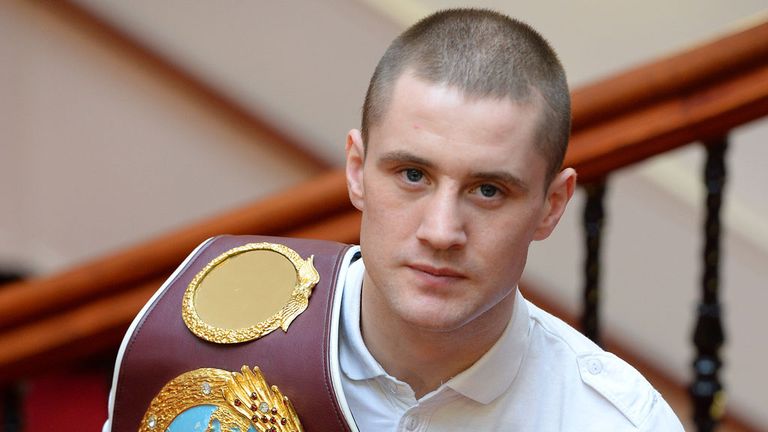 The Scotsman defends the WBO lightweight belt against Terence Crawford on Saturday night in Glasgow - but many are making the undefeated American favourite to win the fight.
Burns has not boxed since breaking his jaw in September but has no fear when it comes to pain and promises British fight fans he will send the challenger home empty-handed.
The first world title fight of the season tops the bill on Fight Night Live on Sky Sports 2 from 7.00pm, this Saturday.
So who better to set the scene than Scotland's former lightweight world champion Jim Watt, as well as Johnny Nelson and Glenn McCrory, who will be at ringside...
Ricky Burns has been a world champion for nearly five years but looks like he's facing his toughest test to date this weekend. Can he move up a gear?
JOHNNY: That's a tough one because if I am honest Ricky has probably hit his peak when it comes to his technical ability and skillset. But there is one thing I will say here and now... Terence Crawford has to be on HIS top form if he wants to take that title away. Ricky Burns is a world champion and there is more to come in that department. He is growing into it more and more. Look at the fight against Jose Gonzalez: he was having a hard, hard time, yet he stood his ground, dug in and the other lad quit after nine, yet there was the champion, going nowhere until the bitter end. Ricky does not believe he is the best in the world and only a few fighters do but what that means is he is still hungry, he is still determined and he will give everything he can. And the better the opponent, the more we will see that come through.
GLENN: I have to disagree with Johnny - not for the first or last time! There is more to come from Burns, technically. I get on with his trainer Billy Nelson and he has been telling me about the sparring sessions with Kevin Mitchell, Luke Campell and Martin Ward and when you are getting in fighters like that it shows that they are still trying to learn and improve. Billy is still trying to build his fighter up and I do think that will happen. Careers go through stages and he has not peaked at all. He lost to Carl Johanneson and Alex Arthur but regrouped and then won the Commonwealth title and then moved onto the world title, which was a big step up. The Beltran fight was a bit of a scare and I think that is what he needed to take himself up to the next level. We are talking about a lad who is only 30 and is taking on talented, dangerous, young sparring partners. That tells me there is more to come - and I think we might see some of it on Saturday.
JIM: Ricky is at the point in his career where we are all wondering if there is more to come - and let's hope there is. The last two performances were lacklustre to say the least but we hadn't seen anything like that before and then two came along at once. But as Glenn says I am hoping it is going to get him going again. Don't forget this is his eighth defence of his career as a world champion and they can take their toll. It is hard to get right back up for them. But the one thing we know Ricky has is determination and perhaps Crawford will bring the best out of him in that respect. He has got two decisions in his favour but only he probably could because when it looked like he was out and then when his jaw was broken, he somehow came out the other side. The tremendous drive is there, so I hope we see it from the start, not when he's in trouble. He is such a nice guy that he wants to please all the fans and put on a show. Well, I just want to make sure he wins this and puts on a show for himself. He needs that.
The broken jaw has been given the all-clear but will it still play a part in Ricky's approach? And have you ever fought with any broken bones?
JOHNNY: I am sure Ricky has dealt with that problem in sparring. We know he spars hard anyway and with Kevin Mitchell on him there must have been many a shot landed right on the spot. He said he was very weary to start with, but bit by bit it is now the norm and I am sure he feels that chin is back - and maybe even better. Remember when Muhammad Ali had his jaw broken by Joe Frazier, he was told it would be even stronger when it repaired itself. I suppose Ricky's biggest concern is boxing in public for the first time since it happened... but the one place you are used to taking a shot is on the chin. It won't bother him for long. When I was defending my world title out in Germany against Ruediger May I had broken one of my ribs four weeks before and I didn't even tell Brendan or Dominic Ingle. I was wincing after the first round and I told Dominic there and then and I carried on. How did I manage to get through it? It was agony, even breathing but I was a world champion and I was convinced I was the best in my division - and I was - and that gave me the confidence to handle it.
GLENN: That was one of the first questions I asked Billy and he explained that is why they brought the likes of Mitchell in for sparring; they wanted sharp punchers who are going to land shots on that chin from the off. That tells me there are no problems and by now there is no worries about whether that jaw will go again. I think there was a bit of pressure on Ricky to deliver and win easily last time and this time there is none at all. That will help him to forget about the jaw, if he hasn't already done that. And on top of it all, he has got titanium plates in there now, so how is that going to be a problem? I wish I'd have got them in when I was fighting! When I was going to fight Chisanda Mutti for the Commonwealth title I had dislocated my thumb and was in plaster cast. It wasn't due to come off until the week after the fight but I didn't know if I was ever going to get another chance to fight for a title, so I just cut the cast off so I could fight. Well the first shot I landed on Mutti was a a jab and boy did that hurt!
JIM: Like the others, I don't think the jaw is going to be a problem. The good, hard sparring means it has been tested and come through and I think the worst thing about it is there is going to be a little niggle in the back of his mind. You can't ignore the fact that you broke your jaw two rounds in, the last time you were in the ring. But if he can't ignore that, like Glenn says, Ricky will not be able to ignore the fact that he has titanium plates in there, too! And I wouldn't worry either way because this is a lad that has already fought with the worst possible pain. I have only ever broken one bone and it was my left thumb, in the first fight of the ABA Scottish National Championship when I was a youngster. I had two more fights that day and I got through them all but still kept it to myself. In fact it never really healed and is still not right after all these years. But we just get through it and deal with the pain later.