Jim Watt does not expect Ricky Burns to retain his world title against Terence Crawford
Jim Watt fears the worst and expects Terence Crawford to snatch Ricky Burns' world title away on Saturday.
Last Updated: 28/02/14 4:39pm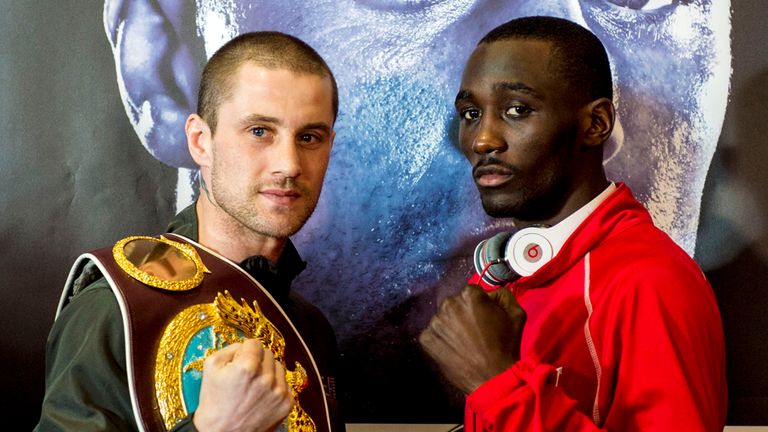 World title fights should never be easy and if there is one man who can dig in and come away with his belt it's the lad from Coatbridge.
But let's be honest, as the bookies suggest, Terence Crawford is the favourite. He looks slick, he looks sharp and while some Americans have come over here to fight for world titles and been full of it, this lad is just here to do a job.
Of course we don't want to lose another world champion and as a Scot I hope that Crawford has a bad day and perhaps can't cope with the atmosphere he is going to walk into.
It is a 10,000 sell-out and Scotland will be behind Ricky. Crawford might say he won't be affected by the crowd when he is boxing away from home but you don't know until you try it - and this will be his first time in Glasgow.
Crawford is the one that has it all to prove as well. Ricky has been a two-weight world champion and has defended them both successfully.
Close
We haven't seen Ricky at his best over the last year or so but we know what he can do. Crawford has not done any of that, never mind travelled halfway round the world to take on a really tough champion.
But one of the biggest concerns is remembering just how badly Ricky performed in his last two fights. We don't want him to make it a hat-trick, that's for sure. He struggled against Raymond Beltran, a decent little pro who got up close to him and in most people's eyes won it.
Against Jose Gonzales, Ricky was totally out-boxed for six of the first seven rounds and what worries me about Crawford, he looks a similar sort of opponent.
It will be a red-hot atmosphere in Glasgow but in the cold light of day, Crawford is a smart, slick fighter and looks like he could be a nightmare for Ricky.
If he is going to avoid the nightmare scenario, Ricky cannot take him on in a stand-off boxing match. Ricky's got to engage the guy and get on his case in the early rounds and make sure Crawford has to graft, work hard and take some gas out of his tank in the first half of the fight. Ricky let Gonzales do just that at his own pace, which he can't afford to let happen.
You can go behind - and Ricky probably will - but physically you have to make your opponent pay the price. Part of that means he has to exchange punches as well but the main thing is he cannot let a sharp fighter like Crawford set the pace.
Convince
Ricky has to cut the range down and take some chances. You can understand if he is worried about coming back from the broken jaw but he has got a really good chin and he is strong enough to take shots as he tries to unsettle the rhythm.
I want to see Ricky jump on him, bully him, try and drag him into the sort of war that he is not used to yet that is more like Ricky's type of fight.
I am sure Ricky is going to enjoy the second half of this fight more, even though those last two performances and that jaw have thrown him straight into the deep end.
So will Ricky sink or swim? Well because of Ricky's recent form I can see him being out-pointed by Crawford.
I do think it will be a fight of two halves but I just can't convince myself that Ricky is going to be able to close the gap that the challenger will build up in the first half.
I will say it is a close points decision, but I am afraid we might be losing another world champion. I hope I am wrong, I really do.